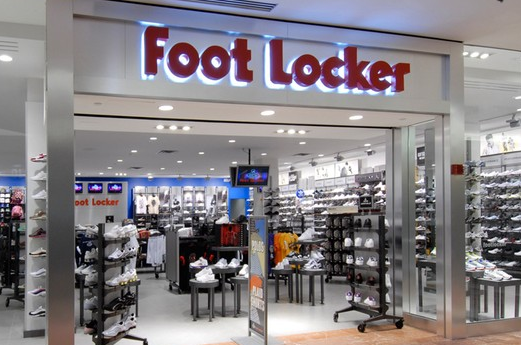 Foot Locker (NYSE:FL) has been one of my favorite retail picks for some time now. The company's profitability potential has been misunderstood by investors, leading to overly pessimistic valuations. Most recently, back in May, shares were trading at $55 and I said that was still way too cheap for the margin expansion that was coming. As it turns out, the Q2 earnings report has highlighted (once again) the strength of FL's fundamentals and the stock is soaring, going for $66 as of this writing. FL's Q2 was very well received by the market but have the easy gains been made or is there still time to buy this story?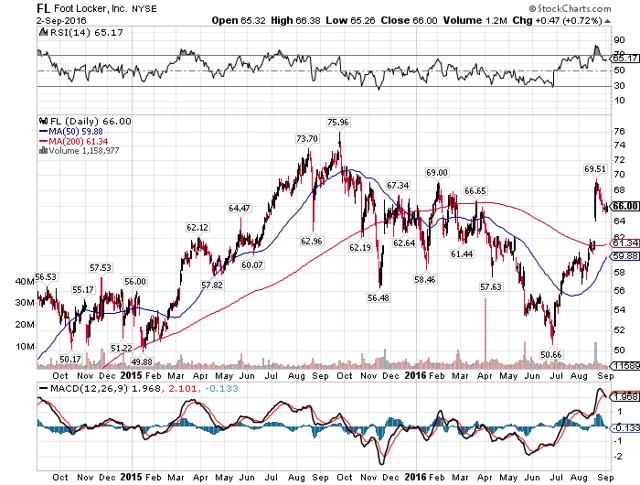 Foot Locker's revenue growth has been rather pedestrian in recent quarters because it is in the midst of right-sizing its store base. FL was caught out with too many unprofitable stores and has been busy working to rectify that situation and while that's great for the long term health of the business, it is also painful in the short term. But FL's Q2 comp sales were so good one could hardly notice that the store base is slightly smaller against last year.
Comp sales in Q2 were up a very impressive 4.7%, leading total sales higher by the same amount. That is a terrific result for just about anyone and for FL, it is proof that the turnaround is working. FL has had some tough times in the past couple of years with getting people in the door but those days seem to be over and higher comps not only allow for higher sales numbers, but also better margins.
In Q2 gross margins rose 40bps as higher comps allow for fewer promotions and discounts to move product. This is further proof that FL is on the right track and it is also validation that my bull thesis on FL from a couple of quarters ago is coming true. FL's operating margins are very strong and in Q2, they expanded as gross margins rose. While SG&A costs deleveraged 20bps, the result was still operating margin expansion of 20bps to 13.3% from 13.1% last year. Rising revenue and rising operating margins are exactly why I liked FL in the $50s and the story is coming true. But shares are up a lot at this point; what do we do from here?
FL's fundamentals are tremendous at this point as even with the impact of currency fluctuations, we are talking about mid-single digit growth with a flat-to-down store base. That's really quite terrific considering investors had left FL for dead a few quarters ago. And I love the fact that margins are expanding, something we should continue to see as pricing power remains thanks to better comps as well as leverage on the company's SG&A costs. FL has some one-time costs built into its SG&A right now including acquisitions as well as moving its HQ but next year, the comparables should be easier on that front. That should lead to a little bit more expansion in operating margins irrespective of gross margin gains and that is exciting. Of course, with operating margins already in the low teens, I don't think there is a tremendous amount of room to the upside because that is already quite good. But incremental improvements are still very possible and given momentum right now, I'd say it's likely.
The thing is that despite the fact that FL has been so good this year, it is still going for just 13.9 times this year's earnings after the big post-earnings rally. That seems almost unbelievable to me because FL is doing everything right; comps were up in the mid-single digits and we saw more margin expansion into the low teens. I'm not sure what investors want to see but there are far worse companies out there with much stronger multiples and that means there is still time to buy FL. With revenue growth, operating margin expansion and the buyback all sending EPS higher, FL should hit 10% EPS growth or so for the foreseeable future, warranting a much higher multiple than 13.9. Thus, I'm sticking to my bullish guns here because I think multiple expansion is on the horizon; FL has earned that right.
In addition to that, we now have something on our side that we haven't had since last year for FL and that is a bullish chart. The recent rally sent shares well in excess of both the 50DMA and 200DMA and both lines are sloped positively now. Those will serve as support until they don't and the most recent rally sent FL into a very overbought condition, a good sign that bulls have lots of conviction. The fact that FL has come off a few bucks since the spike isn't surprising in the least and in fact, is a necessary event to work off the overbought condition. This looks like a very healthy pullback to me and I still think there's some room to run here both from a fundamental and technical perspective. Even after a huge rally I'm still a big fan of FL here so I'm going to stick it out.
Disclosure: I am/we are long FL.
I wrote this article myself, and it expresses my own opinions. I am not receiving compensation for it (other than from Seeking Alpha). I have no business relationship with any company whose stock is mentioned in this article.