In its 2016 first quarter reporting, Points International's (NASDAQ:PCOM) CEO Rob MacLean stated the company is expecting its newest initiatives, Points Loyalty Wallet and Points Travel, "to ramp up over the course of the year". Points considered the trailing twelve months through the 2016 first quarter a proof-of-concept stage for the two programs. Needless to say, eyes were on them when the 2016 second quarter results were released August 10th. The company reports the Points Travel and Points Loyalty Wallet revenue as Other Partner Revenue. Growth in that account would be an encouraging signal that Points' newest programs are being adopted and generating revenue.
Sequentially, from the first quarter to the second, Other Partner Revenue grew 18.6%. The year-over-year increase was 11.4%.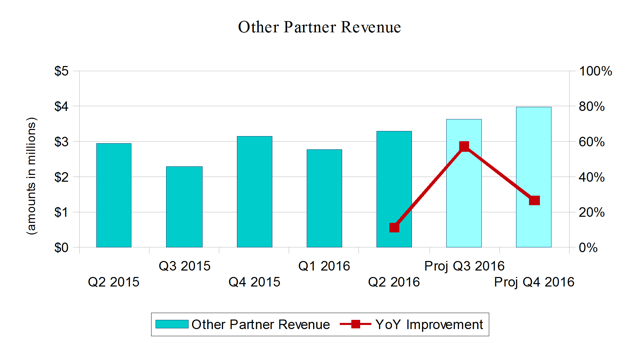 Source: Author-created from company data
Wins in the second quarter were significant. However, it is pertinent to realize wins will not be reflected in revenue for a few quarters. Points explained the product development and marketing phases take time.
"We anticipate these higher margin transactions have a more meaningful impact on our performance in 2017 and beyond."
Points Travel is considered "the first private label travel eCommerce service designed specifically for the loyalty industry". In the second quarter, Points signed Hawaiian Airlines (NASDAQ:HA) and Canada's AIR MILES. The two join the ranks of Lufthansa's (OTCQX:DLAKY) Miles & More, La Quinta (NYSE:LQ) Returns and Air France's (OTCPK:AFLYY) Flying Blue.
Members of Hawaiian Airlines frequent flyer program will be able to exchange their miles for hotel bookings. The AIR MILES reward program has over 10 million active members. It is operated by Loyalty One, a privately-held division of Alliance Data Systems (NYSE:ADS). Rewards are earned through frequent shopping at over 100 sponsors. Members will now be able to book stays using rewards at over 150,000 hotels and resorts.
Points Loyalty Wallet allows interaction between multiple loyalty rewards programs on multiple distribution channels. Points had several advancements in the second quarter. App in the Air launched a loyalty section into its app. Choice Hotels (NYSE:CHH) elected to develop on the platform so their members may exchange hotel points for frequent flyer miles.
It has been no secret Points would greatly benefit from breaking further into the financial and retail industries. In the financial sector, labeled Fintech for financial technology, Citibank (NYSE:C), Chase (NYSE:JPM) and Royal Bank of Canada (NYSE:RY) have been using the platform for their loyalty currency. These platforms marry naturally to the retail sector. In the second quarter, RBC Rewards launched pilot programs with Home Depot Canada (NYSE:HD) and Apple Canada (NASDAQ:AAPL).
Putting things in perspective, as of 2014 in the United States alone, there are over 3.3 billion loyalty program memberships. In contrast, worldwide, Points touches over 500 million program members. Now, consider the sheer growth expected in loyalty highlighted in Points' 2015 annual report.
"While the airline, specialty retail, and financial services industries continue to be dominant in loyalty programs in the U.S., smaller verticals, including the restaurant and drug store industries are beginning to see larger growth in their membership base. Further, newer loyalty concepts, such as large eCommerce programs, daily deals, and online travel agencies are becoming more prevalent."
The expanding size of the addressable market explains why Points expects revenue to increase. Its pipelines support 10 to 20% growth in 2016. Adjusted EBITDA is projected to grow 10%.
"We continue to have a very active pipeline and look forward to sharing news of additional Points Travel launches going forward."

"We've also made further progress in expanding our pipeline of Points Wallet opportunities with a number of these now in the late stages."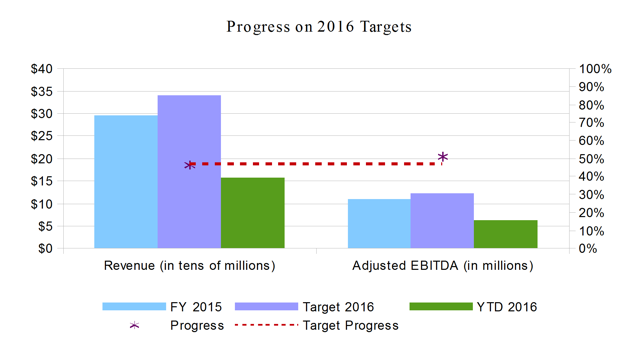 Source: Author-created from company data
There are those who regard Points' traditional revenue reporting as misleading. Points' reseller revenue for its BGT (Buy, Gift and Transfer) product is reported on a gross basis as Principal Revenue. However, there are direct costs to this revenue - the amount Points pays its partners for loyalty currency. Some believe Points should be analyzed and valued based on the net revenue amount - principal revenue less direct costs.
A comparison between net revenue and other revenue is enlightening. Into 2015, year-over-year growth of net revenue had slowed. This illustrates just one reason Points' growth in other platforms is deemed so valuable.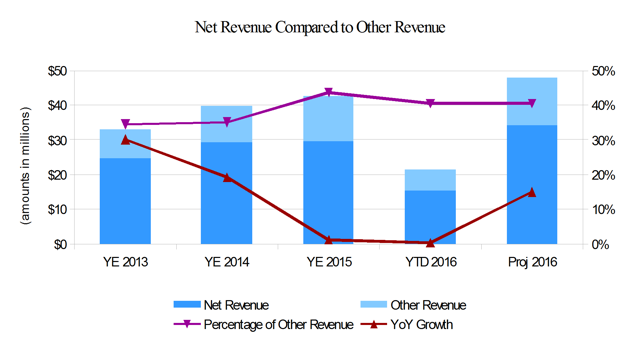 Source: Author-created from company data
Mentioned earlier, the margins in the Points Loyalty Wallet and Points Travel programs are higher. Higher margins will help Points reach its longer-term goal of 16% gross margin.
Similar to the belief that traditional revenue is misleading, the same critics argue Points' cash balance is also misleading. Points reported $61.66 million in cash and equivalents at quarter-end. However, the company also carries $50.84 in liability due loyalty partners. The net effect is $10.8 million - less than 20% of the recorded asset.
On the other hand, Points is cash flow positive, generating profits and debt-free regardless of the debate. And, it is actively using its cash to repurchase shares. To date in 2016, the company has bought back over 77,000 of its outstanding shares.
The debates do bear some validity when determining how Points should be valued. The price-to-sales ratio varies from 0.39 on the trailing twelve months of gross revenue at $319 million to 3.03 using net revenue of $41 million. Likewise, showing over $4 cash per share is very different than less than a dollar per share.
Even though they do not compete in the loyalty space, because they do compete in the travel industry, Priceline (NASDAQ:PCLN) and Expedia (NASDAQ:EXPE) are considered competitors for Points. Priceline and Expedia are richly valued by the market based on P/E ratios. Yet, by either accounting measure, gross or net, it could be argued Points valuation is on the low end.
| | | |
| --- | --- | --- |
| | P/S Ratio | P/C Ratio |
| Priceline | 7.13 | 15.99 |
| Expedia | 2.21 | 7.32 |
| Points (current on gross) | 0.39 | 2.3 |
| Points (current on net) | 3.03 | 11.62 |
| Priceline/Expedia Average | 4.67 | 11.66 |
| Points (fair value based on average) | $14.75 | $8.28 |
Source: Author-created
Looking backward, however, does not factor in pipelines, addressable market penetration, industry growth, first mover advantage or competitive moats. Analysts have a target price of $17 on Points International which tallies to more than a double at recent prices. As the second half of 2016 ramps into an expected take-off in 2017, it's a good time to consider an investment in Points International.
Disclosure: I am/we are long AAPL,RY.
I wrote this article myself, and it expresses my own opinions. I am not receiving compensation for it (other than from Seeking Alpha). I have no business relationship with any company whose stock is mentioned in this article.