Chinese manufacturer BYD Company (OTCPK:BYDDY) has announced impressive results for the first 6 months of the year. Its outlook remains very bullish and the company seems well set to ride the electric vehicle (EV) growth wave. It is strengthened by the fact that it has other profitable businesses apart from EVs.
I gave some details of these in an article here. BYD has strong partners following Samsung's (OTC:SSNLF) recent investment in the company. Warren Buffett's Berkshire Hathaway (NYSE:BRK.A) (NYSE:BRK.B) has an 8.25% stake. The company has a partnership with the country's leading ride share company, Didi Chuxing, in which Apple (NASDAQ:AAPL) recently took a small stake. A government-backed investment fund has a stake in the company. Some of these details I updated here, so I won't repeat all those in this article.
Recently announced government measures which are outlined below may also be of substantial benefit to the company.
BYD has strong vertical integration. This covers battery manufacture, solar panels and EVs, including a strong presence in e-buses. Tesla (NASDAQ:TSLA) is following a similar path. Tesla bears mistakenly considered it a bit of a joke when Elon Musk announced his plans for further vertical integration of his business interests. In fact, BYD's numbers illustrate why this is such a good idea.
Tesla bears have made a second error in stating that Tesla is in a zero sum competitive struggle against BYD. That is like saying that BMW cars cannot thrive in the auto business because they will be under-cut by Hyundai models.
As the world moves to EVs and autonomous vehicles, there will be many winners, not just one. Several of these are likely to be Chinese companies in a Darwinian battle for the survival of the fittest.
BYD Results
For the 6 months to 30th June, BYD increased revenue by 44% to 43.74B yuan (US$6.58 billion). Net profit rose year on year by 384% to 2.26B yuan (US$340 million). What it terms "new energy" sales (that is EVs) comprised 35% of revenue. For the first time, the company announced a dividend of 0.367 yuan per share. The debt position of the company was improved by a successful capital raise earlier this year.
The stock price rose about 4% on the news as the results were just about in line with the high expectations. The stock price is close to 52-week highs. The P/E ratio of 39.97 and the PEG ratio of 1.50 would suggest that the company stock price is not undervalued. The company has a market cap of approximately US$22 billion.
Company forecasts remained very bullish, however. The company predicts a 91% increase in profit for the first 9 months of the year. That would come to 3.6 billion yuan (US$539 million), an impressive number for any company. The P/E ratio is reasonable if the company does indeed manage to attain its growth targets.
BYD Products
At the results announcement, the company forecast it would double the sale of EVs this year to 120,000 units. In the short term, rapidly increasing sales of its EVs in China seems achievable. The backing of Samsung with its US$450 million investment could be a basis for future co-operation. At the time, this money was said to be earmarked for increasing BYD's battery production by, as well as for use in automotive chip development.
Samsung has just announced it's building a battery plant in Hungary at a cost of US$358 million. This is specifically to supply the EV market in Europe. It has also been in discussions with Tesla over supplying batteries to it. This might be for Tesla's autos or it might be for Tesla's home storage products.
In the long running battle between Samsung and Apple, the auto arena is one where Samsung appears to be accelerating rapidly away. Further co-operation with Samsung by both BYD and Tesla seems likely, to everyone's benefit.
BYD is considered to have about a 27% market share of the Chinese EV market at present. Competition was expected to intensify as new players enter the market. This may be particularly so in the field of autonomous vehicles. BYD seems less far down the line at present in the autonomous field.
Chinese players working on these include Baidu (NASDAQ:BIDU) and LeEco. Baidu has stated it plans to have an autonomous vehicle on the road by 2018. After trials with BMW (BAMXY) (OTCPK:BAMXF) in the past, Baidu is now working on this with the locally manufactured Chery (pictured below).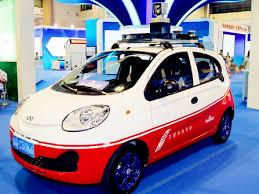 Baidu also has co-operation agreements in place with Didi, the dominant player in the car-sharing field in China.
As I detailed in my previous article, BYD has a very strong position in e-buses. This is a market that has been rather overlooked by analysts. BYD forecast sales of 40,000 e-buses by 2020. This would represent a huge increase from the current position of having sold 1,300 and having a further 4,000 on order. So some caution might be in order on those numbers.
E-buses is one way into the U.S. market for the company. For instance, it currently has a trial with Stanford University with 13 units in operation so far. The company is reported to have orders for 300 e-buses currently in North America. So it seems to be making some headway there in what is a competitive market.
For its cars, there is likely to be some anti-Chinese sentiment amongst consumers in North America. Indeed, the build and finish of BYD cars cannot nearly match that of Tesla at this point.
In the first 6 months of the year, the company sold approximately 53,000 plug-in cars. This compares to less than 25,000 at the same point last year. In terms of EV sales, it is the world's largest producer.
Its best-seller at present is the "Tang" pictured below.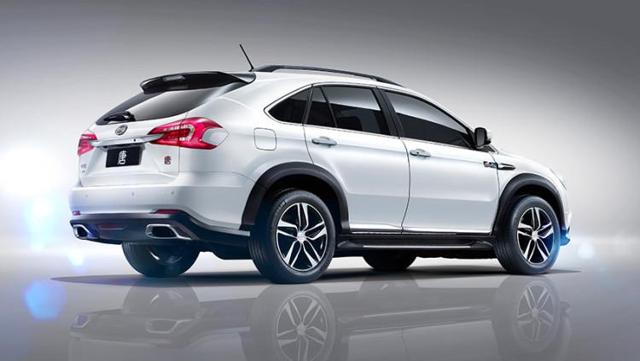 The success of this model ties in with the general trend towards SUVs in China. It also reflects early strong demand for the Tesla Model X in the country.
This has taken over from the "Qin", its standard saloon car model. This got updated recently with the release of the "Qin EV300", pictured below on its release at the Beijing Auto Show in March this year.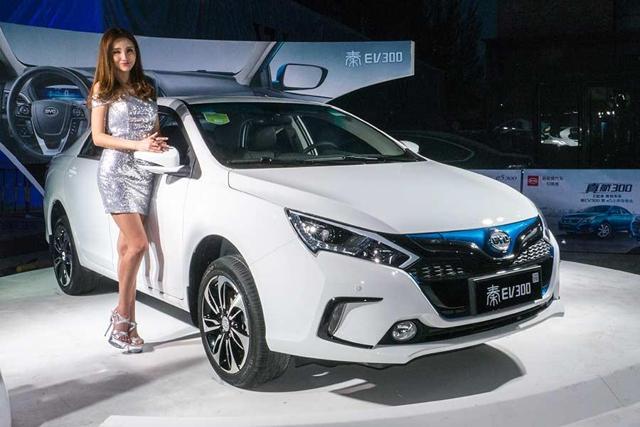 The company is certainly ambitious. As a fellow contributor to Seeking Alpha mentioned in a recent article, it is looking at developing new products such as sanitation trucks and a monorail system. It is also expanding with investments in new markets such as Brazil.
In the EV market in China, it is the market leader but faces competition from any number of companies. The more impressive ones are BAIC (OTC:BCCMY) and Geely (OTCPK:GELYF). The latter is, of course, the owner of Volvo, a strong brand and one that is moving into the EV space with work on an autonomous vehicle.
Indeed, Volvo and Geely are a good example of the potential benefits of Chinese ownership, despite the doubters. Volvo is on course to have its highest worldwide sales figure ever in 2016. It expects to sell over 100,000 vehicles in China. Its XC-90 is selling well in a country where SUVs are all the rage. Volvo has two modern factories in China thanks to the Geely investment. U.S. buyers of the new Volvo S60 are buying a made in China car. In North America, Volvo is working with Uber (Private:UBER) and targeting autonomous vehicles there by 2021.
Various new players are also planning new factories in China. These include Karma Automotive, LeEco and NextEV. I detailed these in a previous article. There must be doubts as to whether all these grand plans being announced actually amount to facilities on the ground in China in the long run.
The Chinese government has targeted to have 4 1/2 million EVs on the road by 2020. They may be phasing out some of their subsidy program. This will be replaced by more of a "cap and trade" system. So, contrary to what some have stated, the inducements will remain, just in another form.
BYD vs. Tesla
There is plenty of room in the new world of EVs for both BYD and Tesla. BYD is further down the road than Tesla in its vertical integration, although Tesla will go that way rapidly if finances allow. Musk did recently state Tesla would soon be in the market for e-buses, in another similar trajectory to that of BYD.
BYD has the advantage in terms of an existing profitable battery business giving it positive cash flow. It is supplying lithium-ion and nickel batteries for use in mobile phones, digital cameras and other portable electronic devices. It is also involved in PV manufacture and mobile phone components. This mirrors in many ways Tesla's battery manufacture developments at its Gigafactory and its takeover of SolarCity (SCTY).
BYD may have problems in the North American and European markets from a perceived lack of quality and build finish compared to Tesla cars. In the same way, Tesla has problems in China due to its cost structure.
Tesla has great brand equity in China and elsewhere in Asia. However, BYD already has marketing networks set up around Asia. For instance, it has recently got trial orders in Singapore for both e-buses and cars for an electric taxi service.
Local manufacturing for Tesla would largely overcome cost constraints to sales. There had been reports previously linking Tesla with manufacturing agreements in China. Firstly with the LiFan Group and then more recently with the Jinqiao Group.
Elon Musk had been on record as stating that Tesla would have a manufacturing agreement in place for China before the end of this year. It is estimated that the Model 3 cost would be reduced by about one-third if this were to happen.
However, recent reports have suggested that the Chinese government may shelve its current policy of overseas manufacturers needing a 50/50 partnership with local manufacturers. In the opaque world of Chinese government policy, it is hard to know the truth. This may, however, have caused Tesla to wait and see which way the wind is blowing. Allowing wholly owned overseas manufacturing in China could have a negative impact on some of the smaller and less efficient manufacturers. Conversely, for the well-established BYD, it could be an advantage.
Another advantage for them both are reports that the Chinese government is bringing in more stringent standards for the manufacture of EVs. As mentioned, competition has been heating up in the Chinese EV manufacturing space. Reports out of China in the past few days indicate this trend may be about to go into reverse. It seems the government will start restricting product licenses for EV manufacturers. This is likely to consolidate the industry with the aim of improving economies of scale and product quality. This should be of significant value to BYD's business.
Contrary to what some Tesla bears have claimed, Tesla should be a long-term success in China. It is currently more supply constrained rather than demand constrained. Bookings for the Model 3 from China are second only to bookings from the USA. In Hong Kong, the Special Administrative Region of China, Tesla is far and away the market leader. What can work in an over-crowded apartment dwelling Hong Kong can work in Beijing, Shanghai and China's other mega-cities.
Tesla does already have a co-operation agreement in place with the ambitious Baidu covering GPS and autonomous driving developments. It will be interesting to see what Tesla's next moves are in China. The market is developing rapidly and Tesla may need to move fast in the world's largest market for autos both standard and electric. It has a fairly comprehensive Supercharger network in place at a significant capital cost. To succeed as more than a niche player in China, the company would probably need to manufacture there. The big question is whether it can raise the capital to do this.
Conclusion
The BYD stock price has been kind to early investors as the 1-year chart below illustrates.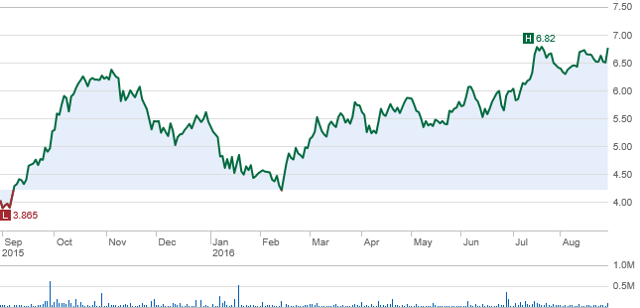 There are plenty of questions concerning BYD. These center around continuing its break-neck pace of growth and justifying its very bullish predictions. These two questions are of course also being asked about Tesla.
There is also the question of whether it has sufficient quality to break into the North American and European markets for cars. And as with all Mainland China companies, there are unknowns concerning auditing of its accounts. The political status of Chinese companies vis-a-vis the government is always important. These appear to be good in BYD's case.
Changing government regulations should benefit it, but some of the better companies, as outlined in this article, could pose a serious challenge.
Samsung and Berkshire Hathaway are certainly positive enough to invest and their confidence seems justified to me. There are, however, the caveats above as with all Chinese companies.
Disclosure: I am/we are long BYDDY, TSLA.
I wrote this article myself, and it expresses my own opinions. I am not receiving compensation for it (other than from Seeking Alpha). I have no business relationship with any company whose stock is mentioned in this article.
Editor's Note: This article discusses one or more securities that do not trade on a major U.S. exchange. Please be aware of the risks associated with these stocks.