Intro
It was exactly three months ago, June 1st, when I wrote an article entitled "Hanjin Shipping Vessel Arrest Foreshadows More Hard Times For Korean Shipping." This article discussed a recent seizure of a single vessel off the coast of South Africa, The Hanjin Paradip, an 82,158 dwt bulker. It was detained in Richards Bay on May 24th due to unpaid charter fees.
Hanjin tried to downplay the development and it was quickly resolved. However, I remained skeptical and in my conclusion I wrote
"this could be foreshadowing a more dire (and rapidly deteriorating) situation in Hanjin than many had previously anticipated."
Members of Value Investor's Edge, a Seeking Alpha subscription service focused on shipping, were kept up to date on developments. Last week during a phone conversation with my friend and colleague J. Mintzmyer, founder of VIE, he told me that a Hanjin bankruptcy was the likely outcome, sooner rather than later.
Well, it appears that was correct and Hanjin has now filed for court protection. This has an impact on a couple US listed shipping companies. But there are also numerous other ways that this development will impact trade, supply chains, Korea's export market, and even Hanjin's nearest competitor, Hyundai Merchant Marine.
US Listed Companies
Seaspan (NYSE:SSW), Danaos (NYSE:DAC), and Navios Maritime Partners (NYSE:NMM) are three US listed companies with exposure to Hanjin. While Seaspan seems to be mildly impacted, due to the percentage of its fleet chartered out to Hanjin, Danaos has significantly more exposure and this development could mean serious trouble ahead. This bankruptcy also comes at a horrendous time for Navios Maritime Partners, as two of their largest dry bulk contracts are at risk of immediate write-offs, and parent Navios Maritime Holdings (NYSE:NM) is also in weak financial straits.
In an August 18th prospectus filed with the SEC, Seaspan states
"Hanjin charters three of our 10,000 TEU vessels and four of GCI's 10,000 TEU vessels under 10-year charter contracts, with options to extend. The total contracted future revenue under our three charter contracts with Hanjin is approximately $363.7 million as of August 17, 2016, excluding extension options. As of the date of this prospectus supplement, we have a total of approximately $18.6 million of past due accounts receivable from Hanjin."
While the $363.7 million is a huge number, it represents approximately 6% of Seaspan's $6 billion in contracted revenue. There is a slightly bigger impact to the GCI fleet, but this will not affect immediate shareholders, but could affect the status of whether or not SSW will ultimately buy these vessels.
Danaos is the ship-owner with the greatest direct container exposure to Hanjin. Eight of their 59 vessels are chartered out to Hanjin. These contracts represent approximately $560 million or around 20% of its $2.8 billion contracted revenue backlog as of June 30, 2016.
Navios Maritime Partners has two of their largest dry bulk time-charters directly exposed to Hanjin. Compared to current spot rates, the Hanjin contracts are over 4x higher, so this represents a massive loss. Based on their latest 20-F (annual filing):
For the year ended December 31, 2015, our most significant counterparties were Hyundai Merchant Marine Co., Ltd. ("HMM"), Navios Corporation and Yang Ming Marine Transport Corporation, which accounted for approximately 24.0%, 17.4% and 11.4%, respectively, of total revenues."
The HMM situation has already been resolved somewhat favorably, but the Hanjin contract loss could prove to be a major blow. This is a more obscure contract since Hanjin isn't necessarily considered as a major player in the dry bulk sector.
As I write, Seaspan is down 2% while Danaos has plummeted a whopping 12% on the news. Navios Maritime Holdings on the other hand is up a surprising 1.5%. It might seem that the broad market also has missed the connection here.
What Happened?
As I noted, the rate of deterioration took place at a furious pace. In fact, in a Q1 2015 conference call, Seaspan CEO, Gerry Wang, stated that "we don't anticipate having any charter breaches. Hanjin continues to make regular charter high repayments to us." Additionally, he stated that "we have not received any request for anything related to the charter party discussion, (furthermore) we fully expect our charters to perform according to the charter parties."
However, it was shortly after that when a May 24th prospectus from Seaspan read: "Our customer Hanjin Shipping Co. Ltd., or Hanjin, announced on May 4, 2016 that it is pursuing a voluntary restructuring arrangement with its lenders, led by state-owned Korea Development Bank, or KDB."
Furthermore, the prospectus states:
"Hanjin has made a request to us and other owners of containership vessels that Hanjin charters for a reduction in existing charter rates for a period of three and one half years, in exchange for securities in a restructured Hanjin. We rejected this request, and neither Hanjin nor KDB (Korean Development Bank) can change the charter rates in the voluntary restructuring without our consent. However, Hanjin may fail to continue to promptly make charter payments or may seek to terminate the charter contracts. A failure by Hanjin to continue to promptly make payments under the charter contracts, termination of the charter contracts or an insolvency or similar event involving Hanjin could result in a default under our financing agreements relating to our Hanjin vessels and permit the lenders to exercise available remedies. Hanjin's failure to continue to make charter payments would also permit us to arrest the applicable vessels, terminate the charters and seek to recharter the vessels, and exercise other remedies under the charters and otherwise, which, we believe would further materially harm Hanjin's business and restructuring efforts."
June 1st saw the release of my aforementioned article regarding the vessel arrest which, for me, was the writing on the wall. This made it obvious that a solution would be needed very quickly. However, that did not materialize as other parties remained reluctant to concede, or even negotiate. None were more vocal than Seaspan's CEO Gerry Wang.
On August 30th Lloyd's List reported that Gerry Wang reiterated that "Seaspan will never agree to charter rate renegotiations." This sentiment was shared by numerous other companies doing business with Hanjin. Fears that concessions would inspire other companies to seek reductions amid a downturn in the container shipping segment were cited as the main reason to not renegotiate contracts. As Mr. Wang told Lloyd's, "a contract is a contract."
This stance was a disappointment to Hanjin as early June saw Hyundai Merchant Marine reach agreements on an approximate 20% cut in container ship charter fees involving several parties, a precondition by the KDB for funding a restructuring effort.
The inability to achieve the required concessions in a timely period inevitably forced Hanjin to seek protection a matter of hours later.
Mr. Wang seems unconcerned about this development. Splash 24/7 reported "for us, it is a small percentage of our business - like 3 out of 100," Wang told Splash today in an exclusive interview. "We are exploring all options and see which one gives us the best value. These are extremely modern and high-end vessels - I am sure we can find them a home in the near future."
While they may find a home, the rates received for these vessels may fall well short of what they were previously commanding, even if the concessions would have gone forward.
Fallout
As noted above, contracts allow for seizure of vessels which seems to have been occurring now at a furious pace since the announcement.
CNBC reported:
"The Korea International Trade Association said on Thursday that about 10 Hanjin vessels in China have been either seized or were expected to seized by charterers, port authorities or other parties. That adds to one other ship seized in Singapore by a creditor earlier this week."
Furthermore, ports have been turning away Hanjin vessels fearing that payment may not be forthcoming. This has left numerous vessels stranded at sea with their crews and goods. Reuters reports that Hanjin's home country has even turned their back on the beleaguered carrier noting that "Hanjin ships unable to dock at S. Korea's largest port."
70% of Korea's exports take place by sea. Of that, 6% is handled by Hanjin. This has left Hanjin customers concerned about the fate of their goods, which may be subject to arrest, while scrambling to find other carriers.
South Korean exporters are seeking alternatives to Hanjin, which handled 40% of Samsung Electronics' exports and 20% of those by LG Electronics Inc.
Reuters reported that "LG Electronics Inc, the world's No.2 maker of TVs, told Reuters it was canceling orders with Hanjin and was seeking alternatives to ship its freight. It is also making contingency plans for cargo already on board Hanjin ships in the event the vessels are seized."
Freight rates on some routes where Hanjin operates many ships have surged. CNBC reports that "the cost of shipping a 40-foot container on the Busan-Los Angeles route has jumped about 55 percent, from $1,100 to around $1,700, according to South Korea-based freight forwarder Pantos Logistics. Rates between South Korea and the U.S. east coast via Panama have risen about 50 percent to $2,400, it added."
Rival Hyundai Merchant Marine is set to deploy at least 13 of its ships to two routes exclusively serviced by Hanjin. Additionally, the South Korean government plans to reach out to overseas carriers for help.
Of course, these higher rates and increasing business could help HMM which has been struggling to stay out of a similar situation.
Will BK Help The Macro Outlook?
Lately the container shipping segment has been characterized by supply outpacing demand putting pressure on rates. In the short run this development could lend some support to rates as some vessels are removed from the equation.
CNBC reports that "state-run think tank Korea Maritime Institute estimated that shipping rates on Busan to U.S. routes would rise 27 percent and Busan to Europe routes would rise 47 percent in the near term, causing Korean exporters additional shipping costs of about 440.7 billion won per year."
However, as the market adjusts rate pressure based on oversupply issues should surface again. In many other industries, when companies go bankrupt or cease operations, some supply may be permanently removed from the equation. But shipping is not like that. Ships from bankrupt companies can often continue to service routes while others are sold and put into service, thus maintaining the supply. Often, these vessel sales occur at reduced prices, which consequently lowers the breakeven rates, allowing for reduced day rates or contracts. Therefore, no excess capacity is really ever curtailed as a result, and rates continue to see downward pressure.
A South Korean court said it would soon begin proceedings to rehabilitate the carrier. This should allow Hanjin to take legal action in other countries to keep its ships and other assets from being seized.
So, while this disruption, based on the temporary removal from service of Hanjin's vessels, is expected to boost rates on certain routes in the short run, the industry's fundamental problems look unlikely to change.
South Korea's maritime ministry said on Wednesday that Hanjin's woes would affect cargo exports for two or three months, with about 540,000 TEU of cargo already loaded on Hanjin vessels and facing delays.
Conclusion
The Hanjin bankruptcy is industry's largest ever in terms of capacity and is the seventh largest liner in the world, with 98 vessels totaling 609,500 teu as well as 44 bulkers and tankers. It charters in 61 ships.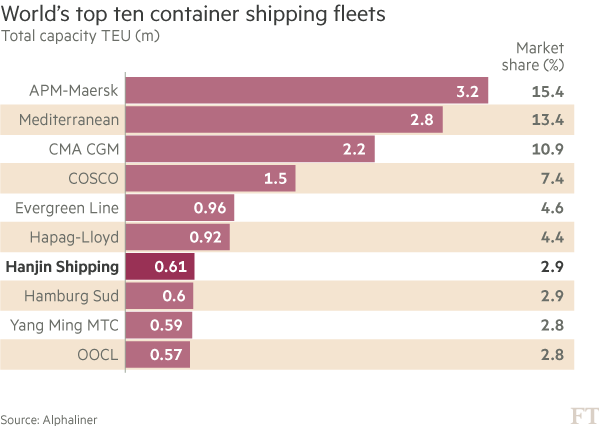 Source: Financial Times
The last major container shipping bankruptcy occurred in 1986 with the collapse of United States Lines. We have seen several restructuring initiatives in the past few years, including at Israeli-ZIM in 2014 and with the latest HMM deal in 2016; however, both of these progressed far more orderly than what we are seeing so far with Hanjin.
Among tonnage providers scrambling today to find out what will happen to their contracts with the Korean line are Conti, Ciner, Danaos, Pacific International Lines, Rickmers and Seaspan.
Seaspan will experience some disruptions going forward. However, Danaos looks to be in some serious trouble with significant contract coverage now in absolute jeopardy. Navios Maritime Partners faces an enormous loss of profitable backlog and their balance sheet is otherwise atrocious.
The likely outcome will see Seaspan and Danaos seeking new customers in a highly unfavorable environment for charter rates, even with the expected short run bump. The dry bulk market is currently very weak, and NMM will be unlikely to find profitable counter-parties for these two vessels anytime soon.
For Hanjin, massive liquidation may be the order of the day. Splash 24/7 reports that "other high profile Korean shipping companies that have gone under in recent years - Pan Ocean and Korea Line - have been auctioned with Korean conglomerates always winning the auction. HMM picking over the Hanjin carcass is very much the likely outcome in the coming months."
Though it is hard to find a winner in this situation, HMM may actually stand to benefit from this development. This should improve its financial security and therefore make it a more reliable counterparty. This could indirectly impact, in a positive way, those which charter out to HMM.
Thank you for reading and I welcome all questions/comments.
If you would like to stay up to date on my latest analysis I invite you to follow me on Seeking Alpha (click the follow button next to my profile picture at the top) as I continue to cover all aspects of maritime trade.
Note: Value Investor's Edge subscribers receive a 72-hour advantage on all macro reports and trade ideas from James Catlin as well as exclusive research by J. Mintzmyer.
Disclosure: I/we have no positions in any stocks mentioned, and no plans to initiate any positions within the next 72 hours. I wrote this article myself, and it expresses my own opinions. I am not receiving compensation for it (other than from Seeking Alpha). I have no business relationship with any company whose stock is mentioned in this article.