Introduction:
The Nonfarm payroll numbers were released today, and the equity markets responded by posting moderate gains in anticipation for diminishing chances of a September Fed rate hike. To summarize the numbers, the headline payroll figure came in at 151,000 vs. economist expectations of 180,000. The unemployment rate picked up by 0.1% to 4.9% with the labor force participation rate coming in unchanged at 62.8%.
Here is an infographic from Thomson Reuters Eikon: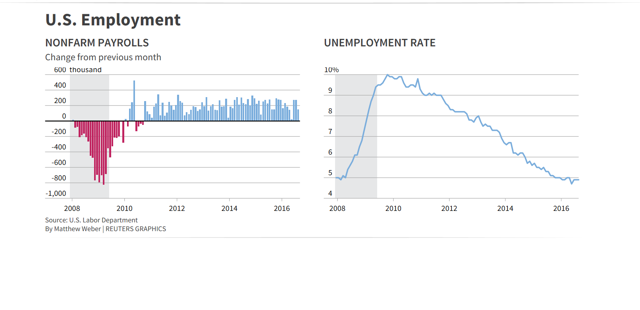 Hourly earnings also increased by 2.4% YoY continuing with a continuing uptrend in a pickup in earnings that are expected to boost consumer spending and hold down the economy heading into 2H 2016. Ahead of the report, it appeared that the case for a Federal Reserve September rate hike was a possibility. We are pushing back our estimates for a Federal Reserve rate hike as we continue to expect negative surprises for growth expectations for 2H 2016. We do not expect a rate hike until December to 2017.
Digging into the Numbers:
The payroll figures seemed to provide market watchers with a similar story: strength in service sector hiring, albeit at a slower pace, and a continued weakness in manufacturing, mining, and construction. The report also registered a slowdown in temp worker hiring (-3,100), oftentimes a leading indicator to future job growth. Bullish commentators have remained convinced that the figures are good enough to justify the argument that the labor market has reached full employment.

I, along with another Seeking Alpha contributor, am not fully convinced of this argument. With the labor force participation rate remaining steady at 62.8%, and the U3 unemployment rate hovering around 9.6%, the US economy has yet to continue its increase in hiring. We note one specific, and critical issue: the boost in hiring was mainly generated by the service sector, which is appearing to be saturated. More importantly, the continued weakness in the manufacturing sector after signs of a potential pickup create a further problematic dynamic. In other words, should we continue to see a saturated job market in the service sector, it will be hard to further boost future payroll figures given the weakness in manufacturing hiring.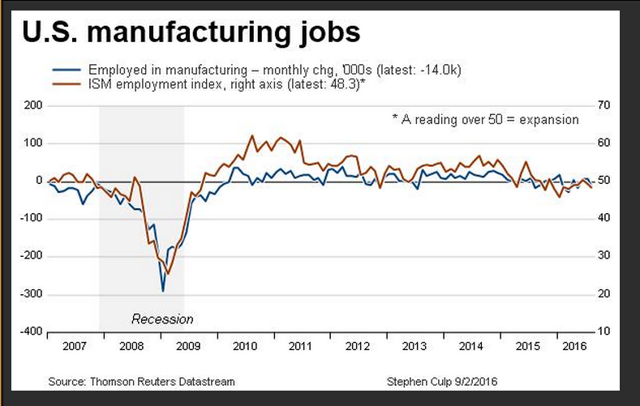 Furthermore, examining the overall payroll figure signals that the labor market is in fact in a downtrend.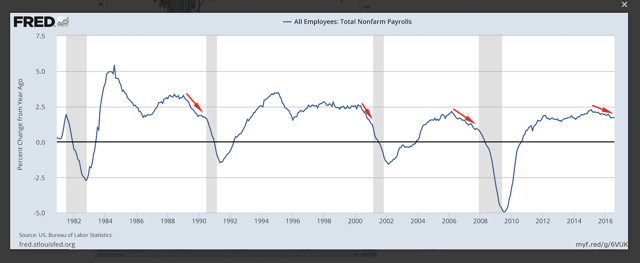 Consistent with past trends, it would appear that a labor market slowdown could be in the works further limiting the ability for the Fed to hike interest rates in September.
Conclusion:
After examining the August payroll figures, we are reiterating our bearish outlook on the US economy. Furthermore, the fact that productivity remains weak points to the inability for 2H 2016 GDP figures to meet the Fed's targets. We are expecting 1-2% GDP growth continuing in 2H 2016 and greater uncertainty heading into 2017. We believe that the macro economic environment coupled with the uncertain political outcome in the US and growing weakness overseas will limit the ability for aggressive monetary policy action.
Disclosure: I/we have no positions in any stocks mentioned, and no plans to initiate any positions within the next 72 hours.
I wrote this article myself, and it expresses my own opinions. I am not receiving compensation for it (other than from Seeking Alpha). I have no business relationship with any company whose stock is mentioned in this article.
Additional disclosure: All information expressed in this article is the view of BlackVault Investments. This article does not constitute an offering or solicitation of securities and/ or investment advice.