Nestlé S.A. (OTCPK:NSRGF)(OTCPK:NSRGY) recently reported 1H16 results, showing basic EPS of $1.35 and revenue of $43.95 billion. In addition, Nestlé also reported 3.5% organic growth and 2.8% real internal growth, and improved trading operating profit margin of 15.3%, up thirty basis points.
Recently, UBS has noted that the odds of a stock market crash are rising, and going favors high-quality stocks with improving fundamentals and sustainable levels of gearing. Nestlé was one of the high-quality stocks that UBS named in this context.
In light of Nestlé's 1H16 results and its recommendation from UBS, a closer look at the company as a prospective investment is warranted at this time.
Company Overview
Formed in 1905 as a merger between the Anglo-Swiss Condensed Milk Company and Farine Lactée Henri Nestlé (which were founded in 1866 and 1867 respectively), present-day Nestlé S.A. is a nutrition, health and wellness company which is headquartered in Vevey, Switzerland, operates in approximately 190 countries, has almost 450 factories in eighty-five countries, a market capitalization of 239.80 billion CHF (approximately $244.69 billion) and a workforce of 335,000 employees.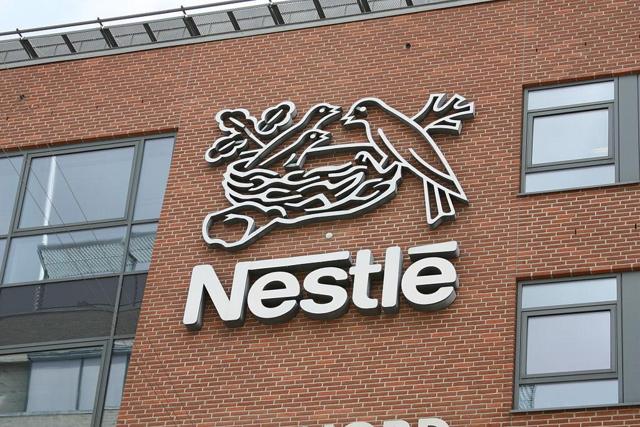 Nestlé divides its operations into the following segments: Nestlé Nutrition; Nestlé Waters; Zone Americas (AMS); Zone Asia, Oceania and sub-Saharan Africa (AOA); Zone Europe, Middle East and North Africa (EMENA); and Other Businesses (a segment that includes Nespresso, Nestlé Health Science, Nestlé Professional, and Nestlé Skin Health). Nestlé's product categories include confectionery, milk products and ice cream, nutrition and health science, petcare, powdered and liquid beverages, prepared dishes and cooking aids, water, and unallocated items.
In addition to its own operations, Nestlé is also the second-largest shareholder in L'Oréal S.A. (OTCPK:LRLCF) (OTCPK:LRLCY) after the Bettencourt family, having been invested in the cosmetics giant since 1974 and holding 23.29% of its shares.
Competitive Advantage
Nestlé's competitive advantage stems from its immense product portfolio, its globally diversified market reach, its brand recognition, its dominant position in a slow-changing economic sector, and its ongoing investment in health and wellness nutrition products.
Nestlé is the biggest food company in the world, offering over 2,000 different products worldwide. The following picture shows a mere sample of Nestlé's offerings.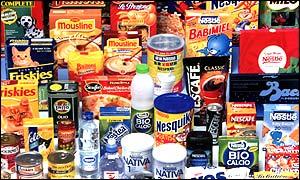 The sales revenue figures for Nestlé over the past five years testify to the profitability of this product portfolio.
| | | |
| --- | --- | --- |
| Year | Sales Revenue (CHF) | Sales Revenue ($) |
| 2011 | 83.64 billion | 85.29 billion |
| 2012 | 89.72 billion | 91.49 billion |
| 2013 | 92.16 billion | 93.98 billion |
| 2014 | 91.61 billion | 93.41 billion |
| 2015 | 88.785 billion | 90.55 billion |
The breakdown of the 2015 revenue figures illustrates how well-diversified the revenue is by product segment, showing that Nestlé is not dependent upon any one category to make up the bulk of its earnings.
| | |
| --- | --- |
| Product | Sales Revenue (CHF) |
| Confectionery | 8.870 billion |
| Milk products and ice cream | 14.637 billion |
| Nutrition and health science | 14.854 billion |
| Petcare | 11.448 billion |
| Powdered and liquid beverages | 19.245 billion |
| Prepared dishes and cooking aids | 12.579 billion |
| Water | 7.112 billion |
| | |
| Total | 88.785 billion |
Breaking down the 2015 sales revenue by operating segment further illustrates the diversity of its revenue streams.
| | |
| --- | --- |
| Operating Segment | Sales Revenue (CHF) |
| Nestlé Nutrition | 10.461 billion |
| Nestlé Waters | 7.625 billion |
| Zone AMS | 25.844 billion |
| Zone AOA | 14.338 billion |
| Zone EMENA | 16.403 billion |
| Other Businesses | 14.114 billion |
| | |
| Total | 88.785 billion |
Another means of breaking down the 2015 sales revenue, by geographic area, illustrates the global nature of Nestlé's operation. And while no one product takes up a disproportionate share of revenue, it is clear that the United States is Nestlé's single biggest market by far.
| | |
| --- | --- |
| Geographic Area | Sales Revenue (CHF) |
| United States | 25.293 billion |
| Greater China Region | 7.060 billion |
| France | 4.848 billion |
| Brazil | 3.925 billion |
| United Kingdom | 3.006 billion |
| Germany | 2.929 billion |
| Mexico | 2.749 billion |
| Philippines | 2.645 billion |
| Italy | 1.867 billion |
| Canada | 1.847 billion |
| Spain | 1.668 billion |
| Switzerland | 1.549 billion |
| Australia | 1.498 billion |
| Japan | 1.440 billion |
| Russia | 1.330 billion |
| Rest of the world | 25.131 billion |
| | |
| Total | 88.785 billion |
Nestlé also benefit from offering products which are not subject to technological obsolescence. People are always going to need food to eat and beverages to drink, and across the planet many people satisfy this need to eat and drink with the sheer range of products that Nestlé offers. These include very well-known brands such as Buitoni, Kit-Kat, Maggi, Nescafé, Nespresso, Nesquik, Nestea, Purina, Smarties, Stouffer's, Vittel and most prominently the Nestlé brand itself.
Again, although no one product takes a dominant share of revenue, the Nestlé brand - which is used across all the company's product segments - generates sales of approximately 45 billion CHF annually by itself. Nestlé take care to promote these brands assiduously, spending approximately $3 billion annually on advertising. In total, twenty-nine of Nestlé's brands generate over 1 billion CHF annually each.
Primary competition to Nestlé comes from Kraft-Heinz (NASDAQ:KHC), Danone (OTCQX:DANOY) (OTCQX:GPDNF), Unilever (NYSE:UL) (NYSE:UN) and the privately-held Mars Inc. Comparing sales revenue for 2015 shows the clear lead Nestlé have over its competitors.
| | |
| --- | --- |
| Company | Sales Revenue ($) |
| Nestlé S.A. | 90.55 billion |
| Unilever N.V./Unilever plc | 51.41 billion |
| Mars, Inc. | 33 billion |
| Danone S.A. | 22.41 billion |
| The Kraft Heinz Company | 18.34 billion |
Furthermore, Nestlé are not complacent - they are committed to health and wellness nutrition and are investing in healthcare products which can provide higher growth for the company going forward and capitalize on the customer trend towards healthy foods. In February, Nestlé disclosed a $43 million investment in protein developer startup Pronutria Biosciences, and in May closed a deal worth €100 million for the development and marketing of a cow milk allergy test for infants that is being developed by DBV Technologies.
To underscore this commitment, Nestlé poached Ulf Mark Schneider, who has been CEO of Fresenius Medical Care (NYSE:FMS) since 2003. Schneider will succeed Nestlé CEO Paul Bulcke with effect from January 1, 2017. The appointment of Schneider, according to Nestlé, will accelerate its expansion as a "nutrition, health and wellness company."
Issues For Investors
Investing in Nestlé can seem more hassle than it is worth for many American investors. For starters, the dividend is paid out annually, whereas most American blue-chip dividend stocks pay out quarterly dividends.
Another reason investors can be leery of Nestlé is the fact that it only trades in the OTC markets in America. The ADR is supported by the company, and each ADR share represents a single share that trades on the SIX Swiss Exchange, which is the primary listing for Nestlé, and where it trades under the ticker NESN (SIX:NESN).
The company states that the reason why Nestlé trades on the unlisted OTC markets in the U.S. is because the company reports financial information according to International Accounting Standards rather than US GAAP standards.
An additional, related, reason is that it likely does not need to trade on a listed exchange - after all, it would only need to do so if it wanted to raise capital. A global consumer staples giant with a market capitalization of over $200 billion and a dominant market presence simply has no need to go through the accounting requirements to raise capital that it can generate organically. as its sales revenue figures demonstrate.
The major issue with investing in the ADR is that investors need to realize that the dividend fluctuations which occur on the ADR dividend history are due to currency fluctuations, not due to any issues with funding the dividend. If you relied on the ADR dividend history, you would see the following figures for 2011-2016.
| | |
| --- | --- |
| Year | Dividend Amount |
| 2011 | $2.08 |
| 2012 | $2.11 |
| 2013 | $2.16 |
| 2014 | $2.42 |
| 2015 | $2.28 |
| 2016 | $2.32 |
The dividend figures for the shares on the primary listing give a clearer picture.
| | |
| --- | --- |
| Year | Dividend Amount |
| 2011 | 1.85 CHF |
| 2012 | 1.95 CHF |
| 2013 | 2.05 CHF |
| 2014 | 2.15 CHF |
| 2015 | 2.20 CHF |
| 2016 | 2.25 CHF |
Indeed, from the primary listing, it can be seen that Nestlé has paid consecutively rising dividends since 1995, a 21-year streak which, if sustained until 2020 and beyond, will make Nestlé a dividend aristocrat. Better still, Nestlé have paid rising or steady dividends since 1959, making it a source of reliable dividend income for 57 years.
While there is nothing wrong with owning the ADR, it is wise to be aware of the above issues pertaining to the stock. It is possible to own the shares directly on the SIX Swiss Exchange (I personally do for my own portfolio), but be aware that this entails extra paperwork. There is a 35% dividend withholding tax on Swiss stocks, but American shareholders can reclaim 20% of this under the double-taxation treaty between Switzerland and the U.S.
You will not need to file additional paperwork to reclaim 20% of the dividend with the ADR, as Citibank (Nestlé's ADR depositary bank) take care of this for you. This takes time, and is the reason why ADR shareholders are paid in May instead of April, when shareholders of the Swiss shares receive their dividends.
Valuation
Valuation is important, contrary to what some will tell you, for the following reasons. If the price of a stock exceeds the intrinsic value of said stock, you get a lower dividend yield, total return over the long-term may be reduced as a consequence, and the income received for the duration of the investment may be significantly less than it ideally should be.
The objection that valuation should not matter if you plan to buy and hold for life does not hold water - it assumes that no circumstances may arise where it may be necessary to sell a stock, whether because the original reasons that the stock was bought are no longer valid, or due to circumstances in the investor's own life that necessitate a sale to gain liquidity immediately, or a number of other reasons that vary according to an investor's personal or professional circumstances.
While I myself ideally will buy-and-hold for life, I will not eschew a disciplined approach to investing because I cannot say for certain what will happen in the years ahead. If you can, please let me know. In any case, for me these are the key reasons why valuation matters when evaluating a prospective investment.
Nestlé is currently trading at a price-to-earnings ratio of 24.14, and a forward price-to-earnings ratio of 20.0, offering a dividend yield of 2.89% with a payout ratio of 77.23%. That payout ratio is quite high, but is explicable on the grounds that Nestlé generates money from all corners of the globe, and the multiple currency fluctuations that result from this impact the payout ratio in consequence.
However, Nestlé's five-year-average P/E ratio is 19.3, and its five-year average dividend yield is 3.28%. The stock is therefore somewhat overvalued at this time, and if UBS are correct in their prediction of an imminent stock market crash, it may be wise to wait for this to occur before buying any Nestlé shares.
Other Viewpoints
Following Mark Bern's lead, I've decided that going forward, I will include links to articles from other Seeking Alpha contributors so that readers can consider viewpoints other than my own regarding a stock. None really dispute that Nestlé is a solid business, but two agree with me that its valuation is quite high, and one sees its focus on health and wellness as a potential distraction, a point on which I disagree.
Buy Nestlé And Sleep Well At Night
Nestlé's Identity Crisis Just Got Worse
Nestlé Is Not So Sweet At The Moment
Final Thoughts
Nestlé is one of the best businesses I have ever seen, and one I am glad to be a stockholder in. Its vast product portfolio, global market diversification, well-supported brands and dominant market position make it a business that I am confident will outlast my own lifetime, and well beyond that. Its investment in healthy nutrition products will also pay off in the long-run, I believe.
At present, the stock is somewhat overvalued, and if there is a stock market crash soon as UBS believes (and frankly, it is overdue), prospective investors would be wise to wait for the stock to come down to a valuation in line with its five-year average to get maximum benefit here.
DISCLAIMER: I am not a financial professional and accept no responsibility for any investment decisions a reader makes. This article is presented for information purposes only. Furthermore, the figures cited are the product of the author's own research and may differ from those of other analysts. Always do your own due diligence when researching prospective investments.
Disclosure: I am/we are long NESN.
I wrote this article myself, and it expresses my own opinions. I am not receiving compensation for it (other than from Seeking Alpha). I have no business relationship with any company whose stock is mentioned in this article.
Editor's Note: This article discusses one or more securities that do not trade on a major U.S. exchange. Please be aware of the risks associated with these stocks.