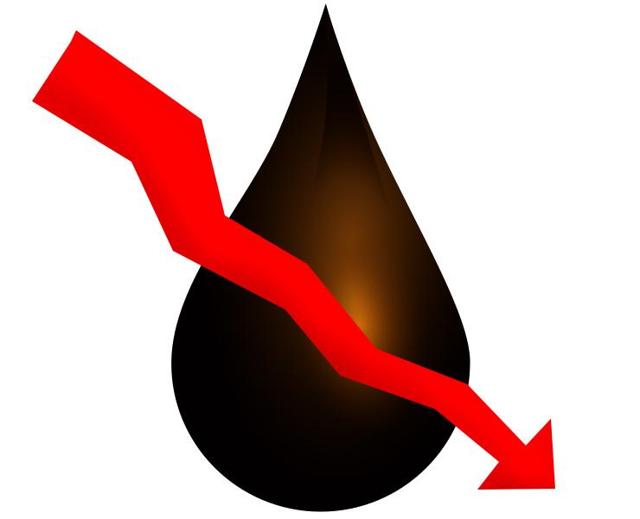 source: Stock Photo
The news isn't good for oil producers in the short term as U.S. inventory levels climbed for the second week in a row, and the slow part of the year for oil demand is upon us.
According to the Energy Information Administration, oil inventory climbed by 2.28 million barrels last week. On a seasonal basis, oil supply has reached a level not seen in over two decades.
If oil supply continues to add to U.S. inventory, and barring an unknown event, the price of oil will probably drop into the high $30s before rebounding back into the mid-$40 range, where it'll probably remain through the remainder of 2016, and at least through the first quarter of 2017.
Last week oil plummeted the most over the last eight months, as traders responded to the government data showing the U.S. inventory build.
The price of oil will remain volatile as the market waits for catalysts confirming a sustainable upward move has taken place. That won't happen until global demand catches up with high production levels. It will take longer once the next recession takes hold.
Driving demand and weather
Even though gasoline demand was solid for the busy summer driving months, supply still significantly outpaced demand, and it wasn't much of a factor in the price of oil. With the slowing demand for gasoline over the next quarter, it'll be even less of a factor.
I don't place much credence in weather predictions, but it will obviously be a major factor in the fundamentals for the fourth quarter. If this winter is fairly mild, it'll drive the price of oil down, all other things considered.
Coupled with expectations of slowing demand to about 1.2 million barrels per day growth pace over the next 6 months or even longer, it could even push oil down to the mid-$30s over the longer term.
Inventory shrinkage
Until U.S. oil inventory levels drop, the price of oil will remain with the $40 to $50 range, with $45 being the general average. That will only change if demand growth and outpace supply. So far it hasn't happened as expected, and there's little to suggest it will over the next 6 months.
There is also no chance there will be an agreement to freeze or cut oil production. Once that is confirmed, it'll also put downward pressure on oil. It's one of the reasons I despise the freeze noise, as it will end up pushing oil prices artificially down because of the momentum the "verbal inspiration" temporarily provides it. The problem is when other negative catalysts come into play, it backfires and oil can get crushed. It's being set up for that now.
If inventory continues to climb up to the meeting between major producers later in September in Algeria. While the informal call for the meeting gives the illusion something is going to happen, it's all smoke and mirrors, and under existing conditions, will be a negative catalyst that didn't have to happen to the degree it's going in its impact on oil. In the end, the manipulators should have just left things alone.
Conclusion
As Saudi Arabia has said a number of times, producers should let the market dictate the price of oil, and they should leave their hands off of it. Unable to do that, we're going to see a significant decline in the price of oil by the end of September.
The only thing that will change that outcome is if there is a meaningful decline in U.S. inventory levels. If not, there's going to be some carnage coming up in the next several weeks. Top OPEC producers have already said they won't be willing to freeze or cut production, yet the market acts as if media reports suggesting otherwise are accurate.
It looks to me like the price of oil will drop below $40 by the end of September, and if inventory levels continue to climb, it could drop as low as the mid-$30s, or possibly even into the low $30s per barrel.
On the other hand, if inventory cuts back, I see oil declining to around $39 per barrel by the end of September, meaning after the declaration there will be no oil cut or freeze in connection to OPEC.
Disclosure: I/we have no positions in any stocks mentioned, and no plans to initiate any positions within the next 72 hours.
I wrote this article myself, and it expresses my own opinions. I am not receiving compensation for it (other than from Seeking Alpha). I have no business relationship with any company whose stock is mentioned in this article.