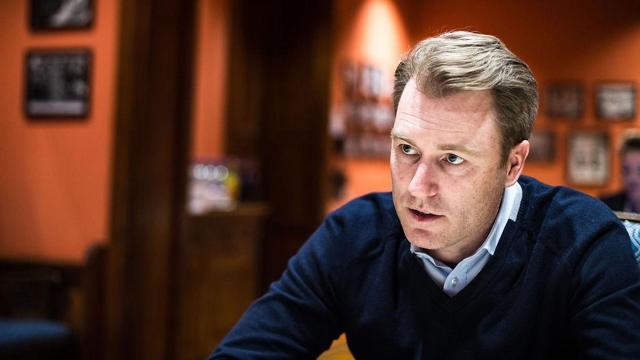 Schlumberger CEO Paal Kibsgaard
Schlumberger (NYSE:SLB) is the undisputed leader in the oilfield services sector. It has the biggest balance sheet, the most market share and is the most diversified. The company raised eyebrows at a recent European energy conference where management divulged it had turned dismal on the oil & gas recovery:
Schlumberger is lower after warning in an investor presentation that it expects Q3 results to come in "slightly lower" as West Africa, Brazil and Asia see further declines in deepwater drilling.

While SLB has seen more work thanks to an increase in the U.S. rig count, "there has yet to be any material change in pricing" for the service work, president of operations Patrick Schorn said.
RBC Capital reduced SLB's 2016 full-year earnings forecast from $1.18 to $1.04 on the news.
The Situation
Schlumberger has been reeling from the downturn in global E&P since Q2 2014. Q2 2016 revenue fell sequentially by another 12%. The company had been able to maintain its healthy EBITDA margins in the 28% - 29% range through mass lay offs and other cost containment efforts. EBITDA margins fell to 23% last quarter due to declining scale and lower margins (18%) from Cameron International. The flip side is that the Cameron deal allowed Schlumberger to change the narrative from one of declining revenue to product diversification and cost synergies.
Schlumberger Outlook By Region
Below is management's assessment of each of its operating regions:
North America
Management was assuaged by the increase in rig count and corresponding drilling activity in North America (27% of revenue). However, the rebound in services revenue has not been commensurate with the rebound in drilling activity. This could imply that drillers remain caution on spending in case the rebound in oil prices is a head fake. Nonetheless, shale plays have cut their operating costs to the point where some below they can turn a profit at $50/barrel. That's good for SLB, Halliburton (NYSE:HAL), Baker Hughes (BHI) and Weatherford (NYSE:WFT) who all have outsized exposure to North America. That said, Baker Hughes is less optimistic that the region has bottomed.
Latin America
Latin America represents 17% of revenue and has become an area of concern. Schlumberger has cut back on its operations in Venezuela due to slow payments from state oil company PDVSA for work already completed. Venezuela is one of the world's largest oil producers; its dependence on oil revenue has become costly now that oil prices no longer hover above $100. Schlumberger now provides work for PDVSA on a cash basis only. Its activity could slow due to Venezuela's cash crunch or ability to get credit from Halliburton or Weatherford.
Massive oil projects that began in the Gulf of Mexico when oil prices were above $100 are starting to come online. However, sales in Mexico might not be enough to offset declining activity elsewhere in Latin America.
Other Regions
The company does not expect increased activity in Europe, Russia or Asia. The dearth in offshore E&P is taking its toll in international markets. Many large drillers in this segment might be content to stem cash burn and shore up their balance sheets in the near term. Though is bad news for Schlumberger it could be even worse news for National Oilwell Varco (NYSE:NOV) which is dependent upon selling rig equipment to offshore participants.
What Next For Oilfield Services?
When Schlumberger coughs the other large oil services players have the potential to catch cold. Management's recent presentation was a far cry from its Q2 earnings call when it announced North America had bottomed. Schlumberger has the strongest balance sheet, followed by Baker Hughes which is just off its $3.5 billion windfall after its failed merger.
The other major players are lagging. Halliburton's Its cash fell to $3.1 billion in Q2 from nearly $10 billion in the previous quarter. It pared debt, probably to protect its credit rating, and it was on the wrong end of a merger break-up fee. Its debt/EBITDA is approaching 5x, which could be considered junk levels. Its leading industry position could cause the rating agencies to downgrade its debt to lower investment grade in the second half of the year.
National Oilwell's Q2 EBITDA Margin was around 1%. It could turn negative in Q3 if offshore is as bad as Schlumberger suggests. Its debt is also approaching 5x EBITDA which is disconcerting. National Oilwell also has less than three quarters worth of revenue in its backlog; if its backlog falls further it could create negative sentiment for the stock. Meanwhile, Weatherford is insolvent by about $3.1 billion and is hemorrhaging cash amid $119 million in quarterly interest expense on $7 billion in debt. It receives nearly 70% of its revenue from international markets, which investors should watch closely in Q3. In my opinion, if it cannot attract new investors to repay current investors it could become the oil industry's Bernie Madoff.
Conclusion
Schlumberger just turned sour on Q3 E&P. With an $11 billion cash hoard it can survive a sustained downturn. The balance sheets of Halliburton, Weatherford and National Oilwell could become further stressed if E&P is delayed. I have a sell rating on the entire sector.
Disclosure: I am/we are short SLB, HAL, NOV, WFT.
I wrote this article myself, and it expresses my own opinions. I am not receiving compensation for it. I have no business relationship with any company whose stock is mentioned in this article.