Offshore drilling services provider Transocean (NYSE:RIG) surprised Wall Street and investors alike by delivering a huge bottom line beat last month. In fact, despite Transocean's revenue being cut in half on account of the weakness in the offshore drilling industry, the company had managed to post a profit of $0.17 per share, while analysts were looking at a loss of $0.01 per share.
This impressive bottom line beat at Transocean prompted Citigroup to upgrade the stock from "Sell" to "Neutral" as the investment bank cited that better-than-expected cost reductions and a robust backlog will allow the company to stay afloat in an adverse market. However, Citigroup also cites that Transocean's EBITDA performance will continue to remain weak.
This can be attributed to a difficult offshore drilling market, which has been hurt by a decline in capital spending. In fact, due to the end-market weakness, Transocean's adjusted net income in the second quarter had declined to just $64 million, way below the $408 million that was recorded in the year-ago period.
So, if Transocean needs to witness an improvement in its financial performance, the company will have to wait for a turnaround in the offshore drilling industry. But, is such a turnaround in sight? Let's find out.
Will offshore drilling recover?
Offshore drilling has been severely hit as investments have been taken off the table in light of declining oil and gas prices over the past two years. This is not surprising as the decline in oil and gas prices has hurt the cash flow generation of exploration and production companies, while highly-levered balance sheets have been another problem. As a result, oil companies have elected to reduce investments in the offshore drilling space.
The following chart clearly explains that a steep drop in the net income of major oil companies last year has been a bane for Transocean: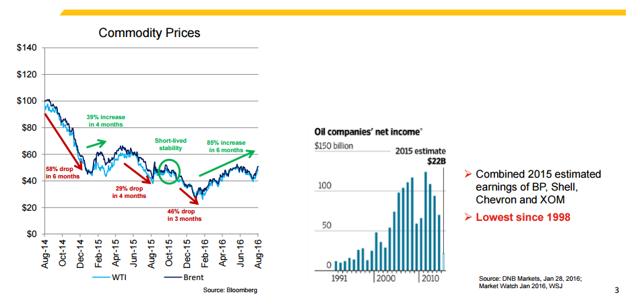 Source: Transocean
As such, it is not surprising to see that the utilization rates across different categories of the global offshore drilling market have declined. Now, the impact of lower oil and gas investments is being seen on the overall reserve profile of the oil and gas industry. By investing a lower amount in the development and exploration of oil and gas fields, oil companies are seeing a decline in their proven reserves.
For instance, in 2015, the proven reserves of Royal Dutch Shell (NYSE:RDS.A) (NYSE:RDS.B) had declined by a whopping 827 million barrels. What's more, Shell was not the only one to witness a decline in its reserve profile, with shale oil producers such as Occidental Petroleum (NYSE:OXY) witnessing a drop of 461 million barrels. In fact, the overall decline in the value of reserves last year stood at $840 billion as investments had been reduced by 22% in 2015, with another 12% cut expected this year.
Driven by this decline in oil reserves, a deficit can be expected in supply going forward as demand continues to remain strong. As the Schlumberger CEO told Reuters:
"Energy companies have halved their E&P budgets since oil prices began their slump in June 2014, scaling back drilling to focus on the most prolific oil fields, a strategy called high-grading. "As the opportunities for activity high-grading are exhausted, we should see a further acceleration in the global production decline," Schlumberger Chief Executive Paal Kibsgaard said on an earnings conference call on Friday.

The IEA, which coordinates the energy policies of industrial nations, earlier this month raised its forecast for global oil demand growth by 0.1 million barrels per day (bpd) to 1.4 million bpd in 2016 and 1.3 million bpd in 2017."
In order to fill any supply gap, offshore drilling will play a key role. This is because after shale oil, deepwater is the next area where deep oil production cuts have taken place as seen below: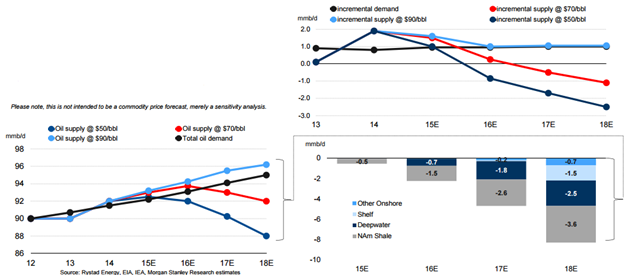 Source: Reuters
Why offshore is ready to fill any supply gap
As discussed above, the decline in oil and gas spending will create a supply deficit going forward, and since deepwater has been one of the hardest hit sectors during the downturn, a supply shortage will prove to be a tailwind. I'm saying this because there are a number of discoveries in the offshore that are waiting to be developed.
According to Credit Suisse, there are 400 offshore oil and gas discoveries ready to go into the development phase. This is the reason why offshore drilling hotspots such as the Gulf of Mexico are expected to see a number of new project start-ups until the end of next year, as shown below:

Source: EIA
As such, a total of six new offshore projects are expected to get the green light this year and next year, which is great news for Transocean and the offshore drilling industry. In fact, from 2015 to 2019, a 69% increase is anticipated in offshore oil spending, with the figure going up to $210 billion at the end of the forecast period. Of this amount, a total of $173 billion will be spent in areas such as Latin America, North America, and Africa.
Thus, it is evident that there are certain growth hotspots still available in the offshore drilling industry. Moreover, as the shortage of oil supply starts to hit producers, offshore drilling will be able to make a comeback, especially as there are discoveries in place ready for development.
Conclusion
Thus, a reduction in oil and gas investments should ultimately help Transocean make a comeback in the future on the back of a recovery in the offshore drilling market. The company has been doing well to reduce costs at an impressive pace, which has led to an upgrade recently. This indicates that Transocean is well-placed to fight the adversity in the industry, and once the situation improves, its financials should also start getting better.
Disclosure: I/we have no positions in any stocks mentioned, and no plans to initiate any positions within the next 72 hours.
I wrote this article myself, and it expresses my own opinions. I am not receiving compensation for it (other than from Seeking Alpha). I have no business relationship with any company whose stock is mentioned in this article.