Despite low oil prices and refining margins that have taken a toll on the business, Royal Dutch Shell (NYSE:RDS.A) (NYSE:RDS.B) has managed to deliver gains of over 5% on the market this year. While some investors might attribute such a gain to the rally in oil prices in recent months, but one should not lose sight of the fact that the company has been aggressively optimizing its operations.
For instance, Shell will be selling assets worth $30 billion between 2016 and 2018 that aren't generating profits at the current oil and gas price, including $6 billion to $8 billion of asset sales in 2016. The more important thing is that with this divestment plan, Shell will be able to remove almost all of its non-profitable assets by 2018. This, in my view, is a smart move for a couple of reasons.
First, the company can use the proceeds to pay its net debt and dividends, and second, its focus on the more profitable assets will allow it to generate higher cash flow even in a lower pricing environment. Let's see how.
Shell's asset optimization will lead to long-term returns
Last quarter, Shell lowered its operating expenses by over $4 billion or 10% to $42 billion as compared to the prior-year period. This significant reduction in operating costs can be attributed to its effort of streamlining its assets, exploration savings, overhead reductions, staff reductions, office closures, and supply chain optimization. The following chart shows how Shell has been able to reduce its costs in recent quarters.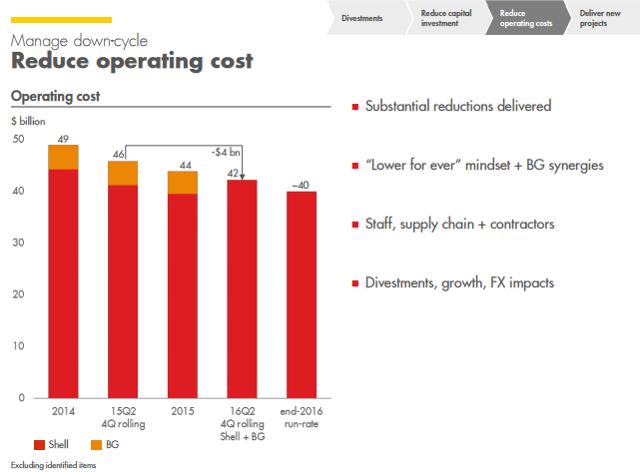 Source: Royal Dutch Shell
In fact, by the end of the year, Shell believes that it will be able to achieve a $40 billion operating cost run rate at the end 2016. This means that Shell will be able to achieve another $2 billion of cash cost savings in the second half of the year. As a result of this reduction in cash costs, Shell will be able to lower its unit costs as well. In fact, Shell has reduced its unit costs by 15% to 20% from 2014 levels.
But, despite this reduction in unit costs, Shell has been able to keep its production mostly intact. This is because the company has been focused on developing those projects where its capital costs will be low and production will remain high. The following chart clearly shows how Shell's production has picked up pace of late despite a decline in operating costs: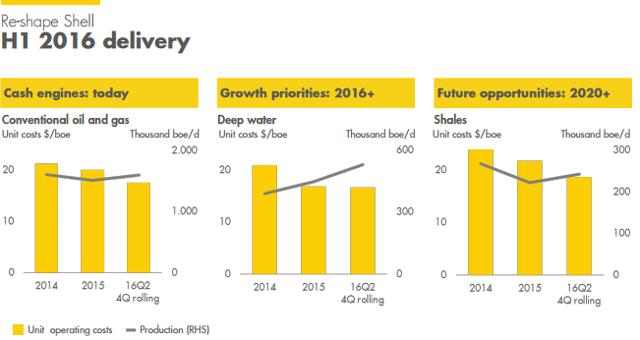 Source: Royal Dutch Shell
What's working for Shell
Thus, it is evident that Shell is focusing on increasing its production in an efficient manner. The company is seeing a reduction in costs and an improvement in production as a result of production start-up from new, more accretive oil and gas projects. In fact, Shell expects more than $10 billion of potential cash flow per year from 2018 onward on the back of production ramp from projects that went online post 2014 and the new start-up of 8 projects this year.
More importantly, its cash flow will get better even if the prevailing oil and gas price persists beyond 2018, due to the improved capital efficiency, lower cost structure linked to BG's synergy, and exit from non-profitable assets. Overall, the company anticipates organic free cash flow to grow in the range of $20 billion to $25 billion on an annual basis from 2019 to 2021 as it increases production from lower cost assets.
The thing to observe over here is that Shell expects this amount of organic cash flow growth at a Brent oil price of $60 a barrel. This compares to organic free cash flow of just $5 billion at a Brent oil price of $90 a barrel for the period of 2013 to 2015, as shown in the graph below.

Source: Shell
Therefore, Shell will be able to achieve a higher return on its investments even at a lower oil price since it is optimizing its asset base. This will ultimately help Shell record better financial returns as oil prices rise further and further amplify its cash flow due to lower costs.
Conclusion
All in all, Shell is making the right moves to counter the weakness in the oil environment. The company has successfully reduced its cost base and managed to keep the production intact at the same time. This move will help Shell increase its operating cash flow in the long run at a lower oil price, as discussed above. So, in my opinion, it will be a good idea to remain invested in Shell going forward since it is making the right moves to stay strong in a weak environment.
Disclosure: I/we have no positions in any stocks mentioned, and no plans to initiate any positions within the next 72 hours.
I wrote this article myself, and it expresses my own opinions. I am not receiving compensation for it (other than from Seeking Alpha). I have no business relationship with any company whose stock is mentioned in this article.