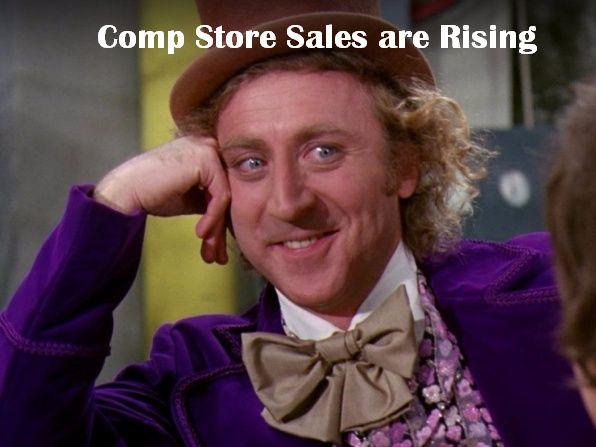 Image Source: Paramount
The great thing about retail companies is that they are highly visible, where you can witness the health of sales by visiting a store and see the merchandise moving through the registers. The retailers with stores that are typically crowded with significant selling activity are the more successful companies. Successful retailers achieve comp store sales increases, which provide a key measure of a company's sales health.
The other aspect of a retailer's visibility is the store growth. Investors can see new stores being opened in their communities and in places that they visit. This visibility provides investors with a certain comfort level that the information being reported by the companies is accurate. This reduces the chance of having an unexpected misstatement of fundamentals, which is more likely to happen with less transparent businesses (ie. Enron).
In this article, I am highlighting growing retailers that have strong store growth and comp store sales increases, with plenty of room for further expansion. These are retailers that have proven to be successful and are in the process of multiplying that success with additional new stores. The companies are profitable with strong earnings growth, which will help drive the stocks to outperform the averages going forward.
The S&P 500 is expected to grow earnings at about 10% to 11% annually over the next 3 to 5 years. However, that might be a little too optimistic since GDP growth has been so low. Even if the S&P 500 does achieve 10% to 11% EPS growth, the retailers that I'm highlighting here are expected to achieve stronger growth. So, I'm expecting the higher earnings growth stemming from increases in comp store sales and total revenue from these retailers to drive the stock to outperform the S&P 500 over the next few years.
Ollie's Bargain Outlet (NASDAQ:OLLI) is a great example of one of these successful growing retailers. Ollie's just reported a 3.5% increase in comp store sales for Q2. The company beat estimates for revenue [up 16% to $211 million] and EPS [up 75% to $0.21]. The strength in comp store sales was attributed to an increase in the number of transactions. This shows that the company is most likely attracting new customers at existing stores and/or existing customers are making more frequent purchases.
The strong results led Ollie's to raise guidance for the full year for a comp store sales increase of 2.5% to 3% up from previous guidance of 1.5% to 2.5%. Ollie's store growth continues as they opened 8 new stores in Q2 putting the company on track for 28 to 32 new stores for the year. Ollie's currently operates about 200 stores in 20 states in the eastern half of the United States. Therefore, there is plenty of room for further growth in additional regions in the U.S., which will allow the company to grow revenue and earnings over the long-term.
With Ollie's opening about 30 stores per year, while achieving comp store sales increases, the company is likely to achieve revenue growth over 15% per year. Consensus estimates are calling for revenue growth of 16% and EPS growth of 39% in 2017. These are strong catalysts that are likely to drive the stock higher at a market outperforming pace.
With the stock trading at about 31X next year's expected EPS, it is a little pricey. Investors are giving the stock an above average valuation for Ollie's above average growth. While the PE is not likely to increase further, I do expect the stock to increase as the company continues to achieve strong above average growth. I think that the stock can increase about 12% over the next year, driven by comp store sales increases and earnings growth, while being suppressed a bit from the already high PE level.
Sprouts Farmers Market (NASDAQ:SFM) is another growing retailer with investing appeal. Sprouts reported a comp store sales increase of 4.1% for Q2. The company is growing revenue and earnings at double-digit rates. Sprouts opened 12 new stores in Q2, bringing its total store count to 243. Sprouts plans on opening 36 new stores and expects to achieve comp store sales growth of 3% to 4% for the year.
Sprouts found success as a healthy grocery store concept, selling natural, fresh, and organic foods. The company's sales strength shows that consumers are demanding healthy food options.
Sprouts currently operates in just 15 states. So, there is plenty of room for store expansion in the United States. Sprouts is expected to grow revenue at 16% to 17% and EPS at 17% for 2017 (consensus). This looks feasible considering the pace of new store openings and comp store sales growth. The sales strength, continued expansion, and above average earnings will drive the stock to outperform the averages.
Sprouts is trading at 21X expected 2017 EPS. This is a reasonable valuation considering the company's strong double-digit earnings growth. I expect the stock to rise approximately in-line with earnings over the next year for a 16% to 17% gain.
The large amount of older vehicles on the road has helped to drive the growth of O'Reilly Automotive (NASDAQ:ORLY). The average age of vehicles on the road is about 11.5 years. That kept demand strong for O'Reilly's aftermarket auto parts and related products.
O'Reilly's is another retailer with comp store sales strength. The auto parts retailer achieved a comp stores sales increase of 4.3% for Q2. This sales strength confirms that vehicle owners are increasingly spending money at the company's stores to maintain their vehicles.
After opening 89 stores in the first half of 2016, O'Reilly is on track to open 210 new stores for the year. Although O'Reilly is more established than the other companies that I'm highlighting in this article with about 4,660 stores in 44 states, the company is still finding key spots for new store growth. O'Reilly's is expected to grow revenue at 7% and EPS at 15% in 2017 (consensus). Continued expansion and sales success will drive the stock to outperform as the company grows earnings at an above average pace.
O'Reilly is trading at 23X next year's expected EPS, which is above average but still reasonable considering the company's strong growth. At this level, I think the stock can rise approximately 15% over the next year in-line with earnings growth.
Another growing retailer that is likely to outperform is Five Below (NASDAQ:FIVE). This retailer, which focuses on low-priced items for the pre-teen and teen markets, achieved a 3.1% increase in comp store sales in Q2. The sales strength demonstrates how the company's product mix with items priced at $5 or less is successfully resonating with customers.
Five Below is another retailer focused on expanding its store count. The company operates about 500 stores and is on track to open 85 new stores this year. The combination of comp store sales growth and new store openings will lead Five Below to achieve an increase in revenue of about 21% and EPS growth of 25% to 26% in 2017 (consensus). All of that looks like a recipe for the stock to outperform the broader market averages.
Five Below maintains a high valuation and is currently trading at 33X next year's expected EPS. With earnings expected to grow at a high rate of 25% to 26%, I think it is reasonable for the stock to gain at least 15% to 20% over the next year, driven by earnings growth, but suppressed by the high valuation.
Conclusion
The companies that I highlighted in this article have proven to be successful. Their success is evident with comp store sales increases, which shows that these retailers have a good handle on their businesses by placing the right products in their stores based on customer appeal. As these retailers continue to multiply their successful concepts with new stores, achieve comp store sales increases leading to above average revenue and earnings growth, the stocks are likely to outperform the S&P 500 for the foreseeable future. However, keep in mind that if these companies significantly miss sales or earnings expectations, it is likely to lead to a sharp sell-off due to their already above average valuations.
Disclosure: I/we have no positions in any stocks mentioned, and no plans to initiate any positions within the next 72 hours.
I wrote this article myself, and it expresses my own opinions. I am not receiving compensation for it (other than from Seeking Alpha). I have no business relationship with any company whose stock is mentioned in this article.
Additional disclosure: If you like my analysis, click on FOLLOW at the top of the article near my name. That will allow my articles to display on your homepage as they are published. The article is for informational purposes only (not a solicitation to buy or sell stocks). I am not a registered investment advisor. Investors should do their own research or consult a financial advisor to determine what investments are appropriate for their individual situation. This article expresses my opinions and I cannot guarantee that the information/results will be accurate.