A few months ago, I authored an article on Alcoa (NYSE:AA) that discussed potential strategies for Alcoa pre-split. At this time, investors are not knowledgeable of the split date but have to infer that it will occur sometime within the next three months. Given the point in the cycle which aluminum is at, it may behoove investors to hold both equities through the split to get in at an attractive cost-basis relative to the long-term potential of both public entities. That's the single most attractive option I see, however a volatility trade or simply waiting it out may also be excellent investment decisions.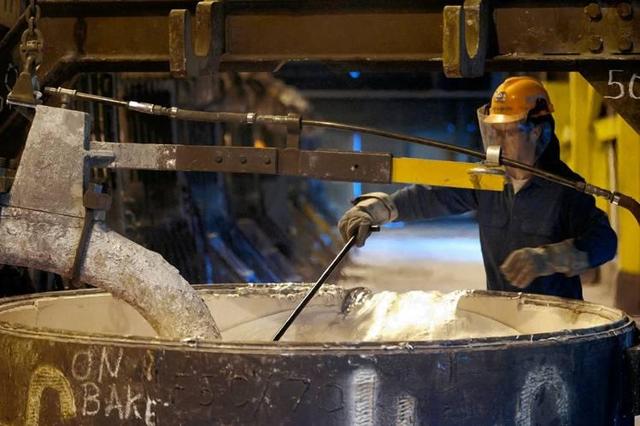 Source: WSJ
Three Potential Strategies
Buy And Hold Through The Split
This is a substantial opportunity for any event-driven fund so it is my belief that the volume experienced on the split date - even in light of the reduced share count because of the reverse split - will be higher than normal. At the time of initially suggesting this strategy seven months ago, Alcoa was trading at $7.81/share, which now reflects a gain of 29.7%. That took a large amount of reward off the table; however, relative to a five year chart, there is still a lot of meat on the bone. As an added bonus, aluminum prices were down 11% YOY at the time of the Q2 earnings announcement, setting up a buy window for prospective investors.
On the Q2 earnings call, investors were given a hint that the upstream shares may not be sold off come the split date given the segment's efficiency improvements. This was reflected in the significant jump up in the equity Additionally, being cognizant of where aluminum prices are at relative to their historical averages is critical. In the last five years, aluminum is down nearly 50%, which sets up a fantastic risk/reward scenario in the long-term for the pure aluminum public entity, new Alcoa. Below is the chart of an ETN that tracks aluminum prices over the last five years: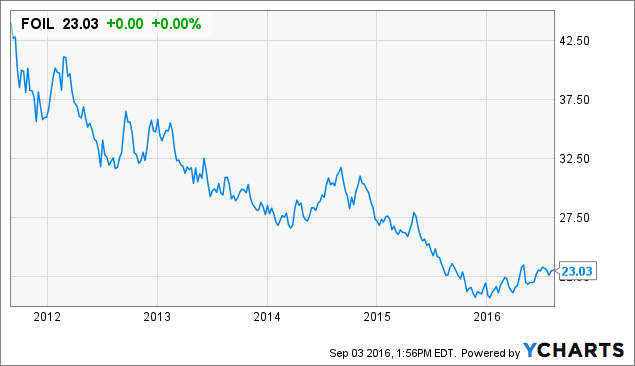 Source: YCharts
Thus, it would make sense to pickup AA shares on a down day and hold through the split. With the 8% downtrend in AA since early July, this is likely the discount shareholders need to enter in with an attractive cost-basis.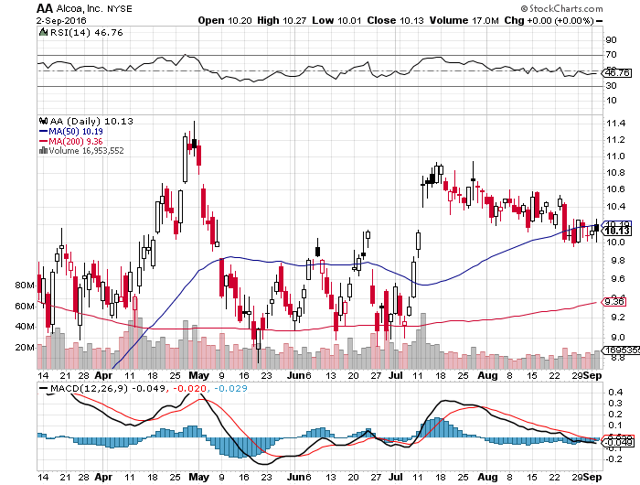 Source: StockCharts
Monitoring institutional ownership levels prior to and post split will be key as it'll give investors a long-term perspective on what the key players are thinking. Considering many investors are inclined to buy and hold a majority of their investments, this strategy presents less risk than others. Alcoa has some strong institutions holding significant portions of the float as is, notably Elliot Management and Soros.
Capture Volatility On The Split Date
Given the potential for above average volume and the potentially volatile returns - to either the up or downside - for the two new equities, it's entirely possible that a vol-seeking strategy is a wise move. It eliminates the need for investors to do company-specific due diligence in finding what particular entity is the right to buy after the split and it eliminates potential on the split date should both entities decline, or one declines at a rate greater than the other's gain. Rather, it involves finding the implied probabilities of an upside or downside move.
While nothing changes from a P/L perspective with the reverse split (1 for 3), it's likely best to wait for the reverse split before picking up options. Additionally, it's worth noting that this strategy is not suited for every investor. Given that a majority of investors just want long exposure through simple stock purchases, it's likely that very few individuals will undertake such a position.
However, if we think back to how lucrative long straddles or strangles can be, recall that the Brexit-induced spike in volatility allowed for long vol option strategies paid out significant gains, some up to 8 to 1 on the day of. These strategies work, they are just riskier options. While the CBOE and Nasdaq will have updated options chains, it's best just to consult your broker platform and run a payoff analysis.
Wait Patiently, Examine Post-Split Volatility
And then make your bet. The problem with this strategy is that you potentially forfeit the gains that the split will bring. However, for those more keen on swing trading or picking up Alcoa or Arconic at a discount, waiting to see how each new equity performs post-split may allow for substantial discounts to form. Investors could pick up undervalued shares for the LT at that point.
One of the toughest things to do in today's market is to establish an equity's drivers: what actually moves the price of a stock on a day to day basis. Given that Alcoa has maintained a strong correlation to aluminum prices, it's reasonable to expect that the new Alcoa entity will follow suit. However, Arconic may have a completely different set of drivers and it's going to take time to reasonably understand how it trades. A large component of that understanding will be how volatile it is relative to major indexes. As is, Alcoa has significantly underperformed the S&P 500 throughout the last five years.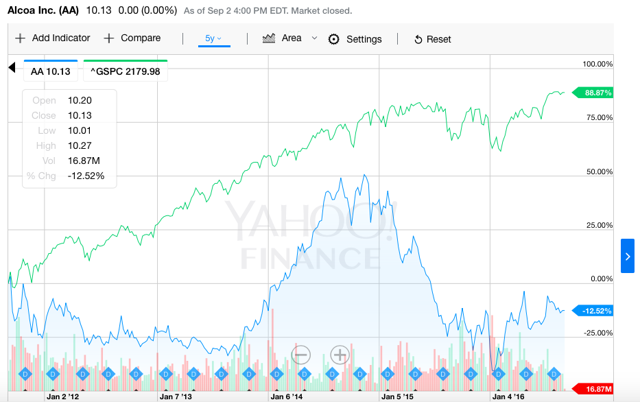 Source: Yahoo! Finance
Thus, I believe it is imperative that if investors are going to wait for the split to happen and not be either long or short the equity, or have outstanding options positions, they should do one of two things. They either swing trade the day of if a discount develops or wait several weeks for the equity's drivers to be firmly established and then making a more informed decision, as to mitigate risk.
Conclusion
There are a variety of strategies an investor can choose to pursue come the split date. Naturally, these strategies are just a few that investors can choose to pursue. There's an infinite amount of possibilities for keen investors using all tools and asset classes at their disposal. Fortunately, as the last seven months have progressed, the fundamentals haven't changed all that materially to where these strategies aren't viable any longer. In fact, these strategies present very realistic investment theses that have the potential to produce outperforming returns, in my opinion.
Disclosure: I am/we are long AA.
I wrote this article myself, and it expresses my own opinions. I am not receiving compensation for it (other than from Seeking Alpha). I have no business relationship with any company whose stock is mentioned in this article.