I mentioned a pair of $685 Prada monk straps on Saturday. That innocent name drop elicited a bevy of riotous comments which I suggest you check out if you're in need of some comic relief.
But to those who might resent my spending a quarter of a rent check on some shoes, maybe you should consider doing so too. Why? Because if it weren't for people buying stuff, we'd be in a recession. Here, have a look: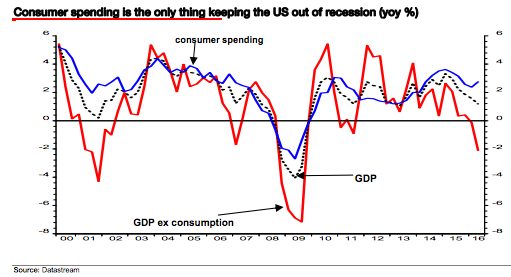 (Chart: SocGen)
See there? My Prada monk straps are the only thing keeping the US out of recession.
Now that's a little misleading of course. Consumption is ~3/4 of output, so the above is a kind of "tell me something I didn't already know moment," but then again, consumer spending has been lower than it is now without the country being in recession, which suggests something else is amiss. Here's how SocGen puts it:
The only thing keeping the US out of recession is the US consumer. It is difficult to say consumption is driving the economy forward rather it is like a woodworm ridden crutch creaking under the strain of holding up a deadweight economy. This recovery the fourth longest in history is surely nearing its end.
Here's the problem. Despite a fifth consecutive quarter of inventory drag on GDP, inventory/sales ratios are still sky high: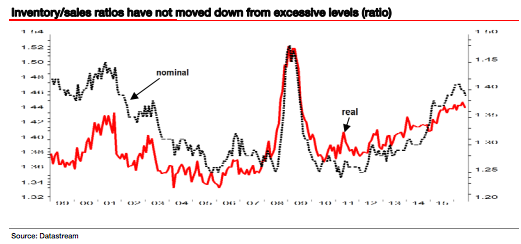 (Chart: SocGen)
Now let me ask you this? If you're a business, and you've had five (going on six) consecutive quarters of profit declines, what do you think your propensity to spend on business investment (including inventory) is going to be? Right. You're going to cut back. Especially when you need to spend the proceeds from bond offerings on buybacks to boost your share price and the management team's equity-linked compensation.
Well, do you know what that means for GDP? Here's SocGen again to tell you:
We emphasise that when GDP declines yoy, business investment accounts entirely for the recession (red line overlays dotted line in chart below). It is the business investment cycle driven by the profits cycle that is, historically, the primary cause of recessions.

(Chart: SocGen)
And if you need still more evidence of the rather precarious situation in which we find ourselves, consider this from Deutsche Bank:
In the long run wage increases must pay for themselves; that is, workers should be paid their productivity. If wages accelerate more rapidly than productivity then margins suffer in the absence of pricing power, which is likely to remain very low due to globalization. Our concern is that even the present subdued level of wage inflation is an overshoot relative to underlying price inflation and productivity growth. Given in addition the continued strength of job growth, the corporate sector might eventually choose to defend margins by slowing the rate of hiring. Since workers are also consumers, demand would slow, putting further pressure on margins.
See how this all fits together?
And how is the Fed going to rescue your portfolio (NYSEARCA:SPY) when they've so little counter-cyclical breathing room left without resorting to negative rates?
So do us all a favor: go out and buy yourself a pair of Prada monk straps and stimulate the consumer-driven economy for God's sake.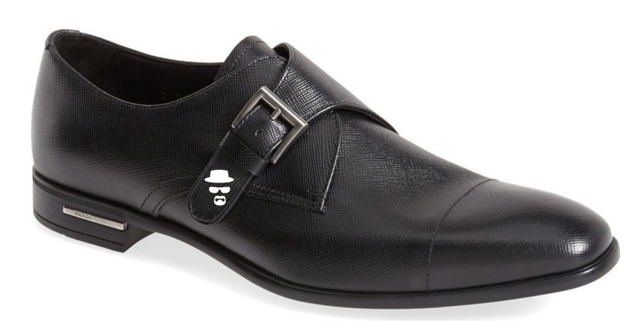 Disclosure: I/we have no positions in any stocks mentioned, and no plans to initiate any positions within the next 72 hours.
I wrote this article myself, and it expresses my own opinions. I am not receiving compensation for it (other than from Seeking Alpha). I have no business relationship with any company whose stock is mentioned in this article.