Baker Hughes North America Rig Count report shows drilling in the Gulf of Mexico to be at a low not seen in three decades. I review operations of eight major offshore drillers with an eye on finding those with particularly large exposures to the downturn specifically in the Gulf. Other themes are the continued rise in the number of land-based rigs in the US, with vertical and directional oil rigs being replaced by horizontal ones.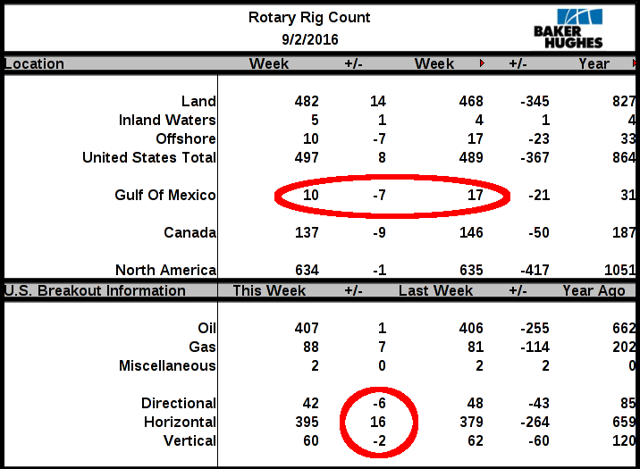 Source: Baker Hughes. The figures pertaining to offshore drilling in the Gulf of Mexico and to changes in rig direction have been circled.
Drilling in the Gulf of Mexico is but a shadow of its former self
The report shows the number of offshore rigs in the US exclusive economic zone declining by 7 from 17 to only 10. All of these rigs are in the Gulf of Mexico. Among the ten remaining rigs, nine are oil-focused, representing the lowest figure since May 2011. At the time, however, additional 19 rigs were drilling for natural gas compared to a single rig in the most recent week. In the aggregate, ten offshore rigs is the lowest count ever seen since the commencement of Baker Hughes data set in January 1990.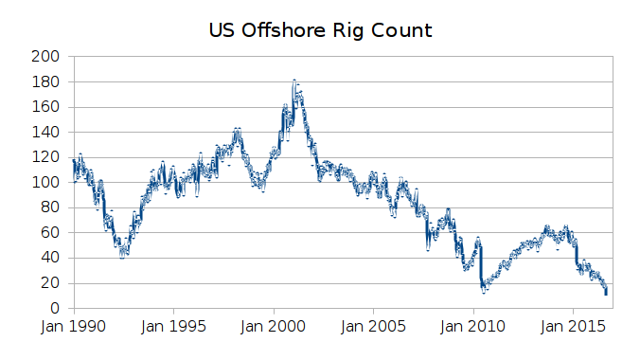 Source: Baker Hughes
On the surface, hurricane Hermine marking the commencement of the hurricane season provides a partial rationale for the activity in the Gulf being wrapped up. Indeed, the low offshore rig count is likely to persist for a while, as NOAA predicts an active hurricane season this year.
I think there is a deeper reason: major E&P companies re-orienting their exploration plans away from deep water drilling. As an example of a major E&P's attitude, ConocoPhillips (NYSE:COP) highlighted "progressing phased exit from deepwater exploration" in its August presentation.
The downturn's impact on the Gulf rig count is comparable to the aftermath of Deepwater Horizon
There was only one time in recent history, July 2010, when the US offshore rig count was at similarly low levels, bottoming at 12 in the week ending July 16, 2010. In retrospect, negligible activity at that particular time was unsurprising. The explosion and subsequent fire on Deepwater Horizon drilling rig occurred just three months prior, on April 20, 2010 and the low rig count in July 2010 was observed amidst multiple ongoing investigations into the disaster.
Rowan Companies and Noble Corporation have much to lose from lower activity in the Gulf
Major providers of ultra-deepwater drillships and semi-submersibles include Seadrill Limited (NYSE:SDRL), Diamond Offshore Drilling Inc. (NYSE:DO), Transocean Ltd.(NYSE:RIG), Ensco plc (NYSE:ESV), Rowan Companies plc (NYSE:RDC), Atwood Oceanics Inc. (NYSE:ATW), Pacific Drilling SA (NYSE:PACD) and Noble Corporation plc (NYSE:NE). Their ships and platforms are contracted on a long-term basis by E&P companies worldwide, with contracts extending as far as 2020 and beyond. The recent experience of Atwood Oceanics suggests that contract sanctity is not quite absolute these days: "The contract for the Atwood Osprey rig, which had been expected to start working for Woodside Energy until January 2017 at a $450K dayrate, was extended but at a new rate of $190K". With the concern about contract renegotiation in mind, it is interesting to look at companies most at risk specifically in the Gulf.
Of the above, Transocean and Ensco are highly diversified geographically and have little exposure to the Gulf. Seadrill's contracts for US-based ships all cover multiple years and expire mostly in 2019 or 2020. Seadrill does have two ships, a semi-submersible and a drillship contracted in the US until June and December 2017, respectively. In the context of the firm's highly diversified geography of operations, curtailment of activity specifically in the Gulf appears to be a minor concern.
Atwood Oceanics has four active ultra-deepwater drillships and semi-submersibles, with Atwood Condor at $555,000/day on contract till November and Atwood Advantage contracted until August 2017. These two ships in the Gulf account for about a quarter of Atwood's contract backlog. However, the stock has lost a lot of value recently and does not look to be a good candidate for profit-taking or establishing a short position.
Pacific Drilling likewise has two ships in the Gulf at very high day rates, Pacific Santa Ana on contract at $559,000/day until April 2017 and Pacific Sharav, contracted at $609,000/day till August 2019. Vanishing rigs in the Gulf appear to be congruent with the company's already distressed condition.
Proceeding towards firms that still have something left to lose, Diamond Offshore Drilling boasts a strong contract backlog. Among its contracts for 13 active ultra-deepwater drillships and semi-submersibles, four ships are in the Gulf. One of these is awaiting January 2017 to start.
The two remaining companies have the greatest portions of their operations in the Gulf.
Rowan Companies had three active Ultra-Deepwater Drillships as of July 1. All of them were in the Gulf, commanding the highest day rates among Rowan's fleet of $580,000-630,000 per day. Near-term exposure is in the contract for the $630,000/day Rowan Renaissance which will expire in April 2017. Rowan's lack of pricing power is worth noting: the firm's ultra-deepwater drillship Rowan Resolute is being used by Anadarko Petroleum (NYSE:APC) for seven months ending February 2017 at a drastically discounted day rate of $180,000 as compared to the regular day rate of $608,000.
Noble Corporation plc has six drillships, out of which four, commanding the highest day rates of $434,000-636,000 among Noble's fleet as of August 17 were in the Gulf. Contracts for two of these, including the highest-priced Noble Bob Douglas, are due to expire in February and March, 2017.
Horizontal rigs go on to replace directional and possibly vertical ones
Considering land-based rigs, the last week's two-rig decline is followed by a solid rise of 14 this week, from 468 to 482. There were seven new horizontal rigs focused on natural gas. Six directional rigs disappeared along with two vertical rigs, while the horizontal rig count went up by 16. Even after a sharp decline from 48 last week, the directional rig count at 42 is still up from the all-time low of 36 seen on July 8. The count of horizontal rigs at 395 is back to approximately the same level as in late February, as is the total number of US oil-focused rigs at 407. The latter remains down by more than a third from 662 seen a year ago.
Examining changes by state, Louisiana lost 7, of which 6 were probably directional. Oklahoma, Texas and Wyoming gained four rigs each, while Pennsylvania was up by two. These four states account for most of the increase of 16 in the horizontal rig count.
The dramatic rise in horizontal rig count is a little hard to account for, looking at changes by basin. Permian continued its steady climb and was joined this week by Eagle Ford, with both up by three rigs. Two new rigs were deployed in Marcellus Shale where new rigs were being gradually deployed over the past month. Adding a single new rig making an appearance in each of Utica and Williston basins amounts to ten net new rigs in total. The only other basins with changed rig counts are Barnett, DJ-Niobrara and Mississippian, each losing a rig. I think that in the basins that gained rigs, directional and possibly vertical rigs were being decommissioned and replaced by a greater number of horizontal rigs.
The market reacted to oil producers talking it up and ignored the rig count
WTI Oil (NYSEARCA:USO) prices were up on the day by $1.10-1.20 per barrel depending on delivery month. The futures curve moved up very nearly in parallel. For example, the front month October 2016 contract at $44.27 was up $1.11, while September 2017 was up $1.15 at $48.89.
Summary
The main themes of recent drilling activity are a contraction of offshore drilling and a steady deployment of rigs onto onshore sweet spots. It is not just the beginning hurricane season that has caused the rig count in the Gulf of Mexico to reach a 30-year low. The decline in activity could not have happened without major producers such as ConocoPhillips deciding to exit deepwater drilling altogether. While virtually every offshore drilling company is exposed to lower activity in the Gulf, Rowan Companies and Noble Corporation have particularly much to lose. Onshore, the Permian basin has seen over three months of new rig deployments and will likely see more new rigs in the coming weeks.
Note from author: Thank you for reading. If you like this article, please follow me by clicking the "Follow" link at the top of this page and choosing "Real-time alerts on this author" to be informed of my latest ideas.
Disclaimer: Opinions expressed herein by the author are not an investment recommendation and are not meant to be relied upon in investment decisions. The author is not acting in an investment, tax, legal or any other advisory capacity. This is not an investment research report. The author's opinions expressed herein address only select aspects of potential investment in securities of the companies mentioned and cannot be a substitute for comprehensive investment analysis. Any analysis presented herein is illustrative in nature, limited in scope, based on an incomplete set of information, and has limitations to its accuracy. The author recommends that potential and existing investors conduct thorough investment research of their own, including detailed review of the companies' SEC filings and consult a qualified investment advisor. The information upon which this material is based was obtained from sources believed to be reliable, but has not been independently verified. Therefore, the author cannot guarantee its accuracy. Any opinions or estimates constitute the author's best judgment as of the date of publication and are subject to change without notice. The author explicitly disclaims any liability that may arise from the use of this material.
Disclosure: I/we have no positions in any stocks mentioned, and no plans to initiate any positions within the next 72 hours.
I wrote this article myself, and it expresses my own opinions. I am not receiving compensation for it (other than from Seeking Alpha). I have no business relationship with any company whose stock is mentioned in this article.
Editor's Note: This article covers one or more stocks trading at less than $1 per share and/or with less than a $100 million market cap. Please be aware of the risks associated with these stocks.