Scrolling through articles on Seadrill (NYSE:SDRL), I see more than one suggestion that the company could have difficulty servicing its debt in a short time. I last looked at Seadrill in an article written on May 31st. I concluded that things did not look good, that Seadrill really needed a recovery and that the company still wasn't in control of its own destiny. Nevertheless, I continued to believe that Seadrill could chug along in the short term at least.
Roughly three months later, and Seadrill continues to do what it can to delever, reduce operating costs and push out release times for its ships still under construction. I continue to disagree with the predictions of imminent gloom and doom. This article looks at Seadrill's latest quarterly results, particularly its efforts to reduce costs, manage its fleet and its debt load.
Doing what it can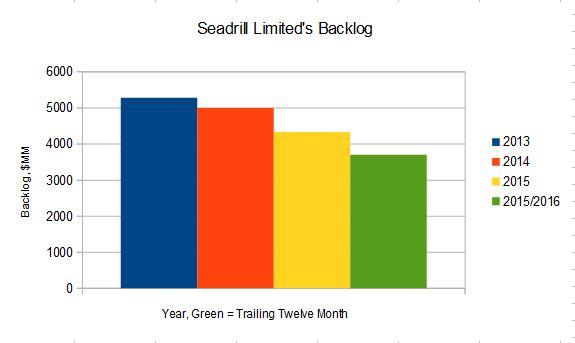 This chart above represents Seadrill's annual revenue. Revenue has steadily been dropping, year after year. As the company's multi-year backlog rolls off, producer customers either decline to continue leasing the rig or, as it has happened more often in Seadrill's case,have agreed to continue service, but at a much reduced dayrate. This has lead to steadily declining revenue, spread out over several years.
This trend continued in Q2. During the quarter, revenue was $868 million, down 21% year-on-year. Operating income was $364 million, down 15% year-on-year. EBITDA was down $557 million, down 9% year-on-year. Seadrill's financial performance is steadily adjusting to the 'significant supply overhang' that has been ongoing for the last couple years.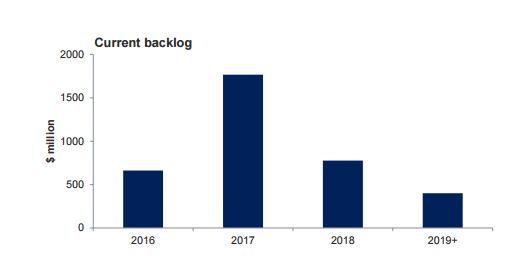 Courtesy of Seadrill Investor Relations.
It's important to understand that offshore drilling rigs are a 'late-cycle' business, and are often among the last companies to recover in the event of a turnaround in crude oil prices, not least because of rig lessor's high capital-intensity and inherent blockiness of revenue (these drillships are big investments, after all). Therefore, as long as crude prices remain to where producer customers are not making much money, I fully expect Seadrill's downward trend to continue, especially after 2017 when the backlog drops off significantly.
Implications
In my opinion, it's kind of silly to give an opinion on how Seadrill might fare three to five years from now. It's all going to depend on the global fundamentals of oil and gas, and not just supply but also long-term demand. The shorter-term is a bit more discernible, and I actually think Seadrill should do alright over the short-term, from a cash flow perspective.
Here is why. The company's 2017 backlog is fairly strong, meaning that revenue and cash flow should hold up somewhat next year. Over the next twelve months, approximately $2.4 billion in bonds and yard installments are set to come due. Seadrill already has $1.3 billion in cash. In addition, last quarter Seadrill generated $303 million of operating cash flow and $264 million in free cash flow. If we multiply the latter by 4 quarters, we get $1.06 billion in additional cash, annually.
Yes, revenue should continue to decline somewhat, but capital expenditure should follow and at least somewhat offset that. So, this is indeed a rough, back-of-the-envelope calculation, but it is one worth making, in my opinion. In any case, that gives Seadrill just about enough cash to pay off its maturing debt in full over the next twelve months, if that's what the company elects to do. Of course, the more debt Seadrill pays off, the less interest expense it will have, which also effects the bottom line.
Is Seadrill a buy?
To give an idea of Seadrill's challenges, lets first take a look at the tendering activity last quarter and this quarter to date. Four rig contracts were either terminated or let their respective ships go into inactive mode (West Hercules, West Ariel, West Freedom and West Pegasus). Five jackup vessels are set to complete construction in 2017, and three more will be complete in 2018. Completion of the Sevan Developer new build was delayed until October 15, and I see a challenge finding activity for that drillship.
All-in-all, I still do not believe that Seadrill is in control of its destiny. As I mentioned in my most previous article, Seadrill requires a substantial turnaround in not only crude oil prices, but also demand for rigs in order to really get itself on the right track in the long-term. That does not appear to be happening, despite some "pockets of activity," in management's own words.
However, at the same time, Seadrill appears to be in good shape for the short-term, and rumors of its demise are greatly exaggerated.
If you're interested in Seadrill, feel free to follow me here on Seeking Alpha. Although I haven not been long the stock for awhile now, I do continue to follow it, and will write more update articles when doing so is material and relevant.
Disclosure: I/we have no positions in any stocks mentioned, and no plans to initiate any positions within the next 72 hours.
I wrote this article myself, and it expresses my own opinions. I am not receiving compensation for it (other than from Seeking Alpha). I have no business relationship with any company whose stock is mentioned in this article.