Back on June 7th I recommended buying Omega Healthcare Investors (NYSE:OHI) on a recent dip. I liked this REIT because it was an "accidentally high-yielder," which I am a fan of in general. At that time Omega yielded 7.2%, which I thought was a great way for dividend investors to pick up income without incurring too terribly much risk.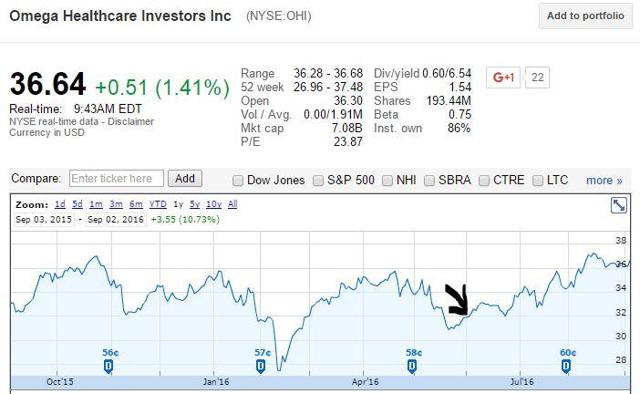 Courtesy of Google Finance.
The market has been pretty good to my choice. Since then, shares have gone from $32.30 per share to $36.64, a gain of 13.5%. That kind of short-term gain was luck, really, although I do still believe that Omega was well undervalued at that time.
Omega was (and is) cheap because many of its tenants are skilled nursing facilities whose clients pay by Medicare insurance, which is old-age health insurance provided by the United States government. Many important treatments of Medicare are expected to switch from fee-based services to bundled services over the rest of this decade. I explained the rationale for this move by the government in my last article. The effect of this would be an otherwise negative impact on revenue for Medicare-insured services, of which Omega's tenants certainly are providers of.
Since my last article Omega reported its second-quarter earnings. Also, Centers for Medicare & Medicaid Services, or CMS, announced that they would be bundling services for cardiac care from mid 2017 forward. I expect similar announcements from CMS to be peppered throughout the next couple years. This article looks at Omega's latest quarter, and takes a further look at what the impacts of this 'bundling' may be.
Impressive acquisition regimen
Omega is a 'growth' company right now. FFO grew 8.8% year over year in the second quarter. Much of that was due to an ambitious acquisition regimen. So far this year Omega invested $836 million in new projects, both in capital expenditure and acquisitions.
To give an idea of just how profitable these are, the company's latest acquisition of senior living communities in the US went for a 6.8% cash yield. This quarter Omega also acquired 3 skilled nursing facilities in Colorado and Missouri, which went for an average 9.0% cash yield and came with 2.5% annual rent escalators. At the same time, Omega is able to borrow at between 3% and 4%. Little wonder, then, that management expects to acquire another $400 million worth of skilled nursing facilities and senior living facilities before the year is over. Operating revenue grew from $197 million in the second quarter of last year to $228 million last quarter.
On the full year Omega expects growth in adjusted funds from operations (or AFFO) of 9%-10%. The only thing that could change this is if the demand for skilled nursing facilities moderates, broader costs of borrowing becomes significantly higher, or if the skilled nursing facility industry gets a large increase in new build competition. Considering that demographic trends necessitate a steadily-increasing need for healthcare services of many kinds, I suspect only the latter two scenarios stands a chance hamper the company's plans for growth ahead. Increased supply has been an issue in some other industries within this sector, but it has yet to effect skilled nursing facilities in a big way, from what I've seen.
Omega has enough liquidity in cash and on its revolver by which to continue acquiring and hit its goal for the year. Therefore, I do not expect the company to have to take out additional debt this year.
Significant leverage and cash flow commitments
I said in the last article that Omega wasn't an investment for everyone, and that is definitely still the cash. Total debt is 4.7 times EBITDA, which isn't terrible, but is high nevertheless. As a company in 'growth mode,' Omega also has a lot of cash flow commitments which make it necessary to borrow in order to both pay for growth projects and pay investors its generous dividend.
Let me use last quarter's numbers to illustrate what I mean. Last quarter Omega generated $160 million in operating cash flow and paid $115 million in dividends, meaning the dividend was about 72% of operating cash flow. Sounds good so far, right? Capital expenditure last quarter, however, was another $393 million, which means that Omega had a net 'gap' of $348 million in the quarter. I expect these 'funding gaps' to continue for as long as Omega keeps expanding through new builds and acquisitions.
Management had some interesting comments about that this quarter. CEO C. Taylor Pickett confirmed in a question from analysts that Omega would not consider paying down the balance of its revolver until 2017. Considering management's stated desire to acquire another $400 million in assets this year, that should not be a surprise, but could it also mean that Omega could start delevering next year? I don't know yet, but I'll be watching for any sign of that.
Continued discussion of valuation and the dividend
Although Omega has appreciated some 13.5% since my last article, I still believe this is a good buy. Omega is still cheap. According to data from FAST Graphs, shares have averaged 12.4 times trailing FFO over the past ten years (I use ten years because it represents one full 'business cycle'). As of today, Omega trades at only 10.9 times trailing FFO. That's still quite a deal, especially when we factor in that yield of 6.6%.
I believe Omega still has substantial upside, and I would not even begin to think about lightening up on this position until shares reach the average valuation of 12.4 times trailing FFO. Shares have another 14% or so to go before they get to that level. In the meantime, I continue to recommend accumulating shares of Omega Healthcare Investors. I believe it is well positioned to take advantage of some long-lived trends in the medical sector. Omega continues to be a good buy for higher-yield income investors, although as I mentioned in a previous article, it isn't for everyone.
If you like Omega Healthcare Investors, feel free to follow me on Seeking Alpha. I am personally long this stock, and will continue to write update articles when doing so is both material and relevant.
Disclosure: I am/we are long OHI.
I wrote this article myself, and it expresses my own opinions. I am not receiving compensation for it (other than from Seeking Alpha). I have no business relationship with any company whose stock is mentioned in this article.