Shock and Awe
Many years from now, when India's millennials look back at the evolution of internet in their country, they might recall with 'shock-and-awe' the events that occurred on the first day of the ninth month in the calendar year 2016. For it was on this day that Mukesh Ambani, Chairman of Reliance Industries (RIL) and India's richest man, announced a raft of initiatives that added ironclad intent to Prime Minister Modi's vision of a Digital India. The key points, related to Reliance Jio Infocomm, made by Ambani at RIL's 42nd AGM were:
Free voice calling.
Zero roaming charges across India.
A free welcome offer for Jio customers - data services free for four months - from September 5th until December 31st.
Ten tariff plans starting at INR 19 (USD $0.28) a day for occasional users, INR 149 (USD $2.37) a month for low data users and INR 4,999 (USD $75) a month for heavy data users. (In the current market, the base rate for 1 GB of data ranges from INR 4000 - 10,000. Reliance has cut this base rate by more than 90%.)
Super-affordable handsets under the LYF brand starting at INR 2,999 (USD $45).
1 million Wi-Fi hotspots across the country by mid-2017.
Reliance Jio is now the largest exclusively 4G LTE mobile network in the world.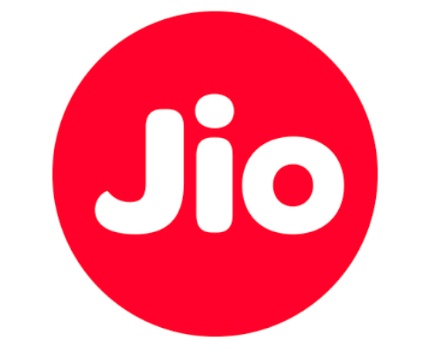 About Reliance Jio and its parent, Reliance Industries
Reliance Jio was incorporated in 2007 and is based in Mumbai. Jio, also known as Reliance Jio and officially as Reliance Jio Infocomm Limited ("RJIL"), is the telecom leg of Reliance Industries Limited - an Indian conglomerate holding company headquartered in Mumbai, India. RIL owns businesses across India engaged in energy, petrochemicals, textiles, natural resources, retail and telecommunications and is the second-largest publicly traded company in India by market capitalization. As of 2016, RIL is ranked 215th on the Fortune 500 list of the world's biggest corporations.
Internet Penetration in India
RIL's initiatives need to be looked at in the context of the sluggish growth in internet usage in India. This year, with its internet penetration at 34.8% -- relative to emerging market peers like Brazil at 66.4%, Russia at 71.3% and China at 52.2% -- India, with the second-largest population in the world, is ranked at 127 out of 201 countries. This despite growing its internet users by a staggering 30.5% in the previous year. Until now, it was a combination of expensive broadband plans and poor infrastructure that had hamstrung India's internet usage (Service providers like Bharti and Idea have focused on increasing Mobile Data ARPU's to counter sharp declines in the average price achieved for voice calls)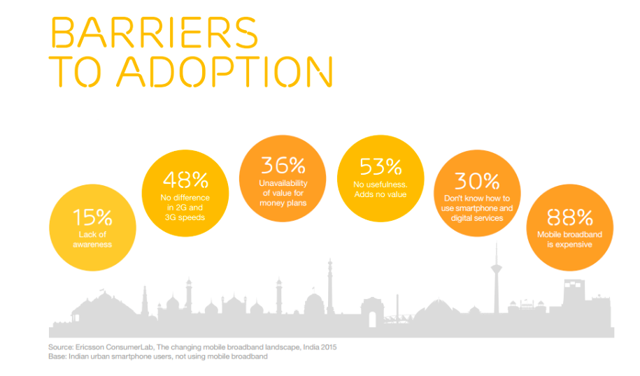 The Origin of Audacity
Reliance's massive mobile broadband push promises to change that.
The loudest cheers for Ambani's announcements came from India's young (India has more than 50% of its population below the age of 25 and more than 65% below the age of 35. By 2020, the average age of India's population is expected to be 29 - one of the lowest in the world). Jio is rolling Wi-Fi hotspots across the country. The plan is to set up nearly 1 million Wi-Fi hotspots by the middle of next year, near colleges, schools, and public places.
The company has deployed the largest 100% Voice-over-LTE network, providing crystal clear voice and video quality, instant call connectivity, the fewest dropped calls and a unique ability to use data and voice simultaneously. This in itself is a remarkable feat considering most legacy telecom service providers have not built their networks for data services; they had built networks to support voice and SMS. Jio, in sharp contrast, is an all-IP network. By March 2017, Reliance Jio expects its 4G network to cover 90% of India's population.
Ambani believes India will soon be among the Top 10 countries in the world for mobile broadband internet access.
Impact
Reliance Industries' intent to create a Digital India is great news for companies like Facebook (NASDAQ:FB), Amazon (NASDAQ:AMZN) and Alphabet (GOOG, GOOGL), which already have well-entrenched India operations.
Facebook
The social media giant, in particular, has in the recent past, made numerous attempts to increase internet usage, especially in rural India, through their campaign for Free Basics (The Telecom Regulatory Authority of India supported Net Neutrality effectively sounding the death-knell for Free Basics). India is the largest market for Facebook outside the US with close to 150 million monthly active users. Ambani made references to Connected Intelligence, Augmented Reality and Virtual Reality during the Reliance AGM and told shareholders why a best-in-class mobile broadband network is essential for the success of innovations such as these. The significance of Reliance's announcements would not be lost on Facebook; Especially, the team at Menlo Park overseeing Oculus Rift.
Amazon
Jeff Bezos loves India. When Amazon reported Q2 2016 sales that rose 30 per cent, Bezos was quick to pin-point the source. He said:
It's been a busy few months for Amazon around the world and particularly in India, where we launched a new AWS (Amazon Web Services) Region, introduced Prime with unlimited free shipping and announced that Prime Video is coming soon, offering Prime members in India exclusive access to Amazon Original Series and Movies - including original content featuring top Indian creators and talent. The team in India is inventing at a torrid pace and we're very grateful to our Indian customers for their welcoming response.
Reliance's initiatives are a shot in arm for India's e-Commerce Industry : Revenues are expected to grow exponentially, from $30 billion in 2016 to $120 billion in 2020, at an annual rate of 51%. This makes India the fastest growing e-Commerce market in the world.
Alphabet
A key-word search could be done over a 2G network. Viewing video is different though. At a minimum, it requires a 3G network. Reliance Industries has offered internet users in India an all-IP, ONLY 4G LTE network. This is a game-changing event for video content viewing in India and will catalyse YouTube's India Operations. According to YouTube, in 2015, overall viewing time in India grew 80% year-over-year. 55% of that viewing took place on mobile devices. Overall mobile watch time grew by 131%. Alphabet, as it steers its vast advertising business toward mobile and video, will watch the developments at Reliance Jio with interest.
Supporting Documents
Disclosure: I am/we are long RIL:IN. I wrote this article myself, and it expresses my own opinions. I am not receiving compensation for it (other than from Seeking Alpha). I have no business relationship with any company whose stock is mentioned in this article.