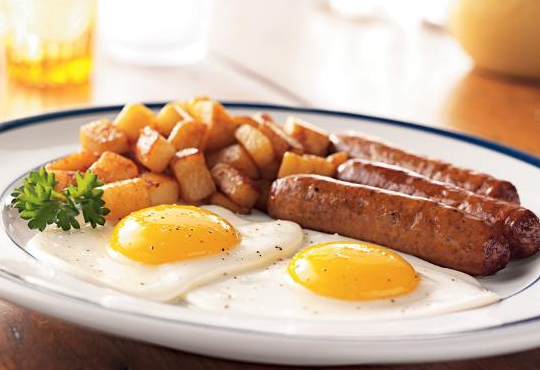 I've been pretty negative on Bob Evans (NASDAQ:BOBE) for a while as the company has produced very average fundamentals but investors have paid growth multiples for the stock. BOBE has had a tough time growing revenue and while some cost savings have provided a bit of leverage for margins, I just haven't been able to justify the price. After FQ4 earnings in June I said BOBE was priced for perfection after a nasty selloff took it to $40. That happens to be where we find BOBE today after a nice rally off of 1st quarter earnings complete with a guidance raise but is this rally just another head fake?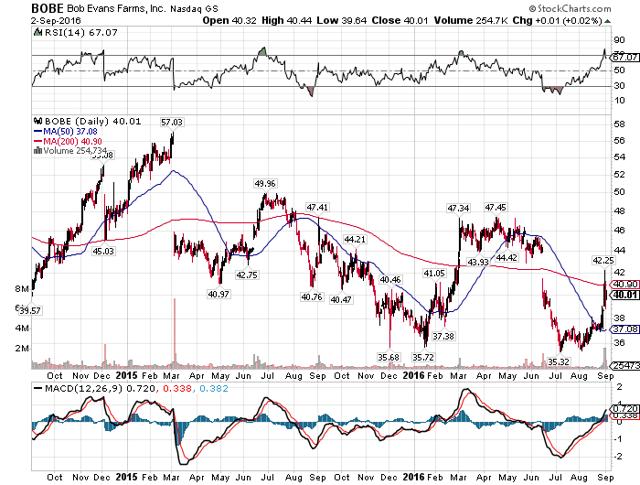 BOBE is split into a restaurant business and wholesaler that sells things like sausage and side dishes to retailers and the latter is certainly the source of strength, although that isn't saying much. The restaurant business continues to struggle mightily as hospitality issues and an uninspiring menu have cost BOBE dearly over the past couple of years. Management says it is working on these issues but so far, whatever they are doing isn't working.
Total revenue fell precipitously during the quarter as BOBE closed five stores and didn't open any but more importantly, comp sales were absolutely horrendous. This table from the press release tells you all you need to know about the quarter's comp sales and it is quite ugly indeed.

Each month was terrible in its own right but the blended average of a 4.3% decline for the entire quarter is simply too much to overcome. The thing is that this isn't new for BOBE; this is just how the restaurant business performs and it is killing the company's ability to grow earnings. In addition, there are no catalysts on the horizon to fix the issues the company is experiencing.
A new menu was launched last week and management is hanging its proverbial hat on that working. Time will tell but more importantly, hospitality issues are an absolute killer. I know that the few times I've eaten at a Bob Evans in my life, hospitality was always an issue. People don't like rude or inattentive servers and even if BOBE fixes those issues now, customers that have already been turned off aren't likely to go back. It is very difficult to get a scorned customer back and I think BOBE faces one heck of an uphill challenge with respect to revenue, new menu or not.
The thing is that BOBE's margins are suffering now as well as Q1's adjusted operating margins fell from 5.8% to just 4.6%. That is a sizable decrease in profitability and when combined with the loss in revenue, produced a 24% decline in operating income. Negative leverage from lower comp sales as well as higher labor costs combined with lower product margins to absolutely decimate profitability and you can add this to the long line of problems that BOBE has these days. A stabilization in comp sales would certainly help but higher labor costs are something I'm not sure BOBE can deal with, meaning that even if it does recover, its ultimate level of operating profits will still be low relative to historical norms for its business.
The rather amazing thing is that after the post-earnings rally, BOBE is once again going for 19.1 times this year's earnings. This is true despite all of the very major problems I've pointed out as investors are very excited about a nickel bump in guidance for the rest of the year. That is astounding to me as I'm not really sure what bulls are buying here; you have a terrible restaurant business combined with an average wholesaling business and the whole enterprise is going for 19 times earnings. I think this rally is a knee-jerk reaction to a guidance raise and that when BOBE disappoints again in Q2 and beyond, the stock will come back down. This is not a company that is capable of sustaining a rally because that requires real results, something BOBE has proven again and again it is incapable of providing. Now looks like a great time to short the stock.
Disclosure: I/we have no positions in any stocks mentioned, but may initiate a short position in BOBE over the next 72 hours.
I wrote this article myself, and it expresses my own opinions. I am not receiving compensation for it (other than from Seeking Alpha). I have no business relationship with any company whose stock is mentioned in this article.