"The most terrifying words in the English language are: I'm from the government and I'm here to help."

- Ronald Reagan

In a recent article, we discussed the reasons behind the last seven years of anemic growth which encompass what is by far the weakest recovery since WWII on record. We also concluded that whoever the next 45th president ends up being, growth is not going to accelerate anytime soon. Investors should plan to position their portfolios so that they can survive and prosper in a continued low-yield and low-growth environment.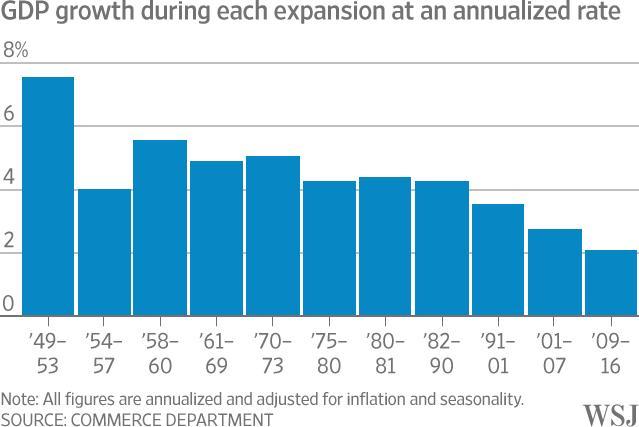 Out Of Ammo
Whoever the next president ends up being, they will have some significant disadvantages as far as enabling economic growth compared to their predecessor. To begin with, the Federal Reserve can hardly quintuple their balance sheet yet again. The days of "quantitative easing," which was one of the main factors behind the surge of the market and assets such as real estate, seem over.
Nor will the next occupant of the White House be able to nearly double the debt and pay less interest costs on the national debt than the government was paying in 2007. In addition, the new president will inherit an economy that is very long in the tooth as far as the business cycle goes. Given we are likely to end up with a divided government in any plausible election outcome, any stimulus programs with an over $800 billion price tag also seem unlikely.
Neither candidate seems focused on making the structural, tax, entitlement and regulatory reforms necessary to shift the economy upward into a 3-5% GDP growth trajectory common during other post-war recoveries. Therefore, the most likely scenario is for continued two percent growth, low interest rates and increasingly likelihood of a recession the older the "expansion" gets.
Investing In A Low-Growth/Low-Yield Environment
So, how am I positioning my portfolio with the major indices near all-time highs and with the S&P 500 selling for nearly 20 times forward earnings? To start with, I have brought my cash allocation up to 20% of my portfolio. Given the testiness of the upcoming election, I would not be surprised if the market suffers a "hiccup" sometime up to or right after the election.
The next area I am actioning is being overweight sectors of the economy that can continue to produce both revenue and earnings growth despite a challenging domestic backdrop and a pretty dismal global one.
The S&P 500 has now had five straight quarters where profits within the index have declined on a year-over-year basis, and that is with record levels of stock buybacks. There are two areas of the market which should produce solid growth and provide more than reasonable valuations.
One is biotech which has had a dismal year due to all the election year rhetoric around drug price "gouging" which popped up its ugly head again last week and knocked pharma and biotech names down. However, large biotech companies are producing some of the best revenue and earnings growth within the S&P 500 and are likely to continue to do so. If the election ends with a divided government, which it should, little in new legislation should get enacted on the industry in 2017 and beyond. I would not be surprised if we get a post-election rally within the sector when that scenario plays out.
Amgen (NASDAQ:AMGN) and AbbVie (NYSE:ABBV) are two good names to own here. Both are showing solid growth, have deep pipelines, strong balance sheets, sell at reasonable valuations and provide a nice dividend yield to boot. Celgene (NASDAQ:CELG) is more of pure growth play, thanks to the impressive growth of its blockbuster blood cancer drug Revlimid. The company is also the "VC" to the industry through scores of collaboration deals with smaller concerns. Most analysts have $11-12 a share in earnings pegged for the company by 2019 or 2020. The company's own goal is $13 a share in profits four years out. At just over $105 a share, the stock is cheap compared to its projected growth trajectory.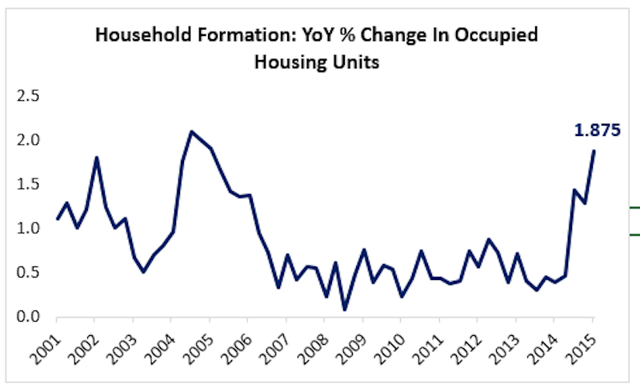 Second, I think the homebuilders will continue to do well and are still reasonably valued. Household formation is back above pre-financial crisis levels. In addition, job growth is solid, mortgage rates are near historical lows and mortgage credit standards are slowly starting to loosen again.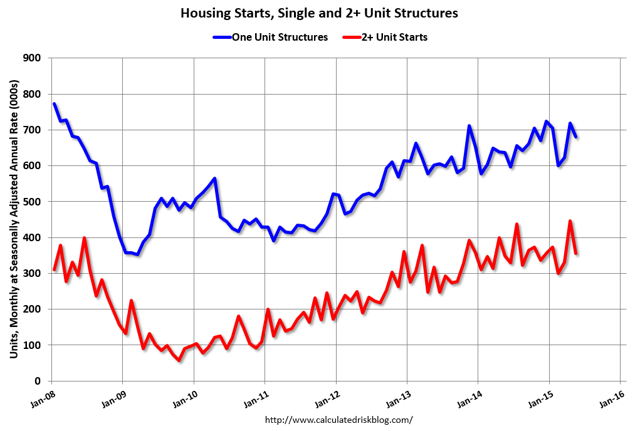 2016 housing starts are above 2015's levels, which in itself was the best year for housing starts since 2007. Even with the improving trend in housing starts, they are still significantly below the averages of the past 30-40 years. This should mean years of solid growth in the housing market. Either presidential candidate will also want to gin up housing given it is a huge job creator in the economy as well.
Large homebuilder Lennar (NYSE:LEN) is geographically diversified, has a strong balance sheet and is reasonably valued at around 12.5 times earnings. This is a deep discount to the overall market multiple, and Lennar posted 15% year-over-year revenue and 17% year-over-year earnings growth in the second quarter. I still like and own smaller builders LGI Homes (NASDAQ:LGIH) and Taylor Morrison (NYSE:TMHC), both of which I have written about many times on these pages.
Finally, with the 10-year Treasury yield likely to remain under two percent for the foreseeable future given anemic domestic growth and the European and Japanese central banks pursuing negative interest rate policies, yield plays should remain in fashion. However, I would avoid traditional high-yield sectors like Utilities and Consumer Staples, whose valuations look very stretched. Paying ~20 times earnings to get a three percent yield for entities showing next to no growth does not seem prudent on a longer-term basis.
I would rather own some of my favorite lodging real estate investment trusts (REITs). Occupancy rates and RevPAR (revenue per available room) growth are not growing at the same rates as in recent years, but they are still growing.
I continue to hold and like Chatham Lodging Trust (NYSE:CLDT) and DiamondRock Hospitality (NYSE:DRH) here. Chatham pays a 6.5% percent annual yield with monthly payouts and sells for nine times FFO (Funds from Operations, similar to earnings per share). DiamondRock pays out an almost five percent yield and goes for 10 times FFO.
That is my take on the market and how investors should position their portfolios as we enter the homestretch of this long and polarizing election season.
Note: To get these types of articles as soon as they are published, just click on my profile and hit the big orange "Follow" button and choose the real-time alerts option.
Thank You, and Happy Hunting
Bret Jensen
Founder, Biotech & Insiders Forum
Disclosure: I am/we are long ABBV,AMGN,CELG,CLDT,DRH, LGIH,LEN,TMHC.
I wrote this article myself, and it expresses my own opinions. I am not receiving compensation for it (other than from Seeking Alpha). I have no business relationship with any company whose stock is mentioned in this article.