The concept of the flying car is not new. In fact flying cars have been around since the 1930s, with the 1937 Aerobile, the 1947 Airphibian and the 1956 Aerocar. Then in the 1980s and 90s Boeing (BA) developed the Sky Commuter (later scrapped), followed by Paul Moller's Skycar. On TV we saw flying cars in the "Jetsons" and in the movie "Back to the Future." Now what seemed impossible is on the brink of coming sooner than you think.
Today there are a number of companies that have successful flying car prototypes and some with plans for commercial production. Bloomberg reported that "about a dozen companies around the world, including startups and giant aerospace manufacturers, are working on prototypes." And, "Google co-founder Larry Page has two secret flying car companies" working on developing a flying car that "he is funding ...with his personal monies." Apparently "a reporter spotted patent filings showing Zee.Aero was working on a small, all-electric plane that could take off and land vertically -- a flying car."
Flying car concept - perhaps this is really what Apple (AAPL) is working on?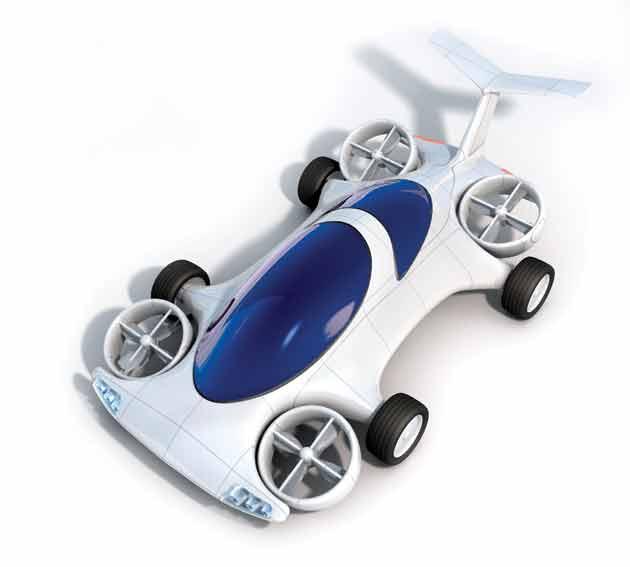 You can read a purely fictional article here on the flying Apple car -- perhaps it will be true one day.
Meanwhile in Europe there is a flying car project known as "MyCopter". You can read more here.
MyCopter- The European project to enable technologies for personal aerial transportation systems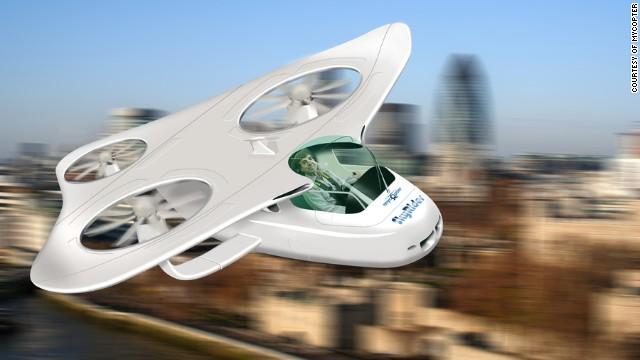 Terrafugia (private)
Terrafugia is a privately held company based in Woburn, Mass.
Their flying car (TF-X) is a hybrid electric, semi-autonomous flying car with vertical take-off and landing. A bit like a helicopter and a plane combined, but also functional as a car.
The company states on its website that "top speed is 200mph, with a flying range of 500 miles. The TF-X is designed to be the first flying car for mass market adoption, and is attracting investment from multi-billion dollar companies in the automotive and aerospace industries. The car/plane runs on unleaded automotive gasoline, and it will fit in a single car garage or standard parking space. Driving the TF-X will require a standard US driver's license, and will require substantially less training time than a traditional pilot's license or sport pilot certificate. The price will be consistent with high-end luxury cars. More specific pricing information will become available as we progress in the development of the TF-X program." Bloomberg did publish a cost figure of USD 120,000, for a 4 seat version.
The electric motor pods produce 1 MW of power.
If you want to see the TF-X in action you can click here and watch this video by Terrafugia on its website homepage. It looks like a winner to me.
The Terrafugia TF-X
Aeromobil (private)
Aeromobil is a Slovakian company. The Aeromobil 3.0 looks great. Its unique feature is how its wings fold back when going into car mode. It also runs on gasoline, and can drive like a normal car and park in your garage. You can read more here.
Its only disadvantage to the Terrafugia FX is that it needs 200m to take off and 50m to land. Price is high at around USD 400,000. You can watch a video here at the company website.
The Areomobil 3.0
PAL-V Europe NV (private)
PAL-V is based in Raamsdonksveer in the Netherlands. Its lead product is the PAL-V One. It looks to me like a helicopter on wheels. Off course it is a lot more than that. Its rotor blades fold away seamlessly when changing into car mode. The price reported in 2014 was USD 395,000. You can read more here.
The company states: "Flying the PAL-V ONE in the USA requires a Sports Pilot License. In Europe a Recreational Pilot License (RPL) or a Private Pilot License (PPL) is required. Equivalent pilot licenses exist in most countries around the world. Learning to fly the PAL-V ONE usually takes 20 to 40 hours of student-pilot lessons. In addition, a theoretical exam is necessary which can be prepared for via home study or by taking ground-school lessons at a flight school." Also no flight plans are required to be lodged as you fly in uncontrolled flight space.
PAL-V One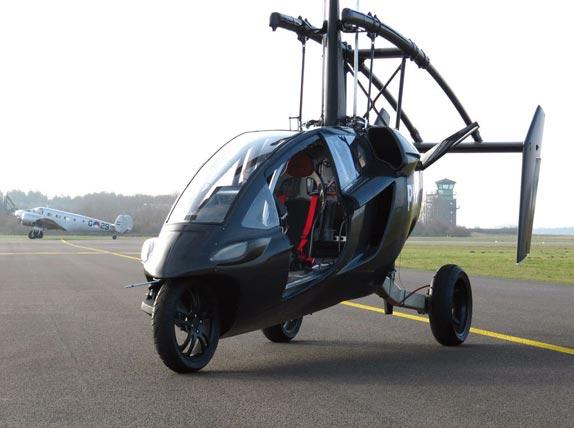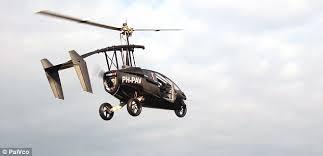 Toyota Motors (TM)
Toyota has filed at least two patents related to flying car technology. Its concept is for a "stackable wing aerocar." Toyota's idea is a stack of multiple wings on top of the vehicle to provide needed aerodynamic lift.
Toyota's stackable wing patent diagrams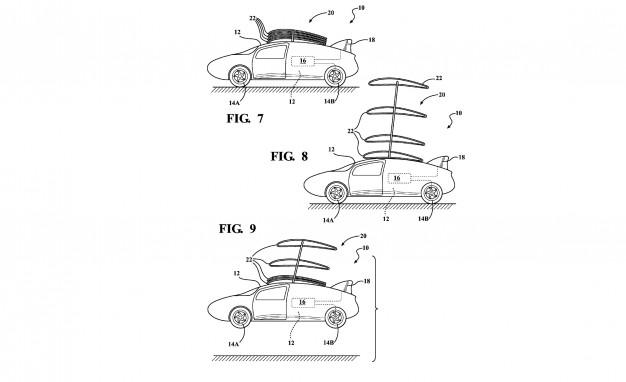 Zee.Aero and Kitty Hawk (private - Larry Page)
Zee.Aero and Kitty Hawk are reportedly owned by Larry Page, the co-founder of Google (GOOG) (GOOGL). According to a Bloomberg report, "Zee.Aero employs close to 150 people. Its operations have expanded to an airport hangar in Hollister, about a 70-minute drive south from Mountain View, where a pair of prototype aircraft take regular test flights. The company also has a manufacturing facility on NASA's Ames Research Center campus at the edge of Mountain View. Page has spent more than $100 million on Zee.Aero." Given the secrecy surrounding Zee.Auto there are no available prototype pictures yet.
Kitty Hawk is Larry Page's second flying car company, which is working on a competing design.
While Google does not own the above two companies, it may be that Google would become a large investor, or buyout the start ups. The reason I say this is that to mass produce a flying car will require serious capital.
Airbus (OTCPK:EADSY) (EPA: AIR)
Just last week on August 25, Airbus announced its plans for a flying car -- the CityAirbus. The project is named "Vahana, an autonomous flying vehicle platform for individual passenger and cargo transport. Airbus says: "Officially underway since February 2016, the project's team of internal and external developers and partners have agreed on a vehicle design and [are] beginning to build and test vehicle subsystems." "Flight tests of the first vehicle prototype are slated for the end of 2017." However the company did also say, "in as little as ten years, we could have products on the market that revolutionise urban travel for millions of people." And, "we believe that global demand for this category of aircraft can support fleets of millions of vehicles worldwide". Certainly makes for an additional reason to buy and hold shares in Airbus.
Artist's impression of the multipropeller CityAirbus vehicle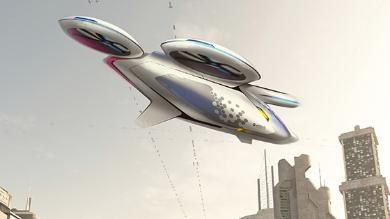 Lockheed Martin (LMT)
Lockheed is "developing an efficient, ducted-fan unmanned aerial system called ARES that can pick up many things, including your car." While not a flying car, it shares similar concepts. It is known as the Black Night Transformer, and is targeted for military use.
LMT's Black Night Transformer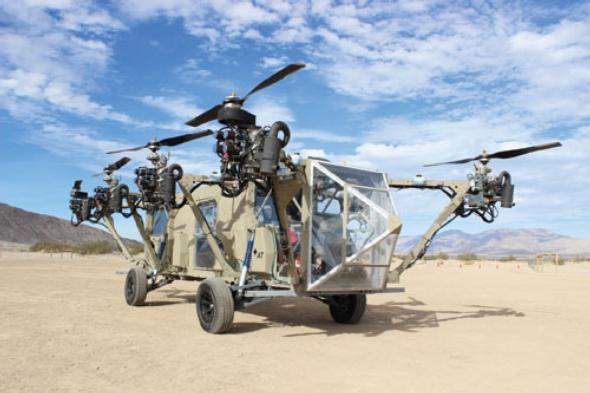 How do investors invest in the flying car industry
For now this is the difficult part. Most of the companies involved are unlisted private companies. Their websites mostly suggest they are open to investors, but likely those with large sums to invest. My favorite flying plane at this stage would be the Terrafugia TF-X. Being able to vertically take off and land is a winner, as is its brilliant design and reasonable price. I also love the EU's MyCopter even if it is just a design at this stage, as far as I can ascertain.
Investors could buy Google stock, Toyota or even Apple on a speculative punt that they will develop the first ever mass market flying car, either separately or together. Another possibility down the track could be a Google (or Larry Page) tie up with Elon Musk's Tesla (TSLA) or Space X, or even BYD (OTCPK:BYDDF). If it happens, that certainly would be a game changer. Other than that it may be that Airbus, Boeing or Lockheed Martin will be the leader in this area as they do currently dominate plane production. Certainly the Airbus "CityAirbus" has potential given the cost to fly small trips may be a lot more economical as several passengers share the costs. So for now it seems Airbus is leading the pack of the large companies that investors can readily invest in.
I plan to follow this sector, and as opportunities for investment become clearer, to relay that back to readers.
Risks
Obviously investing very early in any new technology ideas (especially flying cars) carries plenty of risk, and perhaps plenty of reward. Many before have failed including Boeing. Investing in private start ups or via crowdfunding also carries many risks.
Conclusion
Given the enormity of the challenge, I think it is most likely that a major US or European company with plenty of cash will have the greatest chance of success to popularize the flying car industry. Companies such as Google, Apple , Boeing, Airbus, Lockheed Martin, General Electric (GE), Tesla and Space X come to mind.
Like Henry Ford said about 100 years earlier, to make flying cars work they need to be made both "practical and affordable." This requires mass adoption and mass scale. Added to this will be regulation to ensure safe flying zones similar to helicopters or private planes today. In fact regulation and affordability are perhaps the two biggest hurdles the industry faces.
Nonetheless with the advances in technology available today, flying cars do exist. Only time will tell if there is enough consumer demand, and then regulators will need to further develop the rules of the sky to accommodate a whole new fleet of aerocars, just like in the Jetsons. You can read a nice review by CNN called, "the race is on for flying car startups" here.
I will finish with a quote from Henry Ford from 1940: "Mark my words: A combination airplane and motorcar is coming. You may smile, but it will come."
As usual all comments are welcome. Feel free to add to the discussion, especially if you have some good information to share on the flying car industry, and any accessible companies to invest in.
Editor's Note: This article discusses one or more securities that do not trade on a major U.S. exchange. Please be aware of the risks associated with these stocks.