This week, a lot changed in terms of market outlook and economic strength. Reason: the ISM Manufacturing Index came in below 50.
If you want to get a breakdown of the last ISM report, please read my latest ISM article.
The ISM index is a leading indicator. This means that this indicator tells us what the economy is going to do over the next 3-6 months.
For more information about economic indicators, please read my blog, where I explain how they work and which indicators one should use.
Let's look at the stock price predicting power of the ISM index. The correlation with year-on-year stock prices is extremely high. The correlation in times of growth slowing is even higher as you can see in 2007, and especially after 2014.
The recent change means that stocks should fall significantly. The S&P 500 (SPDR S&P 500 Trust ETF (NYSEARCA:SPY)) could fall below 1930 after the recent print.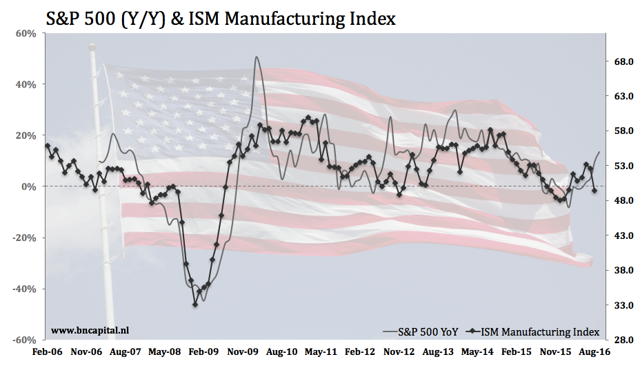 The second graph is a good example of the economic predicting power. Industrial production growth has followed the ISM index quite well. Before the economy started to slow in 2014, industrial production grew close to 5% on a year-on-year basis. After the ISM index started to slow, industrial production fell rapidly and started to contract at the end of 2015. When the ISM index recovered, the industrial contraction went back to almost neutral territory. The recent negative ISM print puts pressure on the economy and makes it extremely unlikely that indicators like industrial production are going to recover.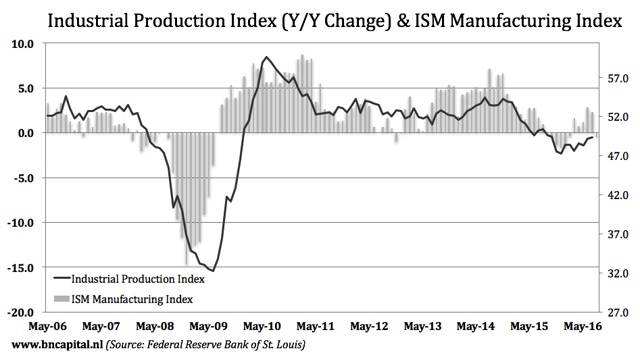 Another reason why the current ISM print is so bad is the fact that corporate earnings are falling since 2015. Chances are even lower that earnings are going to recover anytime soon.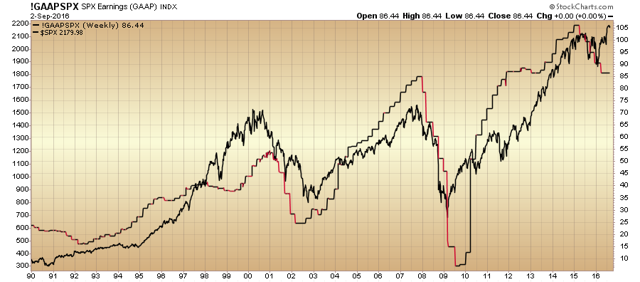 The most recent ISM rally has completely been ignored by corporate earnings and resulted in multiple expansions. As you can see, price/earnings more or less exploded this year. Years like 2013 and the first quarters of 2014 were really strong. Stock prices soared, backed by stronger fundamentals.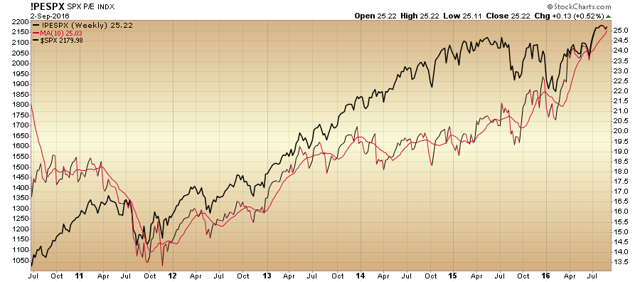 Another very important aspect of the ISM index is that stock prices have a lagging reaction. After good or bad prints, it takes some time until prices react accordingly. In my opinion, the reason behind these lagging moves is that smart money is positioning itself early. It then takes some time after 'everyone else' figures out what is going on and pushes prices in the correct direction.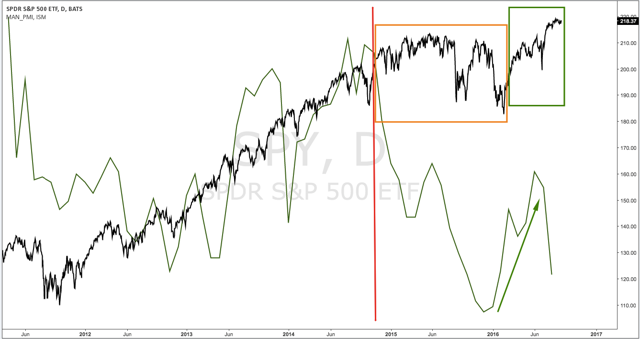 Source: TradingView
Stock sentiment has ignored the latest rally. I measure sentiment by looking at the ratio spread between cyclical and less/non-cyclical assets.
Below, you can see the spread between transportation and utility stocks. Although the ratio increased a bit, there is still a very large gap that started when growth slowed.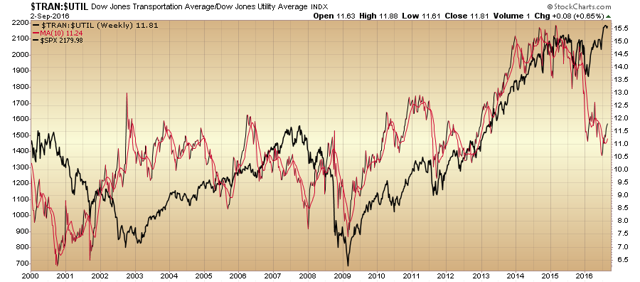 Consumer cyclicals versus staples show the same pattern. Uptrend ended in 2015 and has not recovered since then.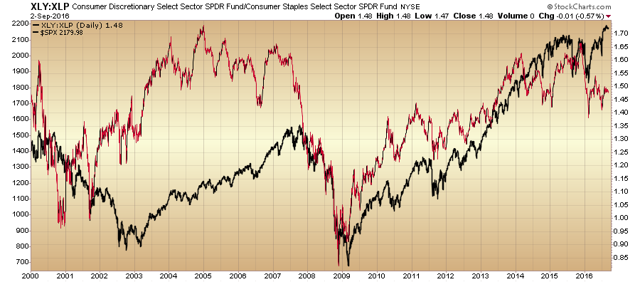 Last but not least: the Chinese Yuan. The Chinese currency started to weaken in 2015 and was the reason for the stock correction in August last year. At least that's what the media told us. According to that theory, the currency could also be the reason for the correction in Q1 of 2016.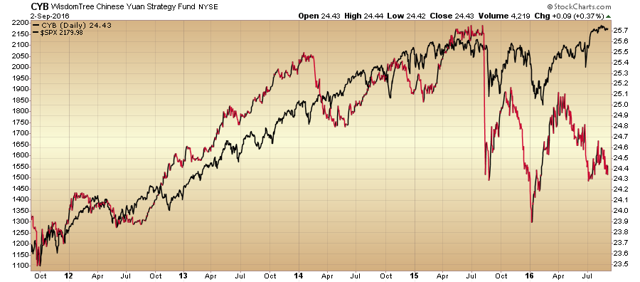 In my opinion, the Chinese Yuan devaluation is just one of the many headwinds facing the economy and not the only reason for lower stock prices.
I expect that stock prices are going to stay lower over the next few weeks. A correction like last year is very likely and would take some pressure off the current overvaluation, based on falling earnings and negative leading indicators.
Thank you for reading my article, please leave a comment if you have questions or remarks.
Disclosure: I/we have no positions in any stocks mentioned, and no plans to initiate any positions within the next 72 hours.
I wrote this article myself, and it expresses my own opinions. I am not receiving compensation for it (other than from Seeking Alpha). I have no business relationship with any company whose stock is mentioned in this article.