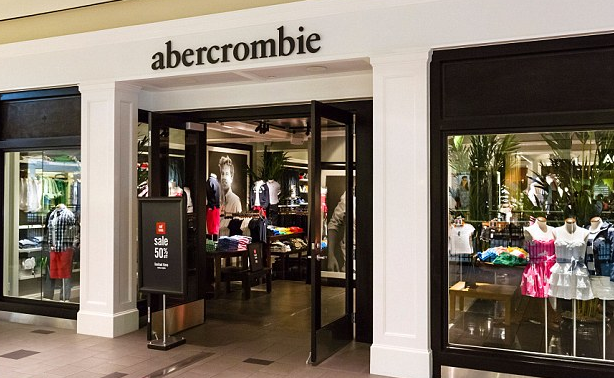 Abercrombie & Fitch (NYSE:ANF) is a name I've been fairly bearish on for some time now. The company's shares spike and plummet with the slightest sentiment change, so whether you're a bull or a bear, there is usually something to like with ANF. Most recently, I was bearish after the company's Q1 report was a dud, but the stock didn't come in enough for me to want to buy it. That was at 20 bucks, but after the even worse Q2 report, shares are now back at just $17. I said after Q1 that I didn't want to short ANF in case Q2 came in hot, but that is the furthest thing from anyone's mind after digesting the company's results.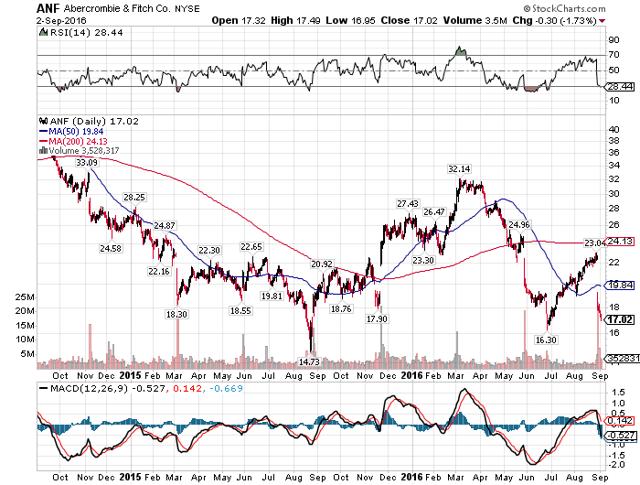 The company continues to struggle mightily in a variety of areas, but it really begins and ends with comp sales. Apparel retailers were pummeled as a group last year due to a slowdown in mall traffic as well as general weakness in consumer spending. ANF suffered from that, as you can see in the chart above, but a resurgence in the stock was from the idea that maybe, just maybe, ANF's comps were turning around late last year. That hasn't worked out, and in Q2, things became much more worrisome.
Comp sales fell on a consolidated basis by 4% during Q2, thanks to a -2% showing at Hollister that was dwarfed by a 7% loss at the namesake chain. ANF's Hollister brand has been a source of relative strength for some time, as the Abercrombie brand has been downright dreadful. The Abercrombie brand simply cannot get its assortment right to get people in the stores, and while Hollister is better, it is no prize pig either. This is why I've been bearish on ANF; both of the company's brands are struggling, and with Abercrombie having such a hard time, there is simply no way for Hollister to make up for it on its own. Thus, comps continue to be negative, and it is not only killing the top line, but is hurting margins too.
Gross margins were down 20 bps during the quarter excluding one-time noise, and while that's not a devastating loss by any means, ANF is still moving in the wrong direction. The loss was due to higher unit costs, which translates into less buying leverage due to lower volumes (read: lower comp sales). Slightly better pricing offset some of those costs, but we still saw an overall decrease in gross margins. This isn't great, but one thing I'd like to point out is that even though comps are terrible and have been for a while, management is resisting the temptation to slash prices to move product. This is an all too common impact from lower comp sales, and it never works out well. ANF is resisting that urge, and it is certainly the right thing to do. Time will tell how long management can stick it out, but for now, maintaining some semblance of its historical highs in margins will be key to protecting not only profitability, but the brand's image itself.
Unsurprisingly, guidance for the rest of the year was horrible; comps are going to be "challenging," and gross margins should be flat against last year. But, if you believe in the eventual turnaround, there is a reason to wait it out. ANF's current dividend of 20 cents per quarter is good for almost 5% these days, with the stock trading for $17. That is a tremendously high yield for any stock in this environment, and although ANF has its issues, it can afford an 80 cent annual dividend in perpetuity right now. The only thing which would make that change for the worse is if comps continue fall off a cliff and profitability suffers. Right now, margins are mostly intact, and although comps are tough, at some point ANF will reach a level of sales it can maintain. And in the interim, you can collect a nearly 5% yield, if that's your thing.
But what about those of us who want some growth with our income? Unfortunately, although the stock has come in a bunch, it is actually more expensive now than it was after Q1. Earnings estimates have been hammered since the Q2 report reset expectations a lot lower, and that means shares are now going for an eye-popping 31 times this year's earnings. The P/E on next year's number is more reasonable at 20.5, but this is not a cheap stock. ANF has been crushed for good reason, and if you've been long, it's probably been a tough ride.
Looking forward, I think the only thing the bulls can cling to is the hope that ANF beats its downbeat guidance for the rest of the year. The company really set up a gloomy picture of the next two quarters, so if things are "less bad" than currently hoped, that may be good enough for a rally. Otherwise, this is a very expensive stock with no catalysts for a turnaround, but also a high 4% yield. I certainly wouldn't buy this stock on a valuation basis, but if you think ANF has some cards up its sleeve it can use to get people back in the stores again, $17 likely will have proven a good entry point. I'm not one of those people, so for me the only real value in ANF right now is as a bond replacement for its 5% yield. The payout is safe for the foreseeable future, and that is really it for me with ANF right now until further notice.
Disclosure: I/we have no positions in any stocks mentioned, and no plans to initiate any positions within the next 72 hours.
I wrote this article myself, and it expresses my own opinions. I am not receiving compensation for it (other than from Seeking Alpha). I have no business relationship with any company whose stock is mentioned in this article.