Shares of Seadrill (NYSE:SDRL) have been beaten heavily on the stock market this year despite a recent uptick in drilling activity due to an improvement in crude oil and natural gas prices. In fact, Seadrill is down almost 30% this year despite an improved financial performance in the second quarter that was reported late last month.
In my opinion, the key factors that are impacting Seadrill are its financial health and a weak EBITDA guidance as a result of lower day rates for the second half of the year. Also, the continuous decline in the contracted backlog is another headwind for Seadrill that indicates weak revenue growth in the future. So, is Seadrill a buy currently or will it be a prudent idea for investors to stay away until a recovery. Let's take a look.
Weak financial health remains a key concern for investors
Seadrill's debt profile isn't very attractive. Its total outstanding debt came in at $10.5 billion at the end of the second quarter of 2016. This debt profile includes a short-term debt of $2.9 billion. The important thing to note here is that the company is finding it difficult to pay its short-term debt, as Seadrill has extended three of its borrowing facilities that were maturing in 2016 and at the beginning of 2017.
For instance, Seadrill has extended its $450 million debt that was maturing last quarter to December 2016. Likewise, its other credit facilities of $400 million and $2 billion have now been postponed until June 2017, which were originally maturing in December 2016 and in April 2017, respectively.
While these debt extensions give the company enough time to improve its cash flow, but it will also be incurring additional interest expenses. In fact, due to these extensions of the credit facilities, the current portion of Seadrill's long-term debt during the second quarter rose 92% to $2.3 billion as compared to $1.2 billion in the first quarter of 2016, as shown in the table below. This is not a good move as the increase in the interest expense will further degenerate the bottom line performance.

Source: Seadrill
On the other hand, Seadrill has cash and cash equivalents of $1.3 billion. Although its cash and cash equivalents increased by $195 million in the last reported quarter, due to the sale of its SapuraKencana shares and the repayment of a $109.5 million loan by Seadrill Partners, it is still on the lower side and shows that the company is highly leveraged as compared to the overall debt.
For instance, Seadrill has a debt-to-equity ratio of 1.05. This debt-to-equity ratio is quite higher than that of its peers such as Transocean (NYSE:RIG), Diamond Offshore Drilling (NYSE:DO), Ensco (NYSE:ESV), and Atwood Oceanics (NYSE:ATW). These companies have their debt-to-equity ratio ranging from 0.44 to 0.63.
Meanwhile, Seadrill has the lowest current ratio of 0.71 amongst its peers because it has fewer assets and more liabilities at its disposal. More specifically, Seadrill has current assets of $3.1 billion against its current liabilities of $4.3 billion.
The reason for bringing the current ratio into the discussion is that with the lower current ratio, the company will not be able to pay its short-term obligations going forward as it has a lesser proportion of its asset value relative to the value of its liability. On the other hand, its peers have a current ratio ranging from 0.87 to 5.76. This is given in the table below.
Financial Leverage

Current Ratio

Debt-to-equity Ratio

Rig

1.88

54.22

DO

0.87

63.78

ESV

4.18

62.2

ESV

5.76

42.75

SDRL

0.71

105.63
Source: Yahoo Finance
Thus, it is evident from the above discussion that Seadrill remains a very risky investment at the current level. Moreover, its chances of getting into bankruptcy increase due to a high debt-to-equity ratio and maturities in the near term. Also, the company is not generating enough cash from its operations to carry out its day-to-day activities or meeting its near-term obligations due to lower day rates, as discussed below.
Weak EBITDA and lower day rates are will deteriorate cash flow
During the second quarter, Seadrill saw its EBITDA being impacted significantly by lower day rates and idle costs. For instance, during the second quarter, the day rates dropped by 4% and idle costs increased by 5% on a year-over-year basis. This was a result of its units such as West Castor and West Prospero becoming idle due to contract terminations or expiry. On a year-to-date basis, Seadrill has seen six of its units being idled. This is shown in the chart below.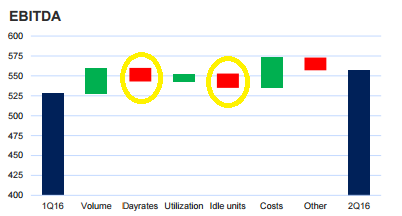 Source: Seadrill
The important thing to observe here is that its day rates are expected to decline further. For instance, Seadrill has moved the West Ariel drillship to a non-operating floater mode. This shift to the non-operating floater mode has reduced the day rate for the West Ariel to $120,000 per day starting from July 2016 through the remainder of its contract term that will end in February 2018. This move has resulted in a $20 million reduction in the backlog.
Likewise, the backlog from the West Freedom has been reduced by $16 million since this drillship has also entered the non-operating model. However, Seadrill has got an extension for the West Freedom, but it is expected to run at a reduced day rate of $225,000 per day in early 2017.
Moreover, Seadrill expects the contracts for a number of its units to come to an end during the third quarter of 2016 that will further impact its EBITDA performance. As a result of idling these units and the units that became idle in the last reported quarter, its EBITDA is expected to come in at $380 million for the third quarter of 2016. This represents a decrease of more than 32% as compared to EBITDA of $557 million in the second quarter of 2016, and a drop of 28% as compared to the first quarter of 2016.
As such, its operating income will fall by over 50% to $183 million as compared to the operating income of $364 million in the second quarter of 2016. The table below shows its operating income and EBITDA guidance for the third quarter of 2016.

Source: Seadrill
Due to this further decline in the operating income, Seadrill will find it more difficult to satisfy its obligations, raising a red flag for investors.
Decelerating backlog is another concern
Seadrill's contracted revenue backlog is continuously declining. Its contracted backlog at the end of the second quarter came in at $3.6 billion, a decrease of 16% from the contracted backlog of $4.3 billion in the first quarter of 2016. This declining contracted backlog isn't a good sign for investors as it indicates that more revenue declines are on the way.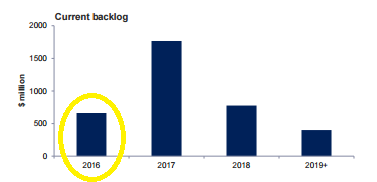 Source: Seadrill
As observed in the chart above, Seadrill has approximately $650 million in the contract backlog for the remaining quarters of the year. The essential thing to notice here is that this contracted backlog comprises of only 37% of the revenue the company had in the first half of the year. This clearly states that Seadrill was not able to get any substantial contracts for the second half of the year. Thus, it is likely that its revenue will be significantly lower in the final two quarters as compared to the first half of the year.
Conclusion
Therefore, in my view, Seadrill isn't a safe investment in the near term. Its revenue and EBITDA are expected to decline significantly this year. Moreover, the company is highly leveraged as discussed above, while its contract backlog is also declining, reflecting a weak revenue outlook. Hence, until and unless an end-market recovery take place, investors should be wary of buying Seadrill shares.
Disclosure: I/we have no positions in any stocks mentioned, and no plans to initiate any positions within the next 72 hours.
I wrote this article myself, and it expresses my own opinions. I am not receiving compensation for it (other than from Seeking Alpha). I have no business relationship with any company whose stock is mentioned in this article.