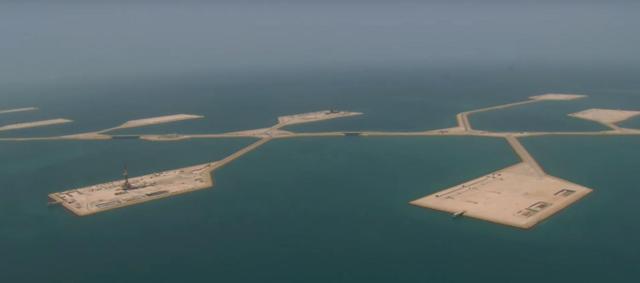 (Image: Saudi Aramco's Manifa Field development, June 2016)
As the OPEC meeting in Algeria at the end of this month approaches, information flow and speculation with regard to the meeting's potential impact on oil supply will inevitably intensify. Every word pronounced by OPEC leaders will be closely scrutinized, interpreted and, on occasion, misinterpreted. To filter out some of the noise, it may be helpful to "go to the source" to validate what actually has been stated and what has not been stated.
Al Arabiya, a Saudi-owned news company, reported on September 1:
Saudi Foreign Minister Adel al-Jubeir said on Thursday that OPEC and non-OPEC oil producers were increasingly moving towards a common position.

"I think there is a move toward a common position, toward a common effort," he told an event in Tokyo.

"If you want to have an impact then all of us have to shoulder the responsibility, and I believe over the past five or six months, I believe that there has been an increasing realisation that this is a collective effort," Al-Jubeir said.
Several observations. Minister al-Jubeir's comment refers to "a common solution," which means that the "production freeze" is still the agenda. Second, the comment has a constructive, even optimistic overtone. In this regard, the minister's remarks extend the sequence of recent positively charged statements by Saudi Arabian officials. Heading into the meeting, the idea of which has been supported by GCC exporters, constructive rhetoric should be expected. It is also worth noting that this and other similar statements are likely designed to counterbalance the continued information attack on the Kingdom by certain other OPEC members, particularly Venezuela and Iran, as well as Russia, blaming Saudi Arabia for derailing price support initiatives.
In substance, however, the statement contains nothing to suggest that Saudi Arabia has changed its long-standing position on production control. Since the onset of the global correction in oil, Saudi Arabia has insisted that any sacrifice by the kingdom would have to be adequately shared by other major exporters, including Iran and Russia.
No signs that Saudi Arabia is about to change its indicated policy of defending its market share can be found in another recent report by Al Arabiya:
Saudi Arabian energy minister Khalid al-Falih told Al Arabiya News Channel the top crude exporter does not target a specific figure for its oil production which is set based on its customer's needs.

"The kingdom's production meets the requirements of the customers... the kingdom's production policy will maintain a large degree of responsibility," Falih said.

Speaking during an official visit to China, he said that despite low crude prices "demand for oil does not worry me," adding the demand for crude in China remains "very healthy."
Reporting on the same event earlier, Al Arabiya commented:
Falih confirmed that the kingdom did not have any target number in oil production, adding that the production depends on the customers' demand that is submitted weeks in advance. He added that he was not worried about the demand on oil despite the price fall, but said he saw it as sustainability and continuity.

He pointed out that the maximum production capacity of the Saudi kingdom amounts to 12.5 million barrels per day. However, the kingdom is still showing serious responsibilities in terms of its productivity policy, at a time when the market is flooded with oil. He said that Saudi Arabia did not find it necessary to reach its maximum production limits now or in the near future.
Let's make no mistake, these comments were made during minister al-Falih's official visit to China, Saudi Arabia's important customer and trade partner who is facing economic headwinds and has always been concerned with potential risks to oil supply. The comments are meant to assure China that Saudi Arabia sees its responsibility in keeping the market adequately supplied and will invest into production capacity even when prices are very low. However, even in this context, it is difficult to see in these comments any departure from Saudi Arabia's de facto policy of defending its market share.
In another notable report, Al Arabiya quoted UAE energy minister Suhail Bin Mohammed al-Mazroui as saying that he believed that:
any future decision on oil production would require full participation from all members of the Organization of the Petroleum Exporting Countries plus other major producers.

"We acknowledge and understand the market challenges, but in my view our sector is resilient to overcome it and achieve stability soon," Mazroui added without elaborating.
Further, in the same report, Al Arabiya mentions:
Saudi Arabian Energy Minister Khalid al-Falih told Reuters last week that he does not believe significant intervention in oil markets is necessary at this time.
In Conclusion…
There are multiple references to "sources" provided in various articles by various news companies, including respectable ones such as Reuters. Some of the "sources" are quoted as suggesting that Saudi Arabia is willing to soften its position with regard to the production headroom for Iran in order to reach an agreement on a production freeze. However, in my interpretation, public comments by Saudi Arabian officials do not provide any evidence that this might be the case.
Without a tight ceiling on Iran's volumes - which Iran is highly unlikely to accept, in my opinion - and the high risk that certain other key exporters, particularly Russia and Iraq, will not follow through on their commitments (if such commitments are agreed upon), the idea of a production freeze would look like a unilateral moratorium on production growth by Saudi Arabia.
Maximizing oil revenues is obviously a common aspiration for all major oil exporters and Saudi Arabia is not an exception in this regard. However, accomplishing this goal is easier said than done. Is Saudi Arabia prepared to unilaterally support oil prices? That would be a significant and risky decision for the Kingdom, in my opinion.
I would argue that the continuity of Saudi Arabia's de facto policy of targeting a constant market share and leaving price formation to the market forces has a significant value to the kingdom at this point in the cycle. By abandoning its current position, Saudi Arabia would give strong encouragement to the industry to increase capital investments above the level that otherwise would be dictated by the economics. Technology progress that would be stimulated by the capital inflow would open additional sources of oil supply and alternative energy and create even greater threats to Saudi Arabia's operating margins going forward.
If you find my posts helpful, please consider following me on Seeking Alpha. You can do so by clicking on my name next to the orange logo at the top of the article and then pressing the "Follow" button on the next page. On the same profile page, you can browse through my previous posts, by article and, using the scroll bar on the left, by primary stock ticker.
For in-depth data and analysis of commodity fundamentals, please consider subscribing to Zeits OIL ANALYTICS.
Disclaimer: Opinions expressed herein by the author are not an investment recommendation and are not meant to be relied upon in investment decisions. The author is not acting in an investment, tax, legal or any other advisory capacity. This is not an investment research report. The author's opinions expressed herein address only select aspects of potential investment in securities of the companies mentioned and cannot be a substitute for comprehensive investment analysis. Any analysis presented herein is illustrative in nature, limited in scope, based on an incomplete set of information, and has limitations to its accuracy. The author recommends that potential and existing investors conduct thorough investment research of their own, including detailed review of the companies' SEC filings, and consult a qualified investment advisor. The information upon which this material is based was obtained from sources believed to be reliable, but has not been independently verified. Therefore, the author cannot guarantee its accuracy. Any opinions or estimates constitute the author's best judgment as of the date of publication, and are subject to change without notice. The author explicitly disclaims any liability that may arise from the use of this material.
Disclosure: I/we have no positions in any stocks mentioned, and no plans to initiate any positions within the next 72 hours.
I wrote this article myself, and it expresses my own opinions. I am not receiving compensation for it (other than from Seeking Alpha). I have no business relationship with any company whose stock is mentioned in this article.