Shares of casino operators have been on the rise after news broke that monthly gaming revenue in Macau increased for the first time since May of 2014, likely driven mostly by new openings. The news sent shares of Las Vegas Sands (NYSE:LVS) up 7.4%, shares of Melco Crown Entertainment (MPEL) up 8.7%, shares of Wynn Resorts (NASDAQ:WYNN) up 3.4%, and shares of MGM Resorts (NYSE:MGM) up 2.9% over the course of two trading sessions. In what follows, I will look at the data and give an indication of what it should mean for investors moving forward.
A look at Macau
In the table below, you can see year-over-year changes in gaming revenue for Macau so far this year. Every single month has seen a deterioration in the market but that decline appeared to improve over the past couple of months, leading me to state in a prior article that although I was not going to get my hopes up, the stabilization may lead investors to realize down the line that we have hit or are nearing a turning point for the industry. The one exception to the year-over-year decline in sales for the region came in August, when revenue rose 1.1% to 18.8 billion patacas (the equivalent of $2.4 billion) and this seems to confirm my earlier sentiment.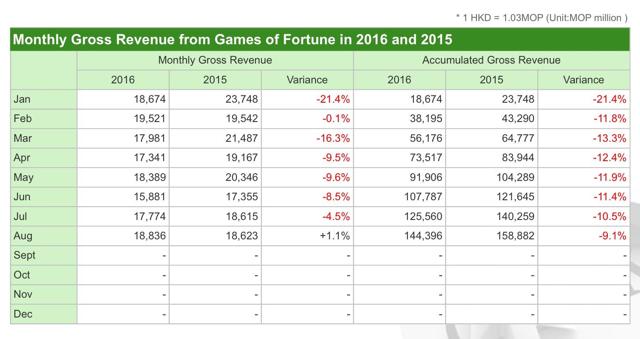 Of course, if Macau is truly recovering, the region still has a very long way to go before it is back to where it was in the past (if it ever gets there). As you can see in the two tables below, the year-over-year declines, on a monthly basis, lasted for an astounding 26 months, during which time gaming revenue in the region fell significantly, dropping even to multi-year lows.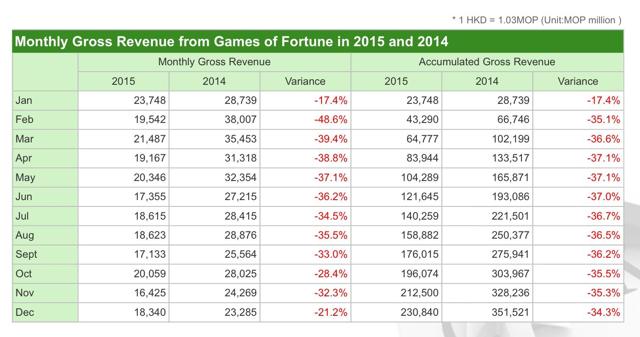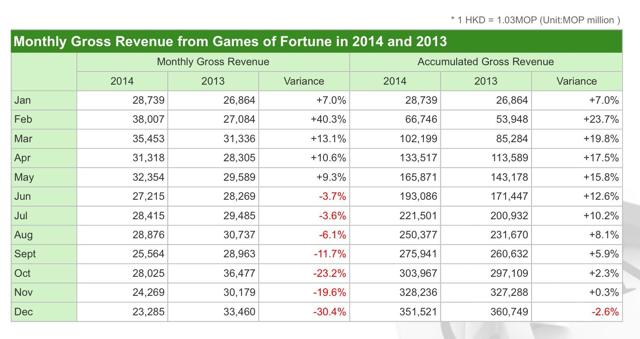 Who will benefit the most if this continues?
It's impossible to tell right now whether Macau can continue to show signs of improvement (I hope it does though) but if the region's recovery in August is the start of a broader trend, which casino operators in the area will benefit the most? Without any doubt, the most positively-impacted in the region should be Melco Crown. A company whose primary operations are located in Macau, the business received 89.5% of its revenue from the area in its latest quarter. This is actually a decline from a year earlier but that can be chalked up to the fact that the company has previously expanded into The Philippines with its City of Dreams Manila resort.
Though Melco Crown is perhaps the closest thing to a pure-play that I'm aware of, that's not to say that U.S. companies aren't exposed to the region. Take, for instance, Wynn Resorts. In its latest quarter, the firm generated an impressive 60.4% of its sales from Macau, making it (from a revenue perspective at least) far more reliant on Macau than it is on the U.S. Las Vegas Sands isn't far off though, with 55.1% of its revenue coming from the region last quarter based on management's estimates.
The least-exposed of the four covered in this article is, without any doubt, MGM. Despite an earlier boom in Macau that lured other big players like Wynn Resorts and Las Vegas Sands to the region for expansion, related purposes, MGM was slow on the uptake and, today, gets just 21.1% of its sales from Macau. While this is bad should Macau's gaming recover meaningfully, MGM is actually a great prospect for investors to consider should they like the industry but fear that the risk from the region is still to great to allow them a good night's sleep.
Takeaway
Based on the data provided, it's clear that Macau saw some positive news for the month of August and I hope that gaming revenue there continues to improve. I am though, I must admit, still very cautious about the industry and have not placed an investment with any of these firms (and don't intend to until I see more signs of a recovery), but for investors who are confident in the industry in Macau, any of these should make for interesting prospects to consider.
Disclosure: I/we have no positions in any stocks mentioned, and no plans to initiate any positions within the next 72 hours.
I wrote this article myself, and it expresses my own opinions. I am not receiving compensation for it (other than from Seeking Alpha). I have no business relationship with any company whose stock is mentioned in this article.