By Parke Shall with Thom Lachenmann
We wanted to share a couple of reasons today why we think Mylan (NASDAQ:MYL) could potentially be a value if it moves into the $30 range and trades with a $30 handle. It is certainly the most hated company in the world right now and if you live by and abide by the old investing adages of being greedy when others are fearful, this could single-handedly represent peak fear around a name where there isn't that much to actually be afraid of.
We want to say up front we are not defending the company's practices with EpiPen. EpiPen is a superior product to its competitors, so we do believe it should able to earn some pricing advantages. Whether or not the price gouging we have seen has gone too far or not is an issue we'll leave to the politicians. We are investors that look for value on the long side, and we think we see some here.
Before anyone accuses us of being unethical, we'd just like to note up front that both (Parke and I) of us have family members with food allergies and we've both been intimately familiar with EpiPen dating back to our days at primary school. Before you go aging us, remember that the EpiPen was developed initially in the 1970's, so we're not that old!
With that behind us, let's talk a little about why we think MYL could make for a good investment going forward. The short case is that you are getting a good company at compressed prices due to a negative news cycle and poor market adjustment to a crisis. When there's shocks to any stock price, whether up or down, there's usually some divergence one way or another between the current price and eventual FMV. We think MYL's FMV is likely considerably higher.
The first obvious reason is that the company is cheap. Here is the company's forward price-to-earnings ratio dating back two years. Even calculating the removal of the EpiPen business, the company trades at around 9.1X earnings right now.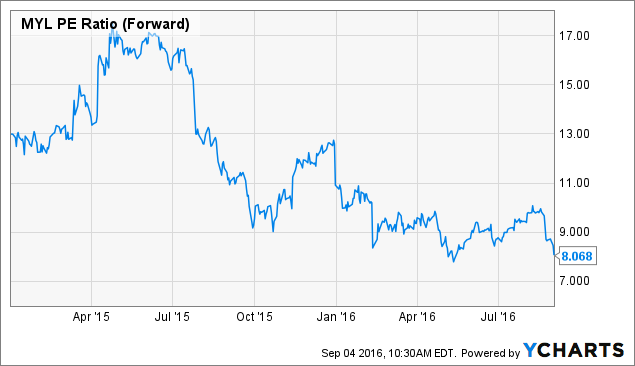 MYL PE Ratio (Forward) data by YCharts
The company has lost more in market cap than the EpiPen business is likely worth. $4.2 billion in market cap was lost due to a product with 55% margin that delivers about $1 billion annually in sales, despite having competitors on the market and likely not having an extrapolatory life span of much more than 5-10 years for those trying to discount future sales of the product.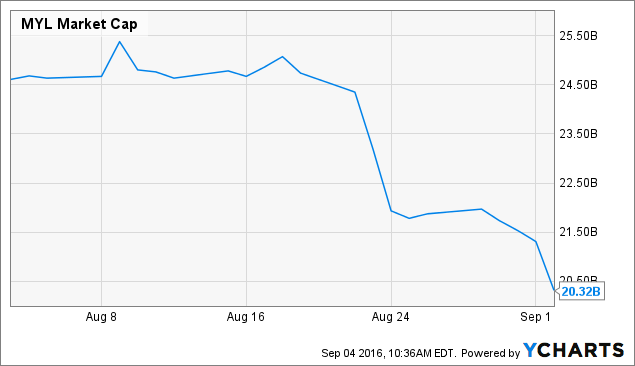 MYL Market Cap data by YCharts
We call this an irrational selloff based on fear. It seems like a good cue to look at targets to potentially buy for us.
The company doesn't have substantial leverage like many of its peers. Other pharmaceutical companies like VRX and CXRX have traded at low multiples because their entire business is at risk due to their debt load. Compared to peers, Mylan has little debt to worry about.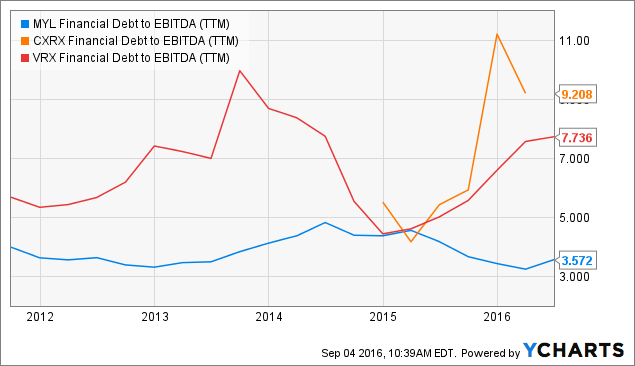 MYL Financial Debt to EBITDA (NYSE:TTM) data by YCharts
Mylan is also diversified across hundreds of products and many countries. Unlike other pharma companies, MYL does offer a substantial benefit to a lot of consumers, as it is the producer of generic versions of many popular brand of drugs.
Mylan is right in the thick of an absolutely crushing news cycle. The media has latched onto MYL in the same fashion it has latched onto VRX in the past and it shows no signs of letting up, at least until the election is over. The media trashing the company has been relentless. While we do not necessarily agree with the way the CEO has explained herself, we also think that the company is probably going through the worst PR crisis it will have in its history. We are hoping this crisis continues to drive shares lower.
With rumors of MYL's CEO exiting floating around last week, the company likely feels somewhat distressed, making it more likely that they are considering strategic options at this point. Not having the debt load of a company like CXRX makes MYL a much more obvious takeover target.
In addition to this, we are in good company. Activist investor David Einhorn recently raised his stake in MYL that he started building in early 2016.
Again, the business is cheap and the business is in demand. TEVA bid $80 for the company last year and we expect that both TEVA and other corporations are looking for ways to "help out" MYL in its time of distress. We're sure we're not the only sharks circling the water here.
We have a small long position but are looking to take the majority of a long term position in the mid to upper $30's should the stock make it there.
Disclosure: I am/we are long MYL.
I wrote this article myself, and it expresses my own opinions. I am not receiving compensation for it (other than from Seeking Alpha). I have no business relationship with any company whose stock is mentioned in this article.