As you might read in any investment-related site: Past performance is not indicative of future results. I believe this phrase is worth paying attention to, especially when used in the context of investing in a fashion/retail company like Express (NYSE:EXPR), which targets customers in the teen-to-early-20s age range.
Now, Express's stock price has come to its current level (roughly $12 per share) 3 times in the past 5 years: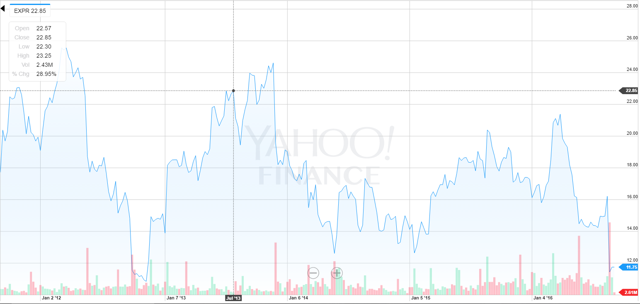 Source: Yahoo Finance
Will the stock price bounce back to previous levels? Maybe, but I'm not counting on it and here's why:
Express's target customers are 20-something year olds.

Express does not have a well-defined brand in a highly competitive fashion industry.

Express is still largely dependent on mall traffic, and mall traffic has been on the decline.
The Target Customers
The Express brand mostly caters to 20-something year olds - and this group tends to go through fashion trends quickly. The fact that "Fast Fashion" is a commonly used term these days should speak volumes. This puts Express in an awkward position where the company is trying to build a better-defined brand, but the target customers are flying through clothing collections. With an increasingly price-sensitive, brand-agnostic customer base, competitors like H&M and Zara are eating Express's lunch.
All the lunch eating makes even more sense when you pull up both Express and H&M's websites and look at their offerings side by side. As an example, here is Express's men's shirt section, and here is H&M's men's shirt section.
On H&M's men's shirt section, the first page shows shirts with prices ranging from $9.99 to $39.99. Express shows prices ranging from $49.90 to $79.90, but since everything is 40% off for Labor Day promotions, the current prices range from $29.94 to $47.94. The most common price point for H&M is $9.99 to $19.99. The most common price point for Express is $49.90 to $59.90 ($29.94 to $35.94 with Labor Day promotion).
In a fast changing fashion industry, why the heck would a 20-something year old pay $29.94 for a shirt when they can get two or three similar shirts for the same amount of money and stay on top of fashion trends for cheaper?
The Brand
When someone says Nike, you think of sportswear, Vans means shoes, Victoria's Secret means women's lingerie, and Levi's means jeans. What do you think of when someone says Express? Nobody really knows, and that's a problem.
If you forget to leave your brand image in fashion, you get left behind. Here is an article that describes how quickly the competitive landscape changes in fashion. The short story is, the popularity of apparel brands fluctuate wildly year over year. For example, brands like Aeropostale (NYSE:ARO) (-31%), Forever 21 (-30%), and Under Armour (NYSE:UA) (-27%) made a drastic decline in popularity among millennials going from 2014 to 2015.
Fortunately, Express management recognizes this weakness in its brand and addressed it in the Q2 2016 earnings call:
As it relates to choice count based on our 2015 spring results, we proactively increased choices in higher productivity malls to spring this year to further drive sales at these doors. We found however that the increase choice count resulted in a lack of clarity across the store particularly in women and ultimately led to lower sales and added mark down pressure. We believe we will be in a better position in terms of choice count as we enter the fourth quarter and closer to optimal choice count at the start of next year."
Less fortunately, problem recognition is only the first step. Quick execution is key in a bloody industry that's seen companies like Aeropostale, American Apparel (OTCPK:APPCQ), and Quiksilver (NYSE:ZQK) file for bankruptcy just in the past year. While I am not suggesting that Express is in a do-or-die situation, it may find itself in a tight spot rather quickly if the management team struggles to execute.
The Mall
It's old news that online retail has been contributing to lower foot traffic at malls. In recent years, malls have been fighting back by switching their tenant base from traditional department stores to more or less Internet-proof tenants like restaurants, gyms, and health care centers. While the mall transformation seems to be sensible and may stabilize foot traffic trends in malls over the long term, transformations of any kind take time and the near-term trends aren't particularly pretty in general.
More specifically for Express, here's a snippet that breaks down sales by major product category and sales channels, pulled from Q2 2016 10-Q: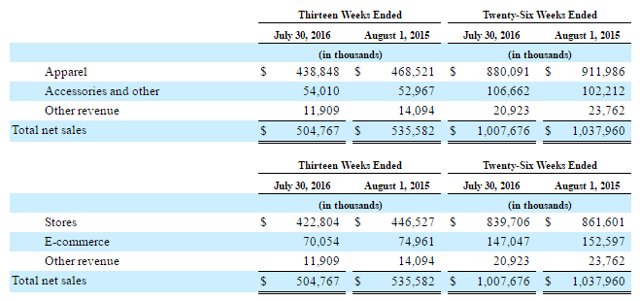 Source: Seeking Alpha
Seeing that roughly 83% of Express's business is still in the not-so-Internet-proof business of selling clothes in physical stores (typically in malls), the near-term headwinds combined with longer-term uncertainty of mall foot traffic patterns does not provide a very positive outlook for Express.
Overall
Express has a 20-something-year-old customer base that tends to fly through fashion trends in a price-sensitive manner. With a brand name that lacks clarity, it is becoming increasingly difficult for Express to leave a lasting impression on its core customer base. Additionally, Express's core business faces headwinds with mall foot traffic on the decline in the near term. While Express may look cheap compared to its competitors at 9x earnings, it will take some serious execution by the management team to build a better-defined brand that can remain competitive enough to survive in a fast-changing fashion industry. Investors may want to take a closer look into this company and its competitors before buying.
Disclosure: I/we have no positions in any stocks mentioned, and no plans to initiate any positions within the next 72 hours.
I wrote this article myself, and it expresses my own opinions. I am not receiving compensation for it (other than from Seeking Alpha). I have no business relationship with any company whose stock is mentioned in this article.