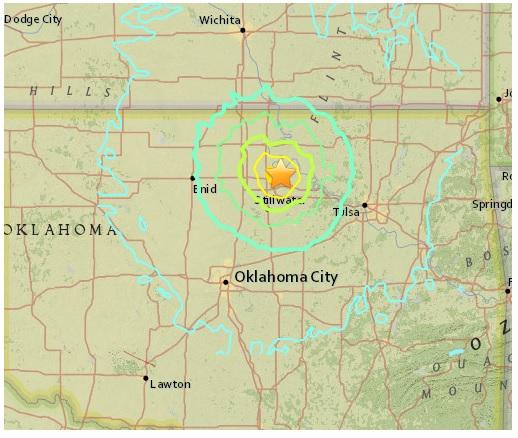 (Source: U.S. Geologic Survey, September 3, 2016)
A 5.6 magnitude earthquake struck Saturday morning (September 3, 2016) near the town of Pawnee, Oklahoma. According to preliminary information from the Oklahoma Geological Survey, the earthquake was driven by a slip-off on the Labette Fault, which is a major fault that runs through Pawnee County and into Osage County. The Pawnee area has experienced 10 aftershocks, ranging in magnitude from 2.6 to 3.6.
While no casualties or serious injuries have been reported, early-time reports indicate that multiple buildings in the area incurred some level of damage. No major damages to highways or bridges have been identified so far.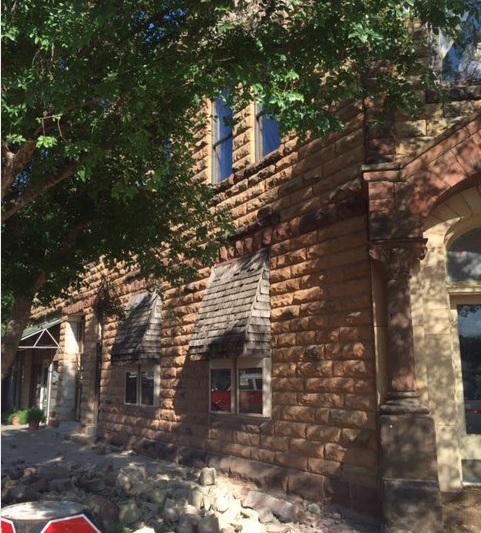 (Image: damage to the façade of the Pawnee County Bank building in downtown Pawnee, Oklahoma)
This is the strongest earthquake in Oklahoma since the November 2011 earthquake near the town of Prague which had same magnitude and is believed to have caused some damages to buildings in the area. A magnitude 5.1 earthquake also struck in Oklahoma on February 13, 2016.
The U.S. Geologic Survey in its comments was not prepared to conclude that this earthquake was caused by water injection activity without studying the specifics of the wastewater injection in the Pawnee area. However, it is widely believed that many earthquakes in Oklahoma have been triggered by the injection of wastewater co-produced alongside oil and gas in north-central Oklahoma.
Given the earthquake's strength, I expect Oklahoma regulators to take additional significant steps limiting water disposal in central and north-central Oklahoma, on top of the radical measures already in place (see Appendix). Moreover, even if a sustained reduction in seismicity is observed going forward, the restrictions on water disposal may not be lifted for some time, as Saturday's earthquake illustrates that the risk of significant earthquakes remains and extra precautions are required with regard to the oil and gas industry's activity. The proximity of the seismic activity to heavily populated areas, including Oklahoma City, Tulsa and Wichita, will obviously continue to be a significant concern for regulators.
The earthquake will likely further reduce the industry's appetite for investing in the Mississippian Lime and other plays in the area that are characterized by high volumes of co-produced water, even if an upcycle in oil ultimately arrives. As I argued previously, Oklahoma seismicity represents a "black swan" risk for the industry and operators, particularly those with diversified portfolios, are likely to take steps to distance themselves from potential liabilities.
The number of significant operators active in the play has continued to shrink over the last two years. Devon Energy (NYSE:DVN) is the most recent notable departure. The company sold its Mississippian Lime assets earlier this year for $200 million. Devon did not disclose if it remains exposed to any liabilities related to future seismicity risk under the sale and purchase agreement.
Chesapeake Energy (NYSE:CHK) is the most notable operator still active in the Mississippian Lime, with a massive acreage position and significant operated production.
SandRidge Energy (NYSE:SD) (OTCPK:SDOC), until recently the leader in the Miss Lime, has brought its drilling activity in the play to a halt. The company, which may exit from reorganization under Chapter 11 as early as this month, drilled three wells in its Mid-Continent operation in the second quarter of this year, having shifted focus to a Niobrara prospect in the North Park Basin in the Rockies. SandRidge-sponsored royalty trusts, SandRidge Mississippian Trust I (NYSE:SDT) and SandRidge Mississippian Trust II (NYSE:SDR), are another two publicly traded vehicles that may be impacted by regulatory developments.
Midstates Petroleum (MPO, MPOY), another significant operator who filed for bankruptcy protection under Chapter 11 earlier this year, has continued with a one-rig drilling program in the play.
Seismicity in Oklahoma is broadly believed to be linked to wastewater disposal. However, I continue to believe that even if a third party-operated wastewater disposal is being used, the oil producer may not be fully risk-free in terms of potential liabilities in the event of a major destructive earthquake.
Regulatory Response
The reaction of the State authorities to Saturday's quake was immediate. Oklahoma Governor Mary Fallin declared a state of emergency for Pawnee County and the Oklahoma Corporation Commission's Oil and Gas Division (OGCD) is in the process of implementing a mandatory directive to shut down all Arbuckle disposal wells within a 725 square mile area surrounding the epicenter of the earthquake (the area includes 211 square miles of Osage County, which is in sole EPA jurisdiction). At least 37 Arbuckle disposal wells are expected to be impacted. Governor Fallin twittered that operators will be given 7 days to effect all the shut-downs.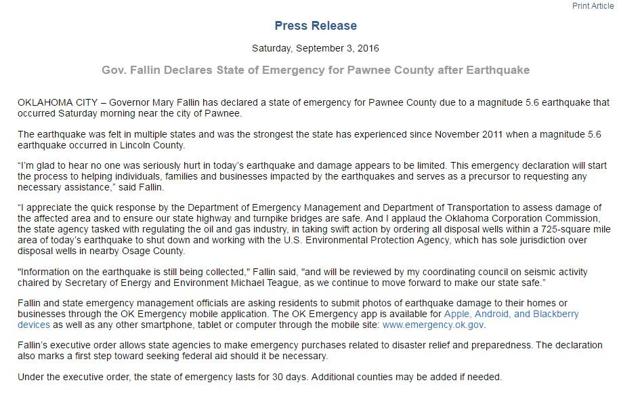 This is the second earthquake response by OGCD in two weeks. On August 19, OGCD imposed additional restrictions on water disposal in reaction to a magnitude 3.7 and 3.9 earthquakes near Luther and Wellston, Oklahoma, just five miles north-east of Oklahoma City. Under the plan, the two Arbuckle disposal wells within 3 miles will be shut down and 19 Arbuckle disposal wells within 10 miles will be further limited in volume. These actions are in addition to the 40% volume reduction plan completed in May that included the Luther/Wellston area.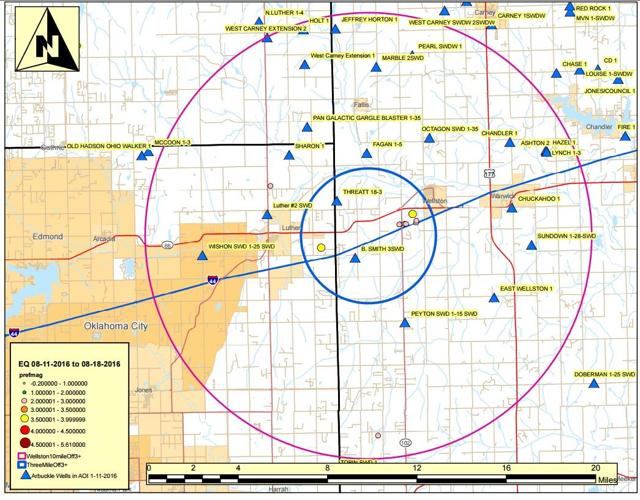 (Source: Oklahoma Corporation Commission)
Regulatory Restrictions
Earlier this year, OGCD implemented a new regulatory framework to address seismicity in Oklahoma. As opposed to previous restrictive actions that targeted limited areas and specific injection wells in the vicinity of significant earthquakes as they occurred, the new approach is "regional:" the restrictions blanket-cover over 10,000 square miles and more than 600 Arbuckle disposal wells. The new regulatory rules and the area impacted are summarized in Appendix at the end of this note.
The OCC emphasized that any decrease in earthquakes that may result from its plan is unlikely to be immediate, and must be evaluated over the course of several months. It is difficult to predict the duration of the imposed restriction but it is likely to be extensive.
The regulation does not ban oil and gas operating activity but mandates a significant reduction in the disposed water volumes. Based on my estimate, the restriction has resulted only in minor impact on oil and gas production. However, the restriction may become a limitation under a scenario of a strong recovery in oil prices.
I view the risk to the STACK and Cana Woodford plays as minor at this point, even though a portion of STACK falls within the "Area of Interest" outlined by Oklahoma regulators. While STACK plays, the Meramec, Osage and Woodford, appear to generate only modest amounts of co-produced water, wastewater disposal is unavoidable in oil and gas operations and could create inconvenience for STACK operators in the event regulators expand restrictions onto a wider area. The largest operators in the STACK and Cana Woodford are Devon, Newfield Exploration (NYSE:NFX), Continental Resources (NYSE:CLR), Marathon Oil (NYSE:MRO) and Cimarex Energy (NYSE:XEC).
In Conclusion…
Despite limited impact, Saturday's earthquake will have major negative consequences for the Mississippi Lime play (and, possibly, other plays in the same stack that produce large amounts of water).
STACK's water disposal requirements are modest and may be solved by transporting wastewater via pipe for re-injection outside of the high seismicity risk area. While STACK is not directly impacted by the earthquake, the area is nonetheless exposed to the risk of a high-magnitude seismic event in Oklahoma, due to the possibility of a moratorium on water injection and even fracking activity over wide areas if such an event occurred.
If you find my posts helpful, please consider following me on Seeking Alpha. You can do so by clicking on my name next to the orange logo at the top of the article and then pressing the "Follow" button on the next page. On the same profile page, you can browse through my previous posts, by article and, using the scroll bar on the left, by primary stock ticker.
For in-depth data and analysis of commodity fundamentals, please consider subscribing to Zeits OIL ANALYTICS.
APPENDIX: The "Area of Interest"
Earlier this year, the OGCD expanded the size of the "Area of Interest" covered by earthquake precautionary rules (also referred to by the OCC as the "yellow light area").
Disposal well operators have to prove the well has not been drilled too deep (water disposal into the crystalline basement or too close to it is viewed as the primary trigger of the seismicity and is not allowed; if the well is too deep, a portion of it must typically be plugged back).
Operators are subject to weekly volume recording and reporting requirements.
No new Arbuckle disposal wells are permitted via an administrative process in the Area of Interest (application must go through full court process, and approval can only be granted by majority vote by Commissioners; any permit approved will be limited to 6 months and will contain requirements for seismicity monitoring and regular testing).
The well can be shut-in by the OCC with no court hearing.
The following map shows the two large areas - central Oklahoma (circled with the solid red line on the map below) and northwestern Oklahoma (circled with a solid blue line) - now subject to wastewater reduction requirements.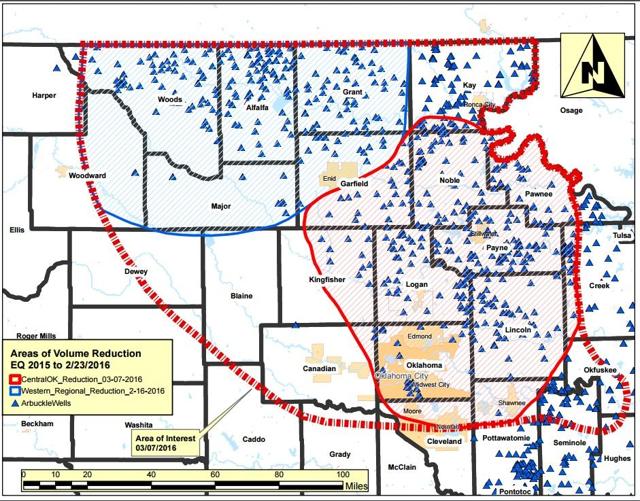 (Source: Oklahoma Corporation Commission)
The central Oklahoma volume reduction plan covered more than 5,000 square miles and more than 400 Arbuckle disposal wells. The goal is to reduce the total volume disposed in the area to 40% below the 2014 total. The central Oklahoma volume reduction plan was phased in over two months to avoid sudden pressure changes. 126 operators were impacted, with Devon being one of the largest with 54 operated disposal wells.
Expected volume reduction: ~300,000 barrels of water per day, or ~40% below the 2014 total.
High-volume wells were disproportionately impacted by the cap on volumes equal to the lesser of 20,000 b/d or two times the reported daily average, with the 30-day daily average limited to no more than 15,000 b/d.
Wells that have stopped operation under previous plans were to remain shut-in.
The western Oklahoma volume reduction plan covered ~5,300 square miles and ~245 Arbuckle disposal wells. The goal is to reduce the total volume disposed in the area to 40% below the 2014 total. The plan has been being phased since mid-February in over 4 stages over 2 months to avoid sudden pressure changes. Over three dozen operators are impacted, with SandRidge, Chesapeake and Midstates being among the most significant ones.
Expected volume reduction: ~500,000 barrels of water per day, or ~40% below the 2014 total.
Volume restrictions per well are similar to those in central Oklahoma.
Wells that have stopped operation under previous plans will remain shut-in.
Relevance: USO, OIL, UWTI, UCO, DWTI, SCO, BNO, DBO, DTO, USL, DNO,OLO,SZO, OLEM, OILU, OILD, OILX
Disclaimer: Opinions expressed herein by the author are not an investment recommendation and are not meant to be relied upon in investment decisions. The author is not acting in an investment, tax, legal or any other advisory capacity. This is not an investment research report. The author's opinions expressed herein address only select aspects of potential investment in securities of the companies mentioned and cannot be a substitute for comprehensive investment analysis. Any analysis presented herein is illustrative in nature, limited in scope, based on an incomplete set of information, and has limitations to its accuracy. The author recommends that potential and existing investors conduct thorough investment research of their own, including detailed review of the companies' SEC filings, and consult a qualified investment advisor. The information upon which this material is based was obtained from sources believed to be reliable, but has not been independently verified. Therefore, the author cannot guarantee its accuracy. Any opinions or estimates constitute the author's best judgment as of the date of publication, and are subject to change without notice. The author explicitly disclaims any liability that may arise from the use of this material.
Disclosure: I/we have no positions in any stocks mentioned, and no plans to initiate any positions within the next 72 hours.
I wrote this article myself, and it expresses my own opinions. I am not receiving compensation for it (other than from Seeking Alpha). I have no business relationship with any company whose stock is mentioned in this article.
Editor's Note: This article covers one or more stocks trading at less than $1 per share and/or with less than a $100 million market cap. Please be aware of the risks associated with these stocks.