Oil prices went down last week, as the markets remained largely bearish because of the continuing gasoline and crude oil glut. WTI and Brent were trading at $44.44 and $46.83 respectively at the time of writing this article. I had explained in my previous article how oil (NYSEARCA:USO) will continue to remain volatile in the coming time. I had even stated that OPEC, as a cartel, has become weak and it requires oil prices to be higher than the current levels. On Friday, September 2, Russia's President Vladimir Putin said something which gave a major boost to the much publicized "oil freeze" deal between OPEC and Russia. Putin said Russia and OPEC, producers of almost half of the world's crude oil, must agree to freeze their oil supplies. He also said Iran's dilemma in limiting its production must be resolved. "From the viewpoint of economic sense and logic, then it would be correct to find some sort of compromise. I am confident that everyone understands that. We believe that this is the right decision for world energy. I would very much like to hope that every participant of this market that's interested in maintaining stable and fair global energy prices will in the end make the necessary decision. Prince Bin Salman is a very reliable partner with whom you can reach agreements, and can be certain that those agreements will be honored," said President Putin in an interview in Vladivostok.
Why did Putin Make Such Comment?
In order to understand the reason behind Putin's latest comment on the oil freeze, we must go back to April 2016, when Russia met OPEC in Doha. During that meeting, OPEC and Russia were ready to "freeze" their production levels, but this could not happen, as Saudi Arabia (led by Prince Mohammad Bin Salman) pulled out at the last moment. Saudi Arabia wanted Iran to participate in the deal, and Iran was unwilling to do so. However, things are pretty different now, as Iran is already producing crude oil at its pre-sanction levels. Even OPEC as an organization is getting weaker, as its oil exports revenues are reducing because of low oil prices. Russia's economic problems are even worse, as the country is heavily dependent on its oil & gas revenues and is entering the second year of economic recession. This shows the probability of an "oil freeze" agreement between OPEC and Russia has increased after Putin's latest comments. On Saturday, a news agency belonging to Iran's oil ministry reported that the country will be ready to co-operate (to balance the oil markets) after it regains its pre-sanction market share. From this, it seems even Iran is now willing to co-operate with OPEC and Russia. However, it will be interesting to analyze Saudi Arabia's response on the latest comments made by Russia and Iran. Saudi Arabia's energy minister had stated last week that the markets were already moving in the right direction, and there was no need for any significant intervention.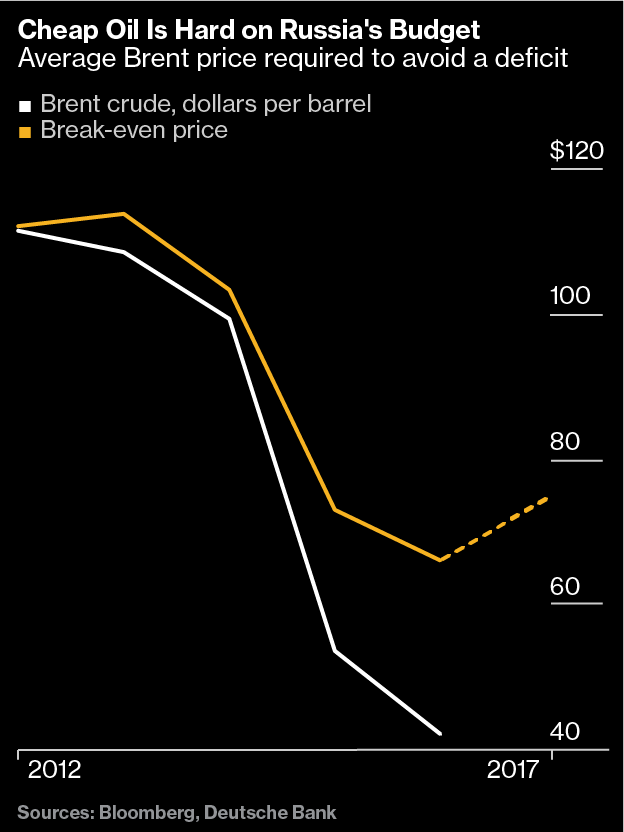 Conclusion
I had earlier explained that OPEC and Russia will not be able to revive oil prices if they stick to their strategy of simply "freezing" their production levels. OPEC produced around 33 million barrels a day in July 2016, whereas Russia produced around 10.85 million barrels a day during the same period. Now, even if they decide to "freeze" their production levels, they will still produce more than 40 million barrels a day. In short, an oil freeze between OPEC and Russia will not accelerate the supply-demand rebalancing of crude oil.
If OPEC and Russia are really interested in stabilizing the prices, they must reduce their production levels instead of freezing them. Any possibility of a substantial reduction in production levels (from either of the two) seems to be highly unlikely. Investors must note this. If OPEC and Russia do agree to "freeze" their production levels, prices will increase briefly, as oil will be driven only by positive market sentiments. In the longer run, I expect the markets to be driven other supply-demand factors that include strong demand growth from China and India and reduction in global oil & gas investment.
Disclosure: I/we have no positions in any stocks mentioned, and no plans to initiate any positions within the next 72 hours.
I wrote this article myself, and it expresses my own opinions. I am not receiving compensation for it (other than from Seeking Alpha). I have no business relationship with any company whose stock is mentioned in this article.