Company Introduction
Marathon Peotroleum Corporation (NYSE:MPC) is a refining and midstream company. Recently, the company reported a very decent quarterly report, with approximately $801 million in net income. This result comes in a time where the crack spread, which refiners depend on, faces strong headwinds. Regardless, the strong net income dwarfs its dividend payment of $150 million per quarter, and that will likely keep its dividends safe. However, the company's price earnings ratio, at 12.0, is significantly higher than those of their peers. As a result, the author recommends investors to look for alternatives to Marathon Petroleum.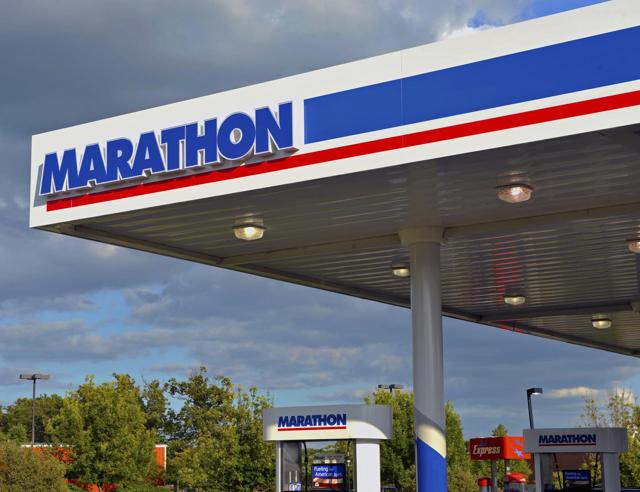 Good Earnings in Tough Environment
Marathon Petroleum Corperation reported a net income of over $800 million second quarter of 2016, despite a very weak crack margin eating into the refinery's revenues. This strong report is very encouraging, although the weak crack margin is expected to worsen in the coming year before it gets better. This will definitely impact Marathon Petroleum's revenues.
For starters, Brent crude is priced at $46.50, and its price is on the rise. Many analysts predict crude to be $50 in 2016 and $55 to $60 in 2017, while the US Energy Information Agency makes a similar prediction. This rise in oil prices will adversely impact refiners by increasing input costs. See a summary of the agency's predictions in the chart below.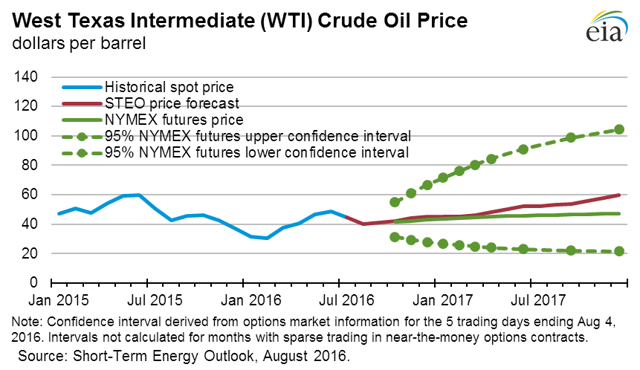 In contrast, gasoline prices face extraordinary pressures due to historically high inventories. These economic forces will further pressure the crack margin. See the chart below for details.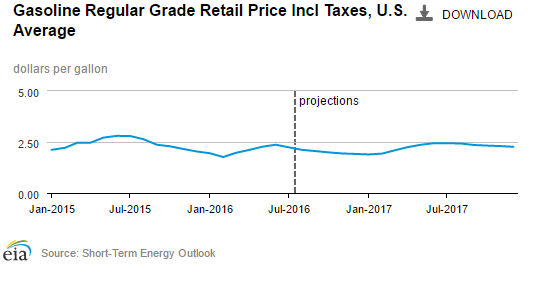 US gasoline prices, expected to stay very weak due to historically high inventories.
Despite these challenges, Marathon will get through the tough times, thanks to its current $805 million in net income. The revenue will shrink as the environment toughens, but Marathon will likely keep paying its dividend. In fact, Marathon's dividend payment only costs $150 million per quarter from its balance sheet, and it is very unlikely for further challenges to shrink Marathon's revenue to that level. As a result, its dividends are safe.
Fundamentals Comparison and Valuation
Although Marathon's dividends are safe, its valuation is actually quite hefty compared to its competitors. Refer to the chart below and see that Marathon's valuation is almost near that of industry giant Phillips 66, which has a valuable petrochemical division that Marathon doesn't! At current prices, it is better to stay away from Marathon.
| | | | |
| --- | --- | --- | --- |
| Company | Market Cap | P/E Ratio | Most Recent Earnings |
| Phillips 66 (NYSE:PSX) | 41.5 | 13.72 | $496M |
| Marathon Petroleum (NYSE:MPC) | 22.6B | 11.70 | $801M |
| Valero (NYSE:VLO) | 25.6B | 8.9 | $810M |
A comparison between Marathon and its competitors. Click on the company for related articles.
Conclusion
In conclusion, Marathon Petroleum Corporation is doing quite well in a tough refining environment. However, crack spreads are about to shrink even further, and the company's revenues won't be increasing any time soon. Compared to its competitors, the company seems overvalued. Hence, the author recommends investors to stay away from Marathon Petroleum and take a look at Valero instead.
Disclosure: I/we have no positions in any stocks mentioned, and no plans to initiate any positions within the next 72 hours.
I wrote this article myself, and it expresses my own opinions. I am not receiving compensation for it (other than from Seeking Alpha). I have no business relationship with any company whose stock is mentioned in this article.