Recently, we have highlighted the control person discount that exists in Travelzoo (NASDAQ:TZOO) stemming from its founder and largest shareholder Ralph Bartel. Last week, Wynn Resorts (NASDAQ:WYNN) took an extraordinary action upon one of its founders, Kazau Okada, who allegedly violated certain laws and is in direct competition with Wynn Resorts.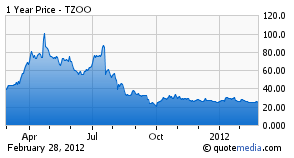 Ralph Bartel has come under scrutiny regarding some of his activities surrounding Travelzoo where he is also a director. We question whether the independent Directors of Travelzoo have the resolve to investigate whether or not Mr. Bartel has violated any corporate requirements which may make his shares subject to redemption. In the case of Okada, the redemption was made possible by the Articles of Incorporation and Shareholders Agreements in place at Wynn Resorts since its inception. The lawyers pursuing the case against Mr. Bartel will likely be entitled to the pertinent documents of Travelzoo to see if the possibility for such a process exists here.
Of course, Mr. Bartel can make this entire issue go away and transfer Travelzoo's Asia Pacific assets to Travelzoo. This would give himself and the minority shareholders in Travelzoo the growth strategy we need to fuel the company forward. In addition, this would eliminate the costly litigation distraction Travelzoo is experiencing.
Certainly, a redemption of this nature would benefit minority shareholders and remove the shareholder control discount and free current management to pursue more aggressive growth strategies to unleash value and let the share price move in line with its peers Groupon, Inc. (NASDAQ:GRPN), Tripadvisor, Inc. (NASDAQ:TRIP) and priceline.com Incorporated (PCLN) revenue to marketcap multiple.
Moreover, traders who are betting against the company may have to cover their short positions in light of the reduction in shares outstanding after the redemption. The redemption of shares via a low interest bearing long term unsecured note such as the one Wynn Resorts issued to Kazua Okada would be beneficial to Travelzoo minority shareholders by immediately increasing its earnings per share.
Disclosure: I am long TZOO.