Are stocks going to go up or down, and should readers buy or sell at today's market prices?
The S&P 500 is near all-time highs, the U.S. economy just added another 151,000 payrolls in August (though Friday's employment report still missed the consensus estimate of 180,000 new jobs), the unemployment rate sits at 4.9 percent, and the Federal Reserve will probably NOT decide to increase the federal funds rate at its policy meeting in September. Regardless, stocks, with a few exceptions, are generally in a sweet spot in my opinion.
The idea that stocks can continue to appreciate in price received fuel last week when strategists at investment bank, Bank of America Merrill Lynch, beat the same drum, relying on a so-called "sell side consensus indicator" that "uses the month-end recommended equity weightings of Wall Street strategists to forecast the 12-month returns of the S&P 500".
In a nutshell, BofA ML's sell side consensus indicator is a contrarian indicator that tells people to buy stocks when sentiment is bearish, and to sell stocks when sentiment is bullish.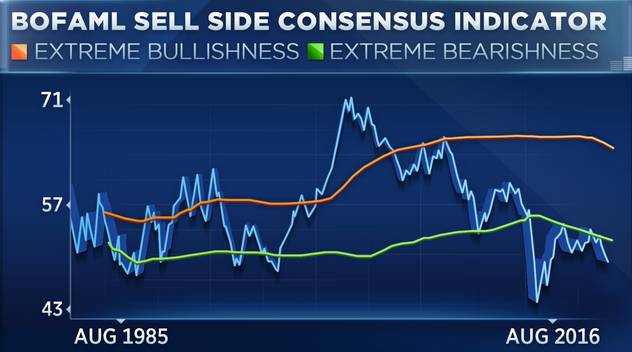 Source: CNBC
Since the indicator signals extreme bearishness at this point, there is a case to be made for buying stocks.
This is how the BofA ML strategists explained the indicator's implications for investors [emphasis mine]:
The report goes on to state that when the indicator, which dates to 1985, "has been this low or lower, total returns over the subsequent 12 months have been positive 100 percent of the time, with median 12-month returns of +27 percent."

At this point, the indicator "implies a 12-month price return of 20 percent, and a 12-month value of 2,604"; for a 22 percent return after the S&P's 2 percent dividend yield is added in.

~ Source: CNBC
Assuming the strategists at BofA ML are indeed right, and stocks can edge higher, which ones should you consider?
As far as I am concerned, two cyclicals are standing out of the crowd, and have compelling total return potential over the next twelve months.
One stock to keep a close eye on is Bank of America (NYSE:BAC) whose shares have been breaking out lately on expectations of a near-term rate hike.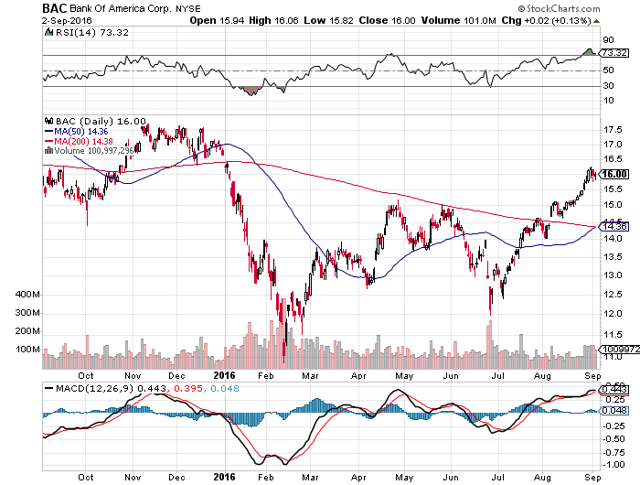 Source: StockCharts.com
After the weak jobs report last week, the Federal Reserve may continue to take the easy route, and push a rate hike out to the end of the year, or even into 2017. In any case, Bank of America has a highly compelling reward-to-risk equation at today's price point since its shares are selling for just 68 cents on the dollar.
Read also: 'Bank Of America: Fair Value North Of $23'.
Another company to look out for is General Electric (NYSE:GE).
General Electric's shares have entered a correction period, but are in a good spot to fly higher as its restructuring nears completion. I recently called a bottom on General Electric, and continue to have above-average return expectations for a more streamlined, highly capital efficient GE with a bunch of cash from its asset sales to distribute.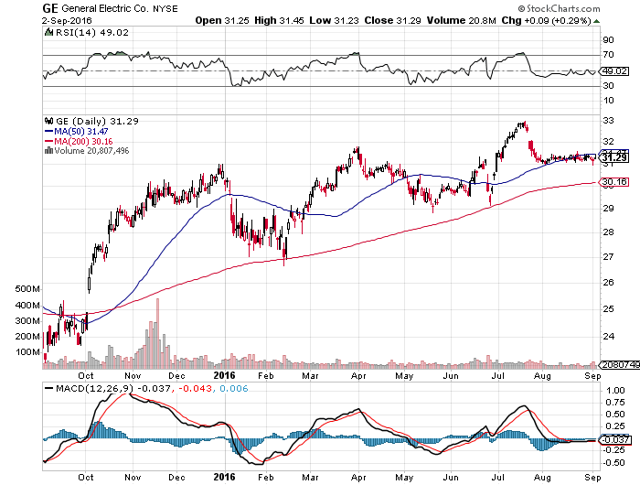 Read also: 'GE: Buy The Dip'.
Your Takeaway
According to a BofA ML contrarian indicator that is based on sentiment, stocks have ~20 percent upside. Sentiment is only one factor to consider, and other factors may be just as important, which is why readers may want to take the sell side consensus indicator, despite its past accuracy, with a grain of salt.
In case equity markets can indeed edge higher, Bank of America and General Electric are my two top total return plays in the large cap category. Both have appealing reward-to-risk equations at today's market prices. Buy for income and capital appreciation.
If you like to read more of my articles, and like to be kept up to date with the companies I cover, I kindly ask you that you scroll to the top of this page and click 'follow'. I am largely investing in dividend paying stocks, but also venture out occasionally and cover special situations that offer appealing reward-to-risk ratios and have potential for significant capital appreciation. Above all, my immediate investment goal is to achieve financial independence.
Disclosure: I am/we are long BAC, GE.
I wrote this article myself, and it expresses my own opinions. I am not receiving compensation for it (other than from Seeking Alpha). I have no business relationship with any company whose stock is mentioned in this article.