The big news last week was the underperformance of the well anticipated non-farm payrolls. This week we need to listen for some Fed direction to see if there is still a chance for a rate hike. According to Fed Vice-Chair Fischer there could still be. If there is any hike talk we'd expect weak markets (NYSEARCA:SPY). We also review Trump's poll surge and other market drivers this week.
Key Events For This Week
Sept 2: Non Farm Payrolls Miss
Sept 2 AMC: Donald Trump catches Hillary Clinton in the polls
Monday, Sept 5: Labor Day
Thursday, Sept 8: Jobless Claims
Non Farm Payrolls Miss
Non Farm Payrolls ("NFP") reported 151,000. That was a material slowdown from the recent pace of the last two numbers.
Here's the chart.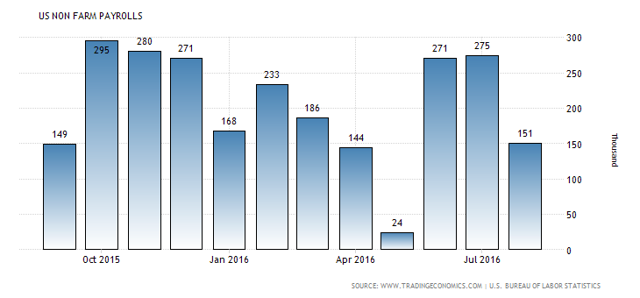 Source: Trading Economics
What's a little more troubling is if we zoom out on the NFP report. Let's look.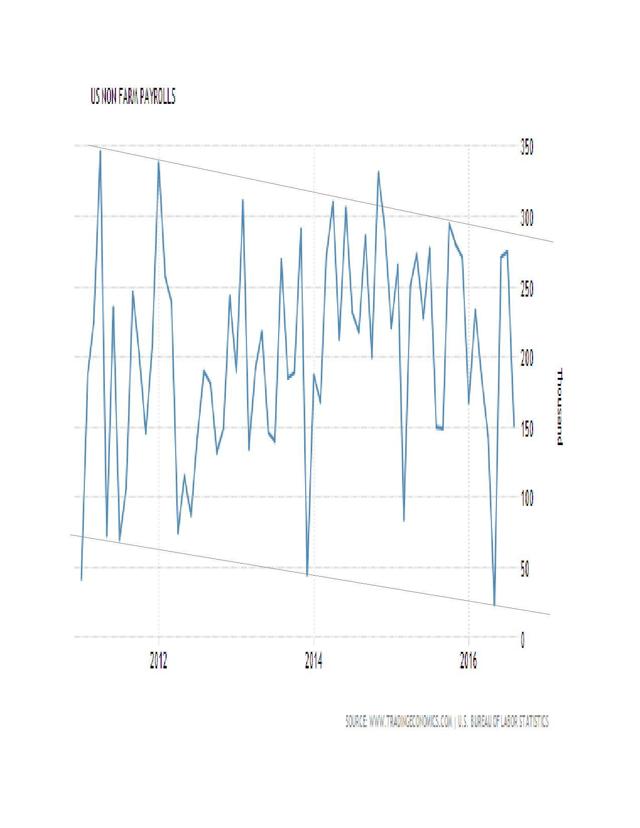 Source: Trading Economics With Elazar's trendlines
Looking back five years you see a clear downtrend forming in non-farm payrolls. This is a problem because the Fed Chair Yellen said that the Fed has no ammunition to save the economy with rates already low.
Here's what she said in her big speech two Fridays ago:
"Finally, the simulation analysis certainly overstates the FOMC's current ability to respond to a recession, given that there is little scope to cut the federal funds rate at the moment. But that does not mean that the Federal Reserve would be unable to provide appreciable accommodation should the ongoing expansion falter in the near term."
Those italics were written into her speech to emphasize that if economic indicators like NFP were to keep slowing the economy is in serious trouble. The Fed has no ammunition.
Let's Elazarize that:
"Certainly if the economy were to slow from here we are in serious trouble because we currently have no ammo left."
But don't be too worried. The Fed Chair goes on to say,
"The FOMC could resume asset purchases."
But she warns about these asset purchases elsewhere in her speech:
"Our understanding of the forces driving long-run trends in interest rates is nevertheless limited, and thus all predictions in this area are highly uncertain."
"Asset purchases" are to affect long term rates. They admit they have "limited" "understanding."
Let's Elazarize that all together now:
"Certainly if the economy were to slow from here we are in serious trouble because we currently have no ammo left. But don't worry we can always ramp up our bond purchases again. The only risk there though admittedly it hasn't worked yet eight years later and we really don't know the risks or financial repercussions associated with such moves. But don't worry it will be ok."
You now understand why Elazar isn't writing Fed speeches.
The Fed would have no wiggle room to save the economy if it were to continue to slow. The risk to the downside is bigger than other periods in history because of that one simple fact that the Fed chair spelled out for us.
Why Raise Rates?
Let's look at Fed Vice-Chair Stanley Fischer's speech August 21st and see what his take away would be of Friday's NFP report. He may still be hawkish.
Here's what he said August 21st:
"Estimates of monthly job gains needed to keep the unemployment rate steady range widely, from around 75,000 per month to 150,000 per month, depending on what happens to labor force participation among other things."
Hmm, the number was almost exactly his high end needed to keep the unemployment rate steady. As to the current unemployment rate he said,
"The unemployment rate is currently close to most estimates of the natural rate."
We are at full employment. Full employment is inflationary and The Fed Vice-Chair said "We are close to our targets."
Let's look at The Fed Vice-Chair's above mentioned updated labor force participation which can help sway the Fed if the NFP number is borderline.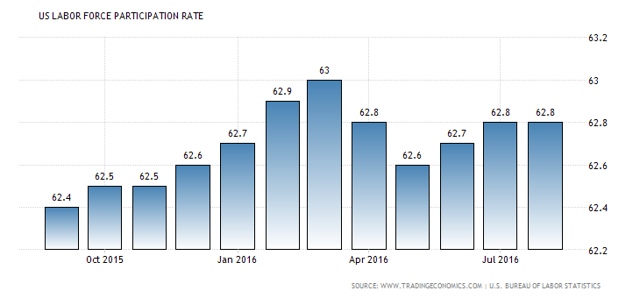 Source: Trading Economics
Labor force participation was exactly where it was when the Fed Vice Chair gave his speech.
That would mean from his view the NFP and the (other) participation rate were at the high end to keep full employment full.
Full employment and low rates are not usually mentioned in the same breath. Usually they are opposite.
Full Employment And Record Low Rates: A World Out Of Whack
Below we show the relationship between jobs and rates. If you take the Fed's quantitative easing ("QE") and add it to their Fed Funds interest rates we are way out of equilibrium versus jobs.
In the below chart we show the inverse of jobless claims (so up means strong jobs) versus rates plus QE (asset purchases). We index them to show their relationship. We also assume that about $4T in Fed asset purchases is equivalent to -9% rates. That was based on a Fed research paper Fed Chair Yellen used in her speech two Friday's ago. When she mentioned "simulation analysis" in her speech (above) this was the report she pulled it from.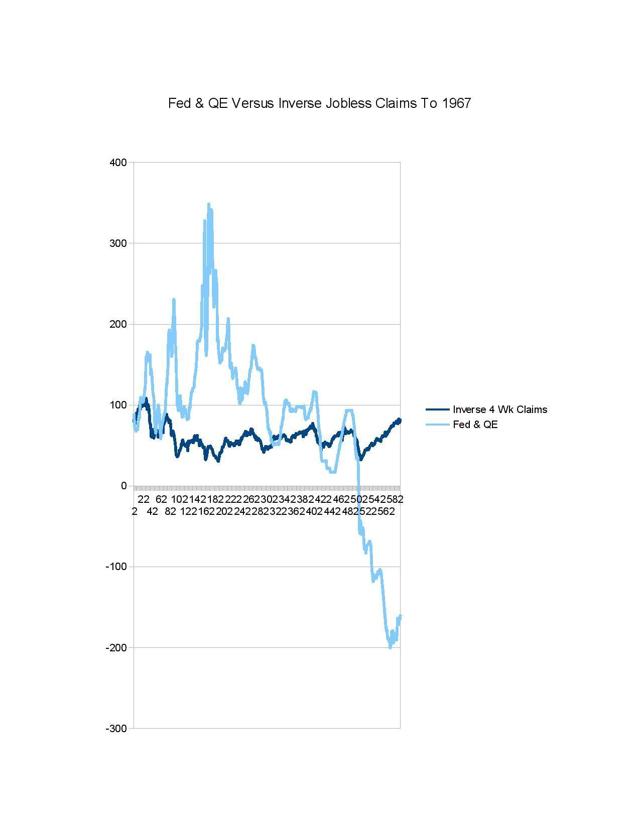 No matter what your initial opinion was this above chart should challenge you. Should the Fed raise or not? According to this chart they definitely need to raise rates regardless.
The above chart shows inverse jobless claims (in dark blue) versus rates and QE (in light blue). Typically when jobs get stronger rates go up in tandem to slow a heating economy. When jobs soften the Fed eases their policy to help jobs pick back up.
You can see that is way out of equilibrium today.
Today jobs are stronger than any time in 43 years while rates are lower than they have ever been in the history of mankind.
The system is completely out of balance.
That's why Mohamed El-Erian, chief economic adviser at Allianz SE told Bloomberg after the NFP on Friday that he had, "slightly lower expectations of a rate hike but not materially so."
He was the first to say there was an 80% chance for a rate hike so he probably reduced it to 75-80%. We mention him and give him credit because he was ahead of Fed officials who soon after called for a rate hike.
Why does he think a rate hike is still on the table? Due in part to our chart above that the world is out of equilibrium.
To see a rate hike in September he said it depends "how worried are Fed officials about the collateral damage and the unintended consequences of a protracted period of low interest rates. If they are worried as I am this report [NFP Friday] is a green light to hike."
Leaving rates too low for too long causes banks and consumers to take risks at lower rates which puts them in jeopardy later on when rates rise.
We Need Some Guidance
The Fed has been terrible at giving the street guidance. They lost credibility to anything they've said which is why NY Fed President William Dudley recently called the market "complacent" to a rate hike.
Here's what he said to Fox News August 16th:
"If you look at futures markets for the federal funds rate, which is the rate that we target, it has basically one rate hike priced in through the end of 2017 - I find that too low. I think the market is complacent about the need for gradually snugging up short-term interest rates over the next year or so."
Granted that was before the recent jobs number but the point is that the Fed has had limited guidance and that guidance has not been followed through. Thus the Fed has lost credibility in that guidance.
According to The Fed Vice Chair's 150,000 being enough to maintain full employment the Fed Chair should still agree with her recent statement,
"I believe the case for an increase in the federal funds rate has strengthened in recent months."
We now have a combination of a building lack of credibility, US economics out of equilibrium, and a tight jobs market. We don't know if the Fed still may want to hike rates September 21st.
For that reason we need some Fed guidance.
If the Fed guides that a rate hike is still on the table, which we think is possible, we expect markets to take a hit. That would imply the Fed needs to raise rates to get us out of disequilibrium despite the NFP slowdown.
A slower economy and rising rates would be a market negative.
Even With A Weak NFP Hike Expectations Unchanged
How would you guess market participants would view a rate hike after the NFP miss? We'd guess the market would expect less chance of a rate hike in September. Not so. The market's expectations ended little changed after the NFP miss.
Here's the Fed Funds futures for September.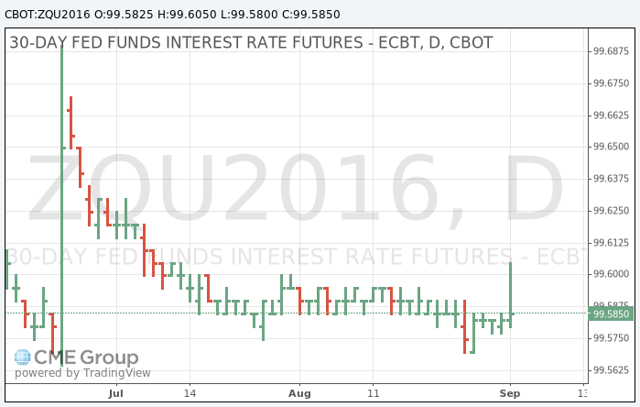 Source: CME
The above chart shows little change in the last dash, Friday, September 2nd. Market participants had little change in rate expectations for September. There was enough in the report when taking into account Fed Vice Chair Fischer's comments (above) to say that the report may have been enough to raise rates.
Trump and the polls
We think it's fair to talk politics with elections now about two months away.
The race just appeared to tighten.
Friday night after the market closed Reuters carried out a poll that showed Donald Trump leading at 40% and Hillary Clinton at 39%. Previous polls showed Clinton leading by a wide margin.
Such a tight race could cause market volatility as polls swing to either candidate.
Jobless Claims Thursday
Jobless claims now takes on more significance after the NFP miss. We think the Fed will view each weekly report more carefully leading into their September 21st FOMC decision.
We showed that the jobless claims four week average for August slowed from July which implied a NFP slowdown. We said on Thursday ahead of NFP,
"Jobless claims' four-week average only implies a downshift in the economic pace month-to-month. We don't know the degree in relation to NFP."
The NFP pace downshifted as well only to a much bigger degree.
Since jobless claims reports a similar metric as NFP its weekly reports will tell the Fed where the economy is for their next meeting. The Fed will not have the benefit of one more official NFP number which gives jobless claims more importance to follow.
Conclusion
The key for this week is to find out what the Fed thinks about NFP in relation to the September 21st rate decision. The market's knee-jerk reaction on Friday expected less chance for a rate hike. That said Fed Funds futures were little changed. Markets need some Fed guidance. If Fed guidance shows a rate hike is still being considered we'd expect markets to take a hit. As elections tighten that can also add to market volatility.
If you want Elazar's analysis on Seeking Alpha, scroll to the top of the article and hit "Follow." Elazar also writes real-time pieces as news is reported. If you want to be among the first updated check the box for "Real-time alerts on this author" under "Follow."
Letting The Market Dictate
Just as important as a fundamental thesis is entering when the market agrees. We started "Your Trading Team" on Seeking Alpha to help traders line up timing with a simple disciplined approach where the market itself lets you know if its time to enter and get big or hold off. Discipline and market mind games constantly challenge traders. We designed an elegant methodology that removes complexity to allow you to emphasize when the market agrees with your plans. To find out more please message us or to sign up click here. Good luck.
Disclaimer: All investments have many risks and can lose principal in the short and long term. This article is for information purposes only. By reading this you agree, understand and accept that you take upon yourself all responsibility for all of your investment decisions and to do your own work and hold Elazar Advisors, LLC and their related parties harmless.
Disclosure: I/we have no positions in any stocks mentioned, and no plans to initiate any positions within the next 72 hours.
I wrote this article myself, and it expresses my own opinions. I am not receiving compensation for it (other than from Seeking Alpha). I have no business relationship with any company whose stock is mentioned in this article.