Bloomberg published a piece highlighting how the March 2017 futures are trading at the highest premium to the April futures since the 2013-2014 winter.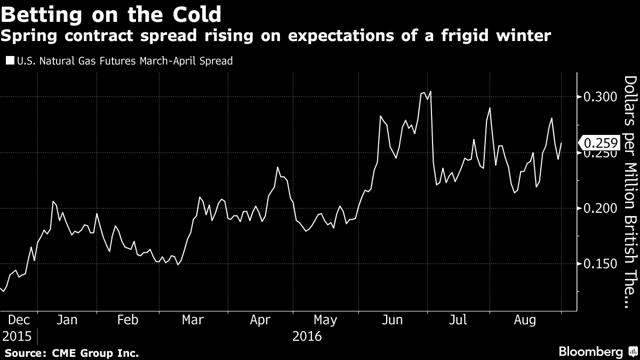 Source:Bloomberg
For those that closely follow natural gas (NYSEARCA:UNG), one thing is certainly different than last year: supply and demand are much tighter. We entered injection season over 1 Tcf oversupplied, but the over storage is now below 200 Bcf.
Natural gas prices have recovered from sub $2 to hover close to $2.80/MMBtu.

Winter month prices usually trade at higher prices than the rest of year. Part of the reason for the difference is that winter months see much higher natural gas demand as consumers use it for heating. There are already some projections out there, and one firm that we follow, Geckoi Capital, is projecting a sub five-year average natural gas storage level by the time April comes around.
Looking at the structural demand increases this year, we estimate that natural gas consumption is 6% higher than last year while US gas production will be down year-over-year in September. So as supply decreased and demand increased, a normal winter could see larger than normal draws. In addition, last year's Winter was one of the warmest Winters in history thanks to El Nino. Current projections are for a weak La Nina to occur during the Winter months, which could spell for a colder than normal Winter. If that's the case, then the supply/demand front will be even tighter than expected.
We know it's still early to call the shots on where winter is going, but so far, the signs are pointing to a much colder than winter, and we could see the whole natural gas curve move up.
Thank you for reading our Natural Gas Daily. If you would like to read more dailies from us, please be sure to hit the follow button! For those interested on the outlook of natural gas prices, HFI Research publishes a weekly outlook for premium subscribers. If you are interested, please direct message us for more information!
Disclosure: I/we have no positions in any stocks mentioned, and no plans to initiate any positions within the next 72 hours.
I wrote this article myself, and it expresses my own opinions. I am not receiving compensation for it (other than from Seeking Alpha). I have no business relationship with any company whose stock is mentioned in this article.