General Dynamics (NYSE:GD) is one of those "steady as she goes" industrials. Revenue and earnings (adjusting back out a $2B impairment charge in 2012) have both remained more or less flat for the past five years, and given the current industry outlook by aerospace and defense executives, I would not be surprised to see another five years of more of the same. For all intents and purposes, the company operates similarly to a bond play on the defense sector, throwing off similar levels of income each year. Of course, the company does have a built-in call option: surprise payout growth if defense spending jumps, most likely due to global violence (or just the threat of violence).
Given the rapid expansion in the equity's price over the past several years, investors have seemingly begun to place more and more emphasis on that call option. The world, as reported by the news at least, just looks less safe today than how it was several years ago. Defense stocks generally follow that public perception, so it is not surprising to see that the price of General Dynamics shares has nearly doubled in three years, despite just a 13% increase in operating income from 2013 to 2015. Remember, if we're treating this like a bond, as price goes up, "yield" via free cash flow is on its way down: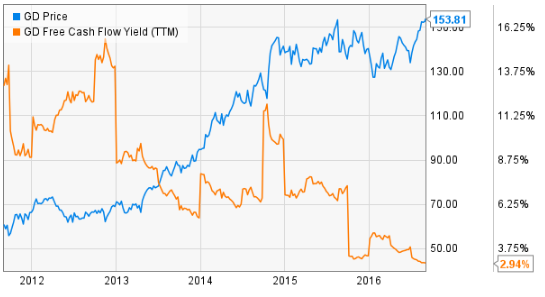 At first glance, this looks about as negative as you can get. As someone who focuses on cash flow generation (and cash flow yield) as a primary factor in making investment choices, this is an immediate flag that needs investigation. In fact, given what I already knew about the company's earnings per share (moderate improvement over the past several years), my concern becomes whether this is a case of poor earnings quality (run far away) or just a timing issue on cash flows.
Looking Back At General Dynamics' Cash Flow
General Dynamics has always been known for its rock-solid balance sheet, but that has eroded to some degree over the past several years. From 2014 through the most recent earnings release (Q2 2016), General Dynamics has burned through a net $3.3B in cash, despite generating $7B in net income through the same period. A shift in corporate allocation policy to share buybacks (more than doubling the amount of common stock treasury since 2013 year-end) naturally generates a weaker balance sheet (cash is spent with no corresponding new asset that can be held on the balance sheet at cost), but there is more to the story than that here.
Net income to operating cash flow conversion, a key metric to track when it comes to measuring underlying earnings quality, has fallen:

*General Dynamics, 2016 Form 10-K
As a general note, free cash flow conversion >100% is solid, and what I look for as a hurdle mark in a variety of businesses. Prior to 2015, General Dynamics excelled in this regard. However, investors can see the clear drop in conversion when 2015 rolled around. That weakness has continued into 2016:

*General Dynamics, Q2 2016 Form 10-Q
We know that net income has risen, and both capital expenditures and depreciation have remained at similar levels for years. Like it often does, this cash flow problem all comes down to working capital adjustments. General Dynamics has eaten another $960M in negative working capital charges through 2016, after dealing with $1.1B in negative adjustments for full year 2015. That isn't small potatoes, even for a company of this size. What gives?
General Dynamics puts the blame on customer deposit activity. In 2013 and 2014, management says that it received several large deposits related to ship orders in the Marine Systems group and a large contract from a Middle Eastern customer in its Combat Systems group. Cash flow is cash flow; when it is received, it is recorded, even if no services have yet been rendered. Income, by comparison, is booked as work is completed and GAAP says revenue and costs can be recognized.
Easy story then. In 2013 and 2014, General Dynamics received substantial deposits for future work, before that work had even started. In 2015 (and presumably into 2016), these deposits started to be used to pay for services that need to be rendered. The net result is free cash flow was overstated in prior years, and the company is paying for that now.
Just as this deposit issue is starting to wind down (according to management), the company has begun significant flight testing and construction on its new G500 and G600 aircraft. Growth in operating working capital is generally a necessary fact of life on new builds, especially in capital-intensive areas like aerospace construction. The timing is rather unfortunate, and unfortunately, investors looking for a turnaround likely won't find it occurring through fiscal 2016. Per CFO Jason Aiken's commentary on the Q2 2016 earnings call, working capital will remain negative for the full year:
"… so as I addressed in my remarks, we do continue to see full year free cash flow for this year looking similar to what we had last year, although as I said, a little bit inverted toward the second half of the year, slightly different profile than we had last year from a timing standpoint. As it relates to the advances, we'll continue to draw down on those, so you'll see that balance - you've seen it come down throughout the first half of the year, and we'll see that continue, as we continue to make progress on the production side of those contracts through the balance of the year."
This means another full year of issues related to working capital and another year where General Dynamics will see more cash go out the door (shareholder returns, capital expenditures) than what comes in the door. From my perspective, 2017 needs to be a healthier year in terms of the timing of cash flows to warrant further share price expansion. Investors have broadly ignored this issue for the better part of two years now, and they won't continue to do so forever. With cash levels falling, General Dynamics may eventually find itself in a position where it simply doesn't have the cash on hand to juggle all the obligations that come along with a capital-intensive business. That is still years away, and is highly unlikely given the moderation in working capital weakness investors have been guided to for the rest of 2016, but it is a factor (along with current valuation) investors need to consider when weighing whether or not to continue holding General Dynamics.
For deep dive research on asymmetric risk/reward plays in the Industrial and Basic Materials sectors (particularly small and mid-caps), consider investing alongside me and other subscribers within Industrial Insights. Get cutting-edge information with proven results.
This new offering doesn't mean I will be cutting down on quality or my allocated time towards my free offerings on Seeking Alpha. Follow me (by clicking the "Follow" button at the top of this article next to my name) to receive general stock market research and commentary, especially on under-followed small/mid-caps across a wide variety of sectors and industries.
Disclosure: I/we have no positions in any stocks mentioned, and no plans to initiate any positions within the next 72 hours.
I wrote this article myself, and it expresses my own opinions. I am not receiving compensation for it (other than from Seeking Alpha). I have no business relationship with any company whose stock is mentioned in this article.