Company Introduction
Total S.A. (NYSE:TOT) is an integrated oil and gas major with an upstream exploration segment and a downstream refining and chemical segment. The French major has reported very strong revenues lately, a total of 3.2 billion in net income in the first half of 2016. Comparatively to Total, many of its upstream competitors reported large losses while its integrated peers can only reach cash flow neutrality. In comparison, Total's balance sheet is very strong, profitable and even thinking about investing in renewable energy. As a result, Total's future is very bright, especially with a higher crude oil in sight. The author recommends a buy for Total S.A.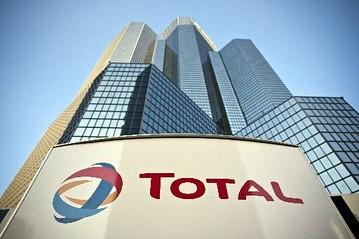 Company Key Facts:
Share Price: $49.00
Market Cap: $126.34 billion
Dividend Yield: $0.69 per share or 5.6% annualized
Dividend Growth Streak: Total decides its dividend policy on its cash flow without considering dividend consistency and growth.
Rising Upstream Profits
Similar to many of its competitors, Total's revenues are mainly dependent the realized price of crude oil. Fortunately, oil prices have been on the rise and will likely to continue doing so. During the first quarter of 2016, brent averaged $33.50 and has since then increased by $12 to average $45.50 in the second quarter. Similarly, Total's upstream division has raised its revenues by 408% and contributed 580 million in operating income as compared to 104 million in the first.
Fortunately, this figure is expected to rise as low oil encourages demand for crude and the commodity's demand has been on the rise. Most analyst predict a $50 environment for crude by the end of 2016, and $60 during 2017. The US Energy Information Agency certainly agrees: refer to its predictions below.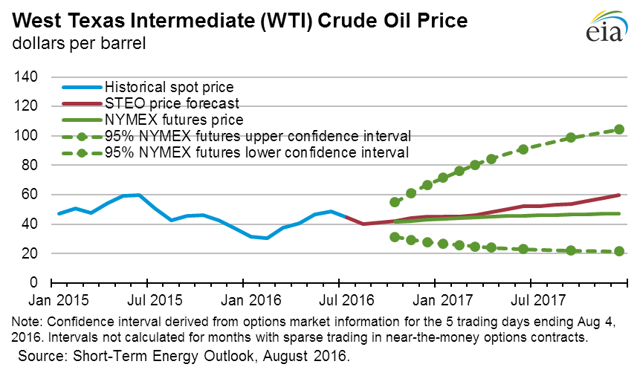 Both the NYMEX future prices and the US EIA predicts crude prices to rise. The EIA's predictions are steeper.
Given the predicted gradual rise in crude prices until the end of 2017, Total's upstream segment will be a big beneficiary. Expect the business segment to contribute at least $650 million in the third quarter, with this gradually rising to $1 billion by the end of 2017.
Downstream - Facing Headwinds
Compared to the upstream division's rising profits, Total's downstream segment is not doing as well. The refining segment's operating income totaled $965 million in the second quarter, down 30% from the $1.3 billion generated in the first quarter. To makes matter worse, the decline is expected to continue.
In general, the refining business has no control over its input costs and product prices. Instead, the refining business depends on its refining volume and the crack spread, defined as the difference between gasoline prices and crude oil prices. Unfortunately, the spread has been narrow and will turn even narrower.
For starters, crude oil prices will likely be rising as discussed above, which does not help refiners since it has to pay more for its crude. To make matters worse, Total's refining segment will have to deal with high gasoline inventories and declining gasoline prices. Take a look at US Energy Information Agency's price prediction below.
As a result of narrowing crack spreads, it is very likely that Total's downstream segment will suffer a slight decline in revenue. The current quarter's operating income is $965 million, and that is expected to decrease to $800 to $850 million in the future quarters.
Starting in Renewables
Total has also started investing in renewable, but of course most of these investments are not profitable at the moment. As the most significant part of its renewable portfolio, the company is investing in solar energy. The company acknowledges that solar will likely defeat natural gas to become the largest source of electrical energy by 2050. As another part of the electricity and distribution chain, it has also invested $1 billion in batteries. In conclusion, Total is utilizing its strong cash flow and making investment for the future, but these investment will obviously be unprofitable for awhile.
Conclusion
In conclusion, Total is doing very well despite a very challenging environment for the energy sector. The company is even looking forward and investing into renewable energy thanks to its strong cash flow, which is far ahead of its competition. As a result of the company's strong cash flow, respectable dividend and future looking prospects, the author recommends a buy for Total SA.
Disclosure: I/we have no positions in any stocks mentioned, and no plans to initiate any positions within the next 72 hours.
I wrote this article myself, and it expresses my own opinions. I am not receiving compensation for it (other than from Seeking Alpha). I have no business relationship with any company whose stock is mentioned in this article.