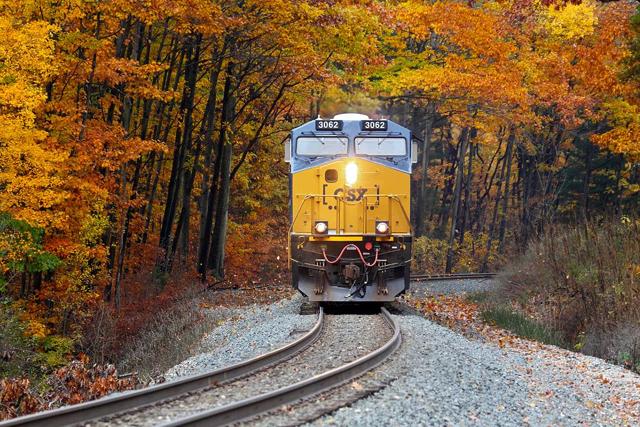 The slowing global economy is foreboding for railroad companies like CSX Corporation (NYSE:CSX). President Obama holds out hope that the economy is on strong footing, but declining rail traffic could through cold water on that thesis. Through the first 34 weeks of the year total rail traffic was down 11.3%. That means corporations are shipping less coal, fewer automotive products and agricultural products cross country. It also portends declining industrial activity.
It has also taken a toll on CSX's top line. Q2 revenue fell 12% Y/Y; Coal (down 34%) and Agricultural (down 8%) were the biggest product decliners. Through cost-cutting the company was able to improve EBITDA margins; CSX cut combined costs for labor and materials from 51% of revenue in Q1 2016 to 47% in Q2. The Q2 EBITDA margin was 43%, up from 39% in Q1. How long the company will be able to fight gravity is anyone's guess.
CSX Is Worth $26
Based on a bottoms up analysis CSX is worth $26 or about 7% less than its current trading value of $28.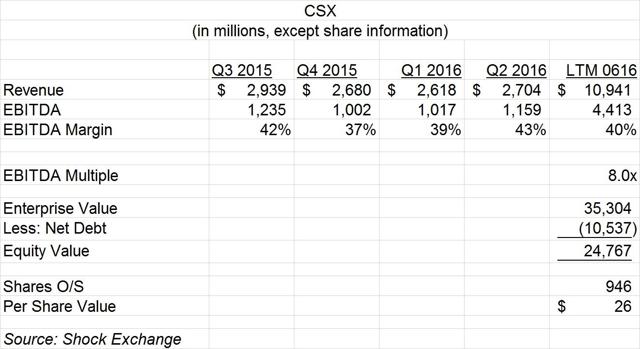 Revenue
Revenue of $10.9 billion is revenue for the past 12 months through Q2 2016. I expect revenue to trend lower as rail traffic and the global economy continue to slow.
EBITDA
EBITDA through the past 12 months of $4.4 billion equates to a margin of 40%, slightly lower than the 43% achieved last quarter. Margins could stagnate as CSX loses economies of scale.
EBITDA Multiple
Railroads are cyclical businesses. They have high barriers to entry - land rights, regulatory approval - so an 8x multiple seems appropriate.
Enterprise Value
The company's enterprise value (equity and debt) is $35.3 billion. The enterprise value could be slightly optimistic given the potential for a decline in future revenues.
Equity Value
After subtracting net debt (debt less cash and equivalents) of $10.5 billion, I derived an equity value of $24.8 billion or $26 per share.
Per Share Price
I assumed 946 million shares outstanding which was sourced from Yahoo!.
Conclusion
Based on a bottoms up analysis CSX is about 7% overvalued versus its current price of $28. I expect the economy to continue to decline, which could hurt top line growth and EBITDA margins. The company's best days are behind it and investors should avoid the stock.
Disclosure: I/we have no positions in any stocks mentioned, and no plans to initiate any positions within the next 72 hours.
I wrote this article myself, and it expresses my own opinions. I am not receiving compensation for it. I have no business relationship with any company whose stock is mentioned in this article.