One of my favorite investment themes is water. For a variety of reasons (water scarcity, large population, droughts, wasting water and more), I believe water is an incredibly interesting investment theme. Due to these particular characteristics, I'm expecting water utility firms to be relatively safe from a risk/reward perspective.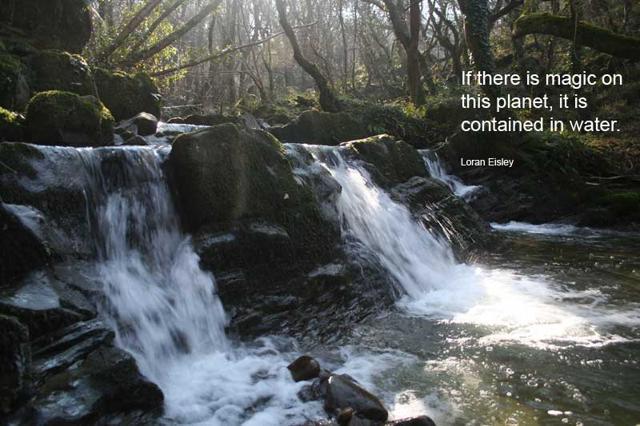 The serious issues concerning water are straightforward and coming at the world at an incredible pace. We are all aware of problems such as water scarcity which is becoming increasingly worrisome due to the growing population on earth. This problem goes hand in hand with wasting water.
Either way, water is the circle of life and apparently a lot of people on this planet are lacking it. This builds an incredible investment theme going forward as it's unlikely that the water issues are being solved any time soon. We can live without an iPhone, but we can't without water.
So far, I've written 12 specific water-related investment articles on Seeking Alpha. The idea is to cover water utilities all over the world. This as politics, population, location and environment are all important factors when it comes to the potential of a water utility firm.
The previous parts are the following:
| | | | |
| --- | --- | --- | --- |
| Article Nr. | Country of Coverage | Firm | Links |
| 12 | Brazil | SABESP | |
| 11 | USA | American Water Works | |
| 10 | United Kingdom | Severn Trent, United Utilities | |
| 9 | (Article about hedging a water portfolio) | N/A | |
| 8 | Japan | Kurita Water Industries | |
| 7 | France | Suez | |
| 6 | France | Veolia | |
| 5 | USA | American Water Works | |
| 4 | (ETF comparison article) | $PIO vs $PHO vs $FIW | |
| 3 | (ETF article) | $PIO | |
| 2 | (ETF article) | $FIW | |
| 1 | (ETF article) | $PHO | |
With Pennon Group (OTCPK:PEGRF)(OTCPK:PEGRY), we have another candidate that bites the dust; will this one be finally the extraordinary one where water flows like blue gold? As Pennon Group is focused on Britain which I've covered before, it gives another chance to look at the privatized market in the UK for business clients which is about to open.
Pennon Group: Water Is Tasty, The Search For M&A Continues!
Pennon Group operates through 3 main entities: South West Water, Bournemouth Water and Viridor: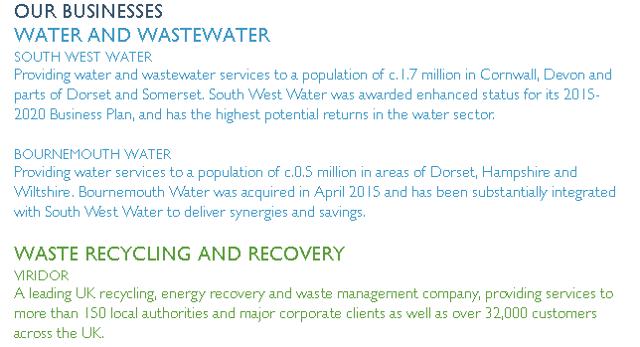 Source: Pennon Group
Bournemouth Water got recently acquired by Pennon Group for a relatively small amount of 100 million pounds. They bought it from SembCorp Industries (OTCPK:SCRPF), a small firm listed on the Singapore Exchange.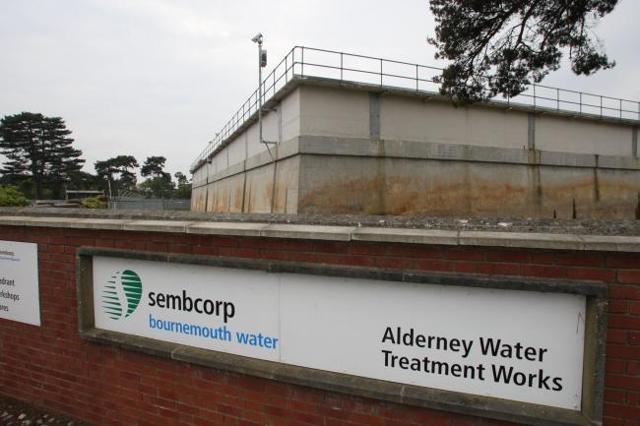 Source: Bournemouth Water
Let's bring back the old geographical overview of where the division of Pennon Group actually is located: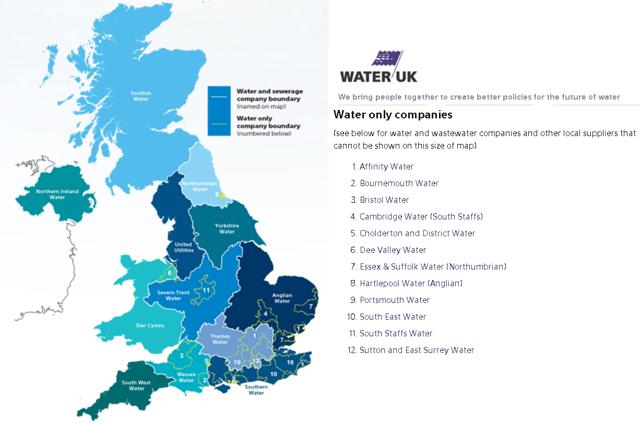 Source: Wikipedia: "Water Utilities In The UK"
People might realize that South West Water is focusing on the region of Devon and Cornwall in the UK. What they think is that this might not be a bad thing; unfortunately, Devon and Cornwall are extremely economically poor counties, with a lot of unemployment: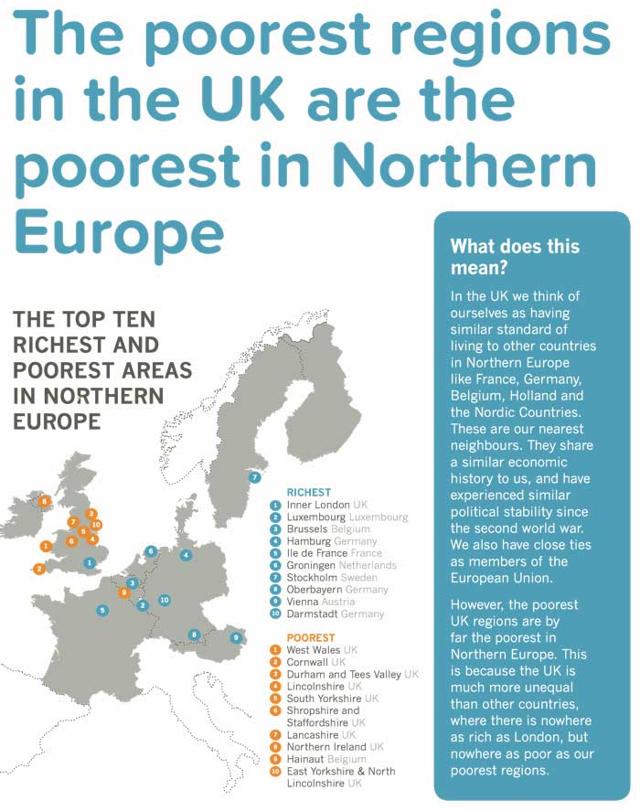 Source: independent.co.uk
Devon and Cornwall have poor economic figures all over the place, such as incredible child poverty rates, as high as 40% percent. Cornwall have been receiving funds from the European Union, as they are regions whose Gross Domestic Deposit Product is below 75% of the European average per capita. In 2011, Cornwall had a ratio of 64%.
What makes it more interesting is that Cornwall on average voted Brexit, despite its financial dependence on the European Union. Since the outcome of the referendum was Brexit, it was pure mockery to read that there were massive fears of Cornwall losing out on funding now with the actual outcome in mind.
Pennon Group: Looking At The Latest Results
The business model of Pennon Group can be found here, with an emphasis on the 2 segments: Water & Wastewater and waste recycling & recovery. Reading through the leaflet, it's clear that the focus is specifically shareholder-related with a prominence on sustaining dividend based on business going forward in the future.
Looking at the last annual report, there are quite some worries. The investor presentation shows incredible in-depth insight on the financial performance of the business: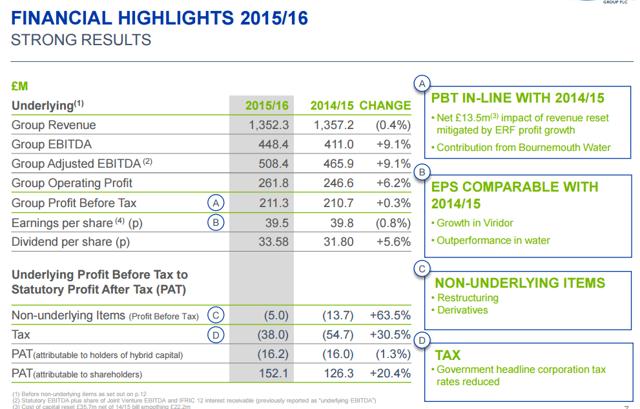 Source: Roadshow Pennon Group 2016
Revenue is contracting, while earnings still seems quite on track with a high single-digit number. It's important to compare this with its competitors. Profitability (profit obtained out of 1 dollar of revenue) in comparison to United Utilities (OTCPK:UUGRY) (OTCPK:UUGWF) and Severn Trent (OTCPK:STRNY) is for example much lower: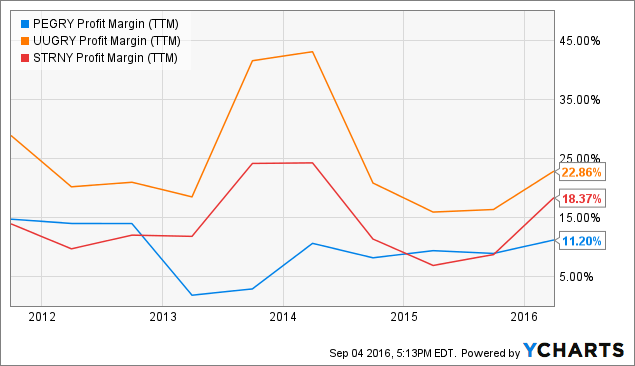 Going back to the revenue numbers, it's clear that Southwest Water is a bottleneck considering its decreasing in revenue. Bournemouth won't be able to be much of an offset, given its size in contrast South West Water: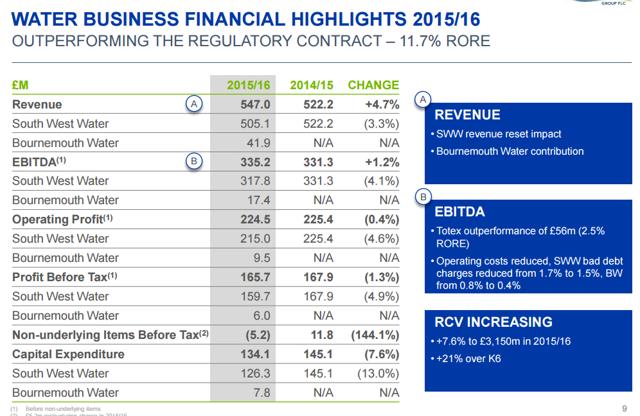 Source: Roadshow presentation
Pennon Group: Management & Performance
Christopher Loughlin is the Group Chief Executive Officer and became Group Chief Executive on 1 January 2016. So far, Pennon Group saw the least increase in share price since he entered in his position in contrast to the other listed competitors, United Utilities & Severn Trent: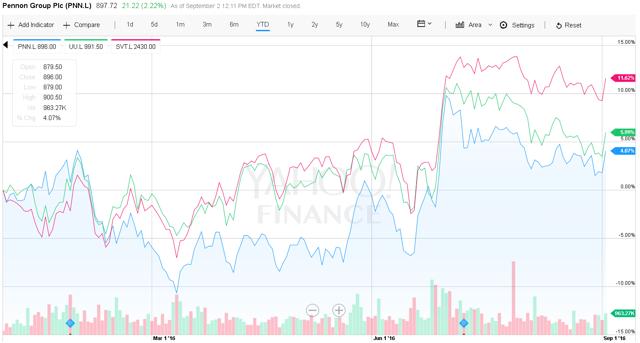 From a valuation perspective, Pennon doesn't offer a better price/earnings valuation as they are currently priced at a ratio of 24, while United Utilities and Severn Trent are valued at 17. Regardless of management focusing on dividend sustainability, in comparison to its peers, it doesn't offer a better picture either, as Pennon Group has a dividend yield of around 3-4%, very much like United Utilities (also 3-4%) and Severn Trent (also 3-4%).
Furthermore, in the roadshow presentation, it was presented that results were in line with management expectations (not sure why this should be pointed out to begin with?). Moreover, the story about Viridor and Bournemouth's need to offset South West Water does not come as a surprise.

Source: Roadshow Pennon Group 2016
Continuing along the line of management, I found it interesting that Pennon Group had no job reviews at for example career websites such as glassdoor.com. When we look at the subsidiaries, Viridor and Southwest Water, the reviews were shockingly appalling: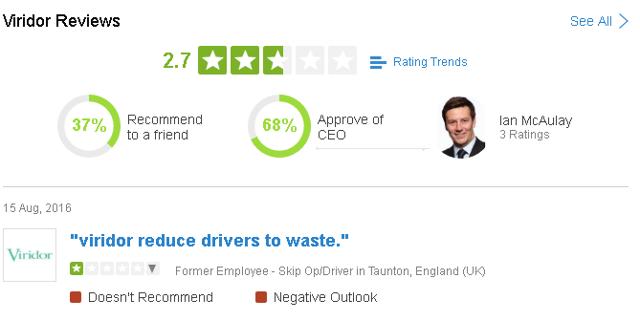 Source: glassdoor.com
If you read through all the general reviews, it's quite disappointing. Management doesn't get a good word as employees feel not being listened to.
Unfortunately, Southwest Water is not much better:

Source: glassdoor.com
If you read through the overall reviews, it's pointing the bad finger towards management (people feel ignored) as well as crazy long hours which are simply not being recognized. Why is this important one might ask, utility firms are increasingly dependent on its customers and liaison with government and politics. Employees of the firm itself are exactly in the middle, as they should liaise between firm and government and regulators as well as the firm and its customers.
For anyone mentioning this negativity is the case for all companies, you are wrong. One of the largest competitors, United Utilities, has a much higher rating for example: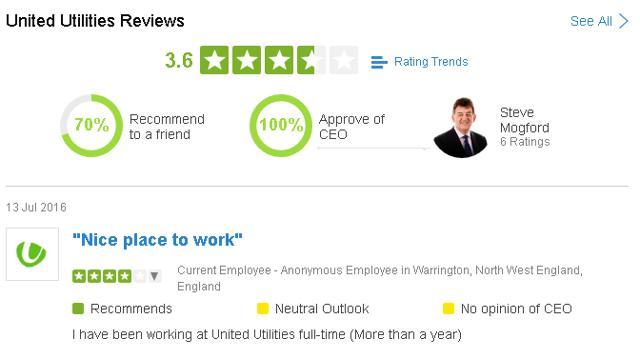 Source: glassdoor.com
Pennon Group: Business Structure
Normally not easily available, but Pennon Group has the corporate structure presented in a very well detailed excel spreadsheet. It will lead you to all sorts of business structures liaised to Pennon Group, for example Peninsula Leasing Ltd, a firm which is renting and leasing cars and light motor vehicles, and which acquires cars and supplies them to South West Water Limited and other companies under finance lease arrangements.
For anyone completely unaware how a business structure looks like, this one is a perfect gem of an example on how difficult large firms operate. It's interesting as it increases transparency from an investor perspective. As well as the fact that this particular drilldown is not being shown in the revenue numbers for example.
Conclusion
When I evaluated the water utilities in England before, the outcome was that the future potential was actually going to increase as that utility market will be opened for the professional business market later in April 2017. This potential was specifically geared towards United Utilities and Severn Trent, also as they got a joint venture together.
Unfortunately, after doing extensive analysis of Pennon Group, a different picture emerges. Pennon Group is more expensive (as it has a higher P/E) than its peers and the structure of the organization is a tad trickier than other firms in the UK.
Once again, as I've put in the title, Pennon Group is another one that bites the dust. It's not a bad performing company, it's simply quite heavily priced given its past growth and future options.
I've now covered the majority of large water utility firms which are listed on the stock market, and in the next article, I'll delve into the fundamentals of each and every one of them.
Disclaimer: I currently don't hold positions in Pennon Group. This article provides opinions and information, but does not contain recommendations or personal investment advice to any specific person for any particular purpose. To the best of my knowledge, all information in this article is accurate, reliable, and has been obtained from public sources. Do your own research or obtain suitable personal advice. You are responsible for your own investment decisions. This information is not a recommendation or solicitation to buy or sell securities, nor am I a registered investment advisor
Disclosure: I/we have no positions in any stocks mentioned, and no plans to initiate any positions within the next 72 hours.
I wrote this article myself, and it expresses my own opinions. I am not receiving compensation for it (other than from Seeking Alpha). I have no business relationship with any company whose stock is mentioned in this article.
Editor's Note: This article discusses one or more securities that do not trade on a major U.S. exchange. Please be aware of the risks associated with these stocks.