Over the last twelve months or so I've been broadly avoiding writing about offshore rig lessors, primarily because I believe them no longer to be good investments for income, and I didn't see that dynamic changing anytime soon. I last wrote about Ensco Plc (NYSE:ESV) way back in June of last year. In that article I concluded that there would be a lot more rig scrapping and stacking ahead. I recommended categorically avoiding rig lessors because of the uncertainty of any recovery and the unenviable amounts of debt most of these companies had.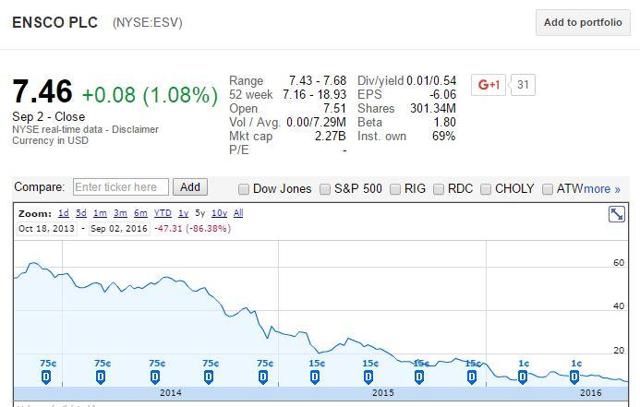 Courtesy of Google Finance.
That call ended up being a pretty good one. At the time I wrote that article, shares were around $22. Now, as you can see, shares are at $7.46. And indeed, today that "recovery" seems just as elusive as it was way back when I wrote that article. I also wrote that I wouldn't be surprised if an offshore lessor or two went out of business. To the best of my knowledge that hasn't happened, not at least to a major name.
Some bargain hunters might get the idea that the offshore rig lessors, including Ensco, are worth picking up at these 'dirt cheap' prices. On Sunday I looked at Seadrill (NYSE:SDRL) and decided against it. This article takes a look at Ensco, and specifically what the company is doing to shore up its balance sheet and its fleet.
Tough results
A quick look at Seadrill's year-on-year performance from the last quarter gives a good indication of the big picture. Average dayrates went from $237,000 to $195,000 this quarter, with drillships in particular going from $417,000 to $360,000. Utilization rates went from 76% down to 57%. Contract expenses somewhat offset this, going from $278 million to just $204 million. However, the overall trend is down.
Operating income was $419 million; slightly higher than last year's $384 million, but last year was effected negatively by asset write-downs. In this case, I think overall revenue is a better indicator, and that went from $1.06 billion to $910 million.
Since the last conference call Ensco has decided to scrap 5 more floaters and 2 more jackups, each of which are already stacked (and are therefore out of use) and over 30 years old. Overall, scrapping is good for the industry because it reduces supply, or at least counteracts the flurry of new builds that have yet to come out of the ship yards.
The company did manage to get contract a contract extension for Ensco 8506 in the Gulf Coast. In Brazil it successfully renegotiated contracts for Ensco 6002, through late 2019, and also Ensco 6003. In the North Sea, Ensco secured short-term contracts and/or extensions for jackup rigs Ensco 94, 100, 101 and 102. So, there are pockets of activity in the industry, but many are opting for short-term agreements. Despite all this, next quarter Ensco expects revenue to decline another 5.6%, and for utilization to fall into the low 50%'s.
Battening down the hatches
Despite gloomy results and guidance, Ensco was financially already one of the strongest of the offshore lessors, and the company has recently taken some drastic action to make itself even more financially solid. Last quarter Ensco raised $586 million in a share offering. That diluted existing share holders and no doubt hurt share prices, however, that money will go a long way.
This helped Ensco repurchase $861 million in senior notes at a 28% discount in a tender offer with the creditor, plus another $79 million at a 21% discount on the open market. As of right now Ensco has $1.8 billion in cash, and another $2.2 billion in available liquidity on its revolver.
That compares well with only $4.9 billion of long-term debt. Not to mention, none of Ensco's bonds come due until the middle of 2019. The chance of Ensco encountering serious financial trouble is indeed pretty low.
Is Ensco a buy?
At this point Ensco is in very solid shape to survive this downturn, however long that may take. The truth of the matter is, several other offshore lessors would fall before Ensco would be in much danger, and that would result in a lot more rigs going off the water.
However, that does not necessarily make Ensco a good investment. I do not see a broader recovery coming anytime soon, and Ensco will probably continue hobbling along until there is a meaningful recovery in oil and gas prices. While I believe that the upside potential in Ensco is immense, the downside potential here could be just as significant if earnings keep drifting downward. If you do buy Ensco, I would expect a rather long wait before any meaningful upward catalyst arrives.
Disclosure: I/we have no positions in any stocks mentioned, and no plans to initiate any positions within the next 72 hours.
I wrote this article myself, and it expresses my own opinions. I am not receiving compensation for it (other than from Seeking Alpha). I have no business relationship with any company whose stock is mentioned in this article.