Discussions with my 14 year-old daughter about her back-to-school budget served as a reminder that it's time for her to purchase her first investment. Fortunately, she's a saver, and has set aside for this purpose for quite some time, just like her sister did before her. She's had it in her head, however, that the money she has been saving is for her first car. I had to remind her that part of the agreement we've had in establishing her allowance the way we did was that she would begin investing at least $200 when she entered high school. So, she is proceeding with the agreement, although somewhat begrudgingly. I can't fault her for that: buying a car in the next few years is a much more "seeable" goal than "an investment for her future". This is one of the trade-offs in life -- might as well get used to it while you're young.
In a previous article, I outlined why I decided her sister should be invested in a large-cap closed-end fund. This bull-market is getting a little "long in the tooth", however, and likely not the best time to start out with a stock fund. I thought it might be more prudent to start her in a balanced fund, which would better weather the impending bear market storm when it chooses to arrive.
The Zweig Total Return Fund (NYSE:ZTR) immediately came to mind. It has been a core holding in our passive income portfolio for many years and has become a favorite. This is a good time to take a fresh look at the fund to determine if it's a solid choice for our SugarPlum.
An investor new to ZTR might first look at the historical chart, and decide to back away. It would be easy to assume by that chart that ZTR has little value as an investment due to its apparent long-term downtrend. The chart, however, doesn't give enough information. We have to dig a little deeper to get the whole story.
ZTR is a closed-end fund managed by Zweig Advisers LLC, whose goal is to generate strong returns over market cycles using a tactical strategy. The fund has stood the test of time, having been around since 1988. It generally holds about 70% equities and about 25% US government and corporate bonds. It usually holds about 5-10% in cash. These numbers fluctuate as it is actively rebalanced.
When I first purchased ZTR in 2008, it was considered a conservative balanced fund --- perfect for a core holding. Its value fell in the subsequent market downturn, but never enough to scare me out of the fund.
In April of 2012, the fund cut its dividend. Turns out, this was a good move. The distribution went from unsustainable to back on solid ground, and the down-trending NAV and market value became stabilized.
The fund's investment strategies were also changed at that time, providing more flexibility and making it more consistent with industry practices. The intent was to enhance the yield by increasing its emphasis on higher yielding stocks and bonds, as well as through the use of options. ZTR's method for asset allocation was revised to reflect these goals and generate appropriate levels of income to support distributions. The fund intends to distribute substantially all of its taxable income to shareholders. Due to the new strategy, it was able to gradually increase its dividend from mid-2012 through December 2014.
As a result of the changes made, ZTR was then deemed a moderate balanced fund.
In April of this year, Zweig made modifications to its strategy yet again, this time to include an options overlay. Here are Zweig Advisers' restated objectives for ZTR:
Active asset allocation is used to build a diversified balanced fund, with cash used for both tactical and defensive purposes. The portfolio managers employ a Growth at a Reasonable Price (GARP) approach to the equity portion of the portfolio, which is primarily invested domestic large capitalization companies, placing emphasis on the current income generated by the portfolio's equity securities. The fixed income portion of the portfolio is generally invested in U.S. government securities and investment grade corporate bonds; however, the fund may also invest a portion of its assets in high yield bonds and foreign issuers. The fund pursues an options income strategy whereby it purchases and sells out-of-the money puts and calls, creating an options spread.
The current dividend is just under 11% . This is after a distribution hike established in April, made possible by the new options overlay strategy. ZTR's goal is to distribute 10% of NAV, up from 7% previously.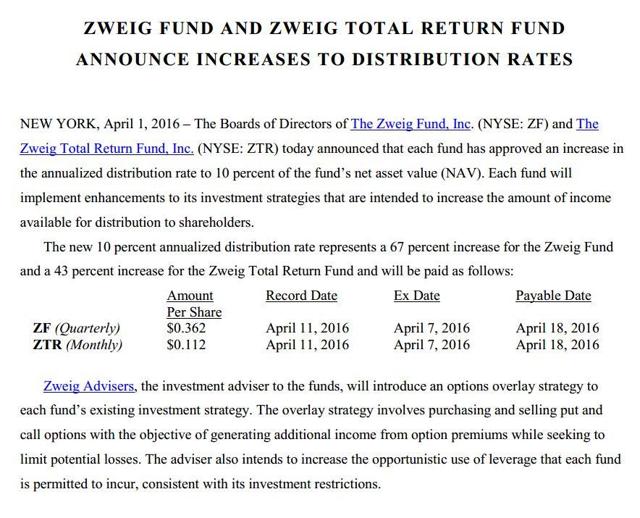 The fund has always had the ability to use up to 33% leverage, but had not used any leverage since inception until recently to enhance yield. Even so, its use is so small (less than $70,000 in all) that it doesn't even make so much as a blip on the radar.
ZTR usually sells at a discount to NAV, so good entry points are easy to come by in that regard. However, it's best to pick it up on a pull-back so that you can take advantage of any upward surges and take some gains when you rebalance with your other funds. (I previously wrote an article on rebalancing and how it makes your CEF portfolio more efficient.)
On occasion, if income and gains during the month are insufficient to cover the monthly distribution, ZTR will use return of capital ("ROC") to make up the difference. This fluctuates from year to year.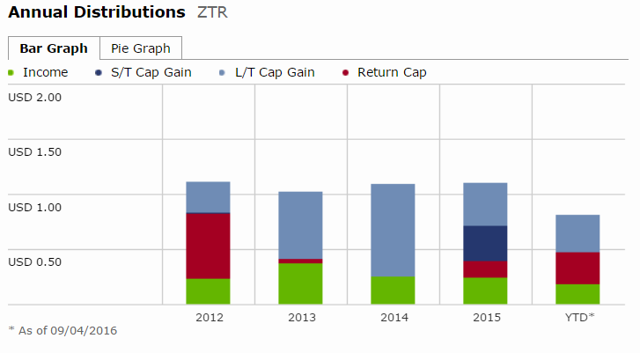 (Source: Morningstar)
The NAV has stood up well during those times when ZTR has had to resort to ROC, so investors can rest assured any return of capital is constructive.
Expenses are quite reasonable for a closed-end fund. Fees have historically fallen in the .98% range, but with the new options overlay strategy, that number is currently closer to 1.15%.
Zweig announced a tender offer earlier this year that was approved by shareholders. It's expected to begin November 25th and end December 23rd, 2016. The fund plans to purchase up to 5% of its outstanding shares for 98% of NAV on December 23rd. A previous tender offer, which expired on May 26th, resulted in a repurchase of shares equal to 15% of the fund's outstanding shares. This, in turn, generated an increase in net asset value by $.05. The fund began its share buyback program in April 2012, increasing shareholder value with each purchase.
Because I first bought ZTR in February 2008, one could surmise from the price chart that I lost money on this investment. This couldn't be further from the truth. Little did I know when I began investing at that time that the markets were considered "frothy" (I wouldn't have known what that meant then anyway) and that the Great Recession was imminent. I liked the balanced nature of the fund, so I bought. While the share price never did recover to the level at which I originally invested, the steady income and opportune reinvestments have done well for me overall. My investment in ZTR has earned me a little shy of 73%, which averages out to about 8.4% per year. Not too shabby for starting out just before the last "white-knuckle" market plunge.
SUMMARY
With its recent changes in investment strategy, ZTR is no longer categorized as a balanced fund. But with about 16% currently in US Treasuries, nearly 15% in high-grade corporate bonds, and 5-10% typically in cash, I still think of it as such. Its ability to sell short and use options makes it more aggressive than your typical balanced fund, but also gives it more flexibility when needed. As a core holding in our passive income portfolio, it keeps churning out those steady monthly dividends.
All in all, not knowing when the next Big Correction will hit, I believe the Zweig Total Return Fund is a good place for my daughter to place her first bet in the stock market.
Disclosure: I am/we are long ZTR.
I wrote this article myself, and it expresses my own opinions. I am not receiving compensation for it (other than from Seeking Alpha). I have no business relationship with any company whose stock is mentioned in this article.