Investing is akin to watching paint dry. Not much happens when you have a long-term dividend growth investing strategy. However, when you can regularly invest through savings and dividend income, you need to keep looking for investing opportunities.
With my current annual dividend income, I earn just over $30 per day, or $1.37 per hour. Most of it is re-invested, but in general, with some regular savings, I can manage to have an extra $1,000 to invest every now and again. Based on that, I tend to always be on the lookout for managing my portfolio.
In August, I managed to invest quite a bit more, and while I did not purchase any new holdings, I had to choose which existing holding I was going to add to.
Stock Trades
August was a good month for savings, and I was able to add funds to the following accounts and holdings.
Added funds to my RESP account and purchased more Telus (TU, TSE:T)

I don't have many holdings in that account, and the investment timeline is short to medium, as it will be used for my children's post-secondary education, which is not far off.

Added Canadian funds to my RRSP and increased my holdings in Intact Financial (OTCPK:IFCZF, TSE:IFC)
Added US funds to my RRSP and increased my holdings in Visa (V)
My diversification graphs is also updated. I am not ready to add to the energy sector yet, but I have a plan. I am also considering adding Abbot Laboratories (NYSE:ABT) to increase my holdings in the healthcare sector.
See my dividend portfolio for a full listing of my holdings.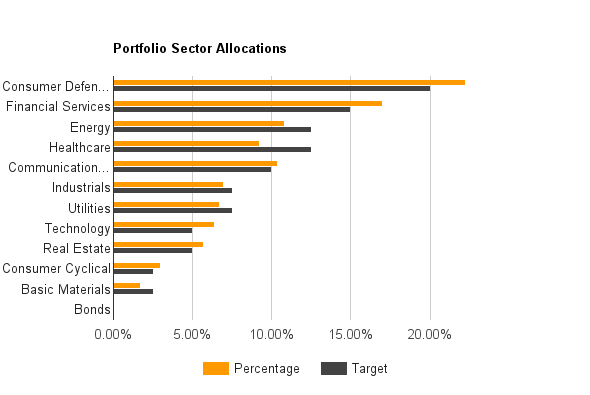 Dividend Income
My August dividend income reached $1,010.90. The root of my stock selection strategy relies on holding consistent dividend growth stocks. I hold many of the Canadian blue chip stocks, and most of my US holdings are also blue-chip stocks as well as Dividend Aristocrats.
I am currently targeting $12,588 for the year, which is $2,000 more than the previous year. Dividend growth, DRIP and new money all contribute to the increase. A $2,000 increase is like a 20% growth in dividend income for 1 year. My portfolio also continues to perform well with a 10.87% ROR across all accounts since inception in 2009.
When I exclude the RESP account which has different goals, my other accounts have a combined performance of 13.10% ROR, beating the popular TD e-series Canadian Index fund by 0.78%. My dividend investing approach works for me using my dividend growth stock selection process and 7 investing rules.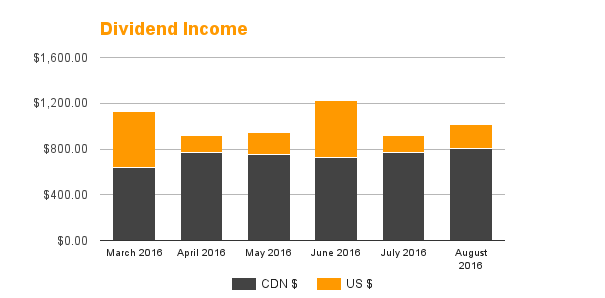 Calculating the performance of my portfolio is as simple as tracking the total value against all the deposits. You don't even need to track individual stock performance. In order to compare to an index, you just need to track a different results in a separate column based on the hypothetical purchases.
Disclaimer: Please note that this blog post represents my opinion and not an advice/recommendation. I am not a financial adviser, I am not qualified to give financial advice. Before you buy any stocks/funds consult with a qualified financial planner. Make your decision at your own risk - see my full disclaimer for more details.
Editor's Note: This article discusses one or more securities that do not trade on a major U.S. exchange. Please be aware of the risks associated with these stocks.