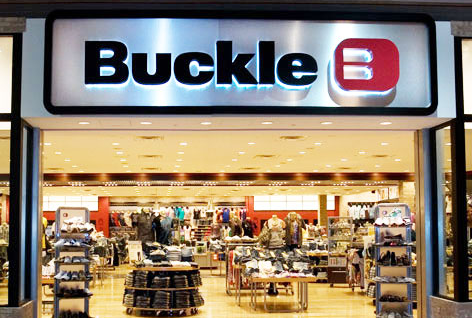 The Buckle (NYSE:BKE) can certainly be added to a growing list of retailers that have been sent to the proverbial cleaners in the past few quarters. Many apparel retailers have been crushed as the environment for their business has been tough but BKE is taking it to a new level.
I've defended BKE in the past due to its special dividend policy whereby it pays most or all of its earnings each year in a distribution made up of regular quarterly payments and a gigantic year-end dividend. But BKE's recent results, including Q2 earnings, have been so bad I'm not sure there is anything left to defend.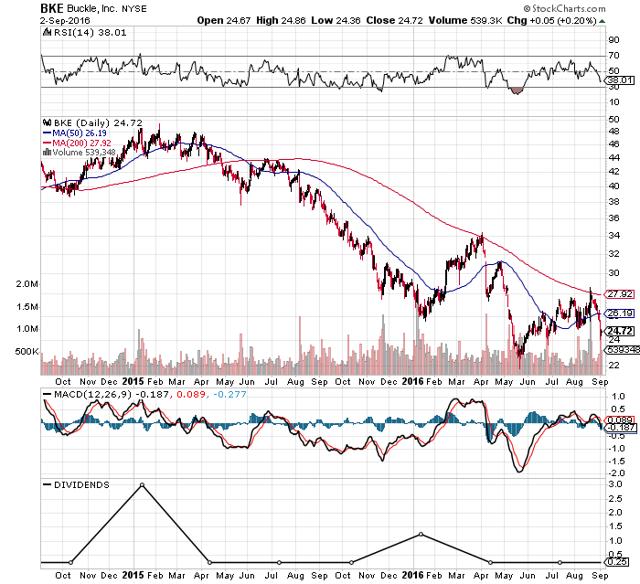 BKE's problems really begin with its comp sales, an area where it has struggled for a long time. Q2's comp number came in at -10.1%, a disastrous result by any standard. BKE's problems have been longstanding in terms of trying to just get people in the door but the assortment just hasn't been right. We've seen this from other apparel retailers and while some have been able to pull through, others certainly have not.
There are no strategy shifts or other catalysts on the horizon right now for BKE to see an improvement in comp sales and in fact, subsequent to the end of Q2, last month's comp was down an incredible 14.8%! Management cited the newly launched loyalty program as a factor but that is a joke. Either this is simply a continuation of a horrendous trend or it is the worst loyalty program in the history of mankind.
The thing is that this level of sales losses doesn't just impact the top line, it crushes margins as well. Gross margins fell from 40.07% last year to just 37.65% this year, an enormous decline that BKE simply cannot afford. But this is what happens when comp sales fall off a cliff.
Management feels the need to discount and promote in order to move product and while that can stem the tide of declines on the top line somewhat, it destroys profitability. BKE cannot afford this level of margin declines and while I appreciate that management is in a tough position, fixing the assortment is what is needed, not price reductions.
In light of much lower sales and lower margins, you'd think selling expenses fell as well but you'd be wrong. SG&A was roughly flat against last year's Q2 which means that on a percentage of revenue basis, it was up 200bps to 26.3%. BKE's sales woes are way past the point where expense reductions were necessary but we've yet to see any sort of concerted effort there. While corporate expenses are manageable, BKE's store expenses are way too high for its level of revenue; something has to give.
So we've established that BKE's fundamentals are terrible and getting worse, but what do we do with the stock? The main reason most anyone has held this stock in the past was due to the dividend. It varies by year but BKE usually pays $1 throughout the year in quarterly payments and then makes one large distribution at the end of the year.
For 2014, the distribution was a hefty $3 but last year, it was cut to just over a third of that level. And given marked weakness this year, we can expect that a historically low year-end distribution will be coming.
Still, the quarterly payout alone is good for 4% here and if we assume at least another dollar at year-end, we're talking about an 8% yield. That's roughly in line with what BKE has done in the past but at much higher stock prices.
Still, if you like income, BKE is a good choice because despite the fact that its fundamentals are horrendous, it is still going to make $2+ this year and that is easily enough to pay its sizable year-end dividend. In addition, BKE's balance sheet is still pristine, meaning that even if it were to hit another rough patch, it can still fund the payout for a long while.
BKE is a bit of a mixed bag if I'm honest because on the one hand, you have a retailer with some of the worst fundamentals in the entire sector. But on the other, you have a company that has the ability to pay an 8%+ dividend for a very long time to come. And, if things go right and BKE somehow turns it around, that 8% yield could become 12% or 15% over time on today's stock price.
I'm not saying that is going to happen but if you believe in the company's ability to fix itself, that could be a huge draw. But for now, all we have is a terrible retailer with a huge dividend, so for me, this is an income vehicle and nothing more. I see no catalyst for improvement and while comp sales will continue to be terrible, the year-end dividend should still be a dollar or so, meaning that if you want an 8% yield, you can find it in BKE.
Disclosure: I/we have no positions in any stocks mentioned, and no plans to initiate any positions within the next 72 hours.
I wrote this article myself, and it expresses my own opinions. I am not receiving compensation for it (other than from Seeking Alpha). I have no business relationship with any company whose stock is mentioned in this article.