Emerging markets debt has attracted investor attention this year, as current low and negative yields in developed markets have led many to look outside of core fixed income asset classes for attractive income. The asset class has benefitted from several tailwinds since the start of the year, including a rebound in commodity prices, a restrained U.S. dollar, and expectations that U.S. interest rates will remain "lower for longer," even if the Federal Reserve decides to hike rates before the end of the year.
Strong investor interest in emerging markets debt is reflected in the inflows the asset class has experienced this year after enduring three years of outflows that began with the 2013 "taper tantrum." Looking closely at mutual fund and ETF flow data can provide some insight into how investors have approached the asset class this year.
Record-Breaking Flows Favor ETFs
July flows into emerging markets debt funds were record breaking at $13.3 billion globally, the highest monthly inflow for the category since Morningstar® began collecting data, bringing year-to-date inflows to $17.1 billion. Among emerging markets debt mutual funds and ETFs in the U.S., inflows totaled $4.9 billion. Although U.S. mutual fund data for August was not available at the time of this post, U.S. ETF flows of $1.3 billion (versus $2 billion in July) through August 26, 2016, suggest additional growth in emerging markets debt fund assets.
Digging deeper into the U.S. fund flow data, a preference for hard currency emerging markets debt can be seen with local currency strategies still negative overall through July. Flows into local currency ETFs have been positive since March with outflows concentrated in actively managed mutual funds. In fact, investors favored ETFs over mutual funds in both hard and local currency strategies so far this year, putting $5 billion into ETFs while pulling over $900 million out of mutual funds.
These figures are even more impressive considering that at the end of July, ETFs held 23% of emerging markets debt assets under management.* This suggests a growing appreciation for passive investing in emerging markets debt either as a replacement, or complement, to actively managed strategies.
Just the Tip of the Iceberg?
Despite the attention that emerging markets debt has received, the recent inflows are still far lower than the amount that departed the asset class over the past three years. From June 2013 through February 2016, $29 billion left U.S. mutual funds and ETFs representing the asset class.*
This may suggest that investors are still, as a whole, less allocated to emerging markets debt than they were in prior years. In addition, the assets currently invested may be "stickier" than those prior to the taper tantrum, resulting in less "flight risk" in case the tailwinds enjoyed this year fade or unexpected risks flare up.
Cumulative and Monthly Net Flows, January 2006 to July 2016
It's Not Just About Yield
These flows provide a supportive technical backdrop for emerging markets debt. Meanwhile, growth remains tepid in developed markets, and central banks appear to be running out of ammunition. Conversely, many emerging markets central banks still have plenty of room to ease through conventional monetary policy, and with inflation remaining under control, many are expected to do so.
In addition to supportive technical and monetary policy, fundamentals appear to be stabilizing, and in many cases, improving in emerging markets economies. With economic growth expected to rise, the International Monetary Fund (IMF) is forecasting that the growth differential between developed markets and emerging markets will increase in coming years.
Debt-to-GDP ratios remain well below those of developed markets. Policy reforms such as those in India, Malaysia, and Indonesia are likely to be positive for investors, and support the case for focusing on higher quality sovereign bonds.
Perhaps one of the biggest tailwinds recently, particularly for local currency strategies, has been the stabilization and rebound in commodity prices this year. We believe that commodity prices bottomed in the first quarter of 2016. Supportive monetary policies, continued demand, and the reduction of oversupply issues are expected to benefit commodity prices and the currencies of emerging markets with significant commodity exposure.
Emerging markets currencies and commodity prices have historically exhibited fairly high correlation, and both are still far below their recent peaks in 2011.
Emerging Markets Local Currencies and Commodity Prices, 2011 through Present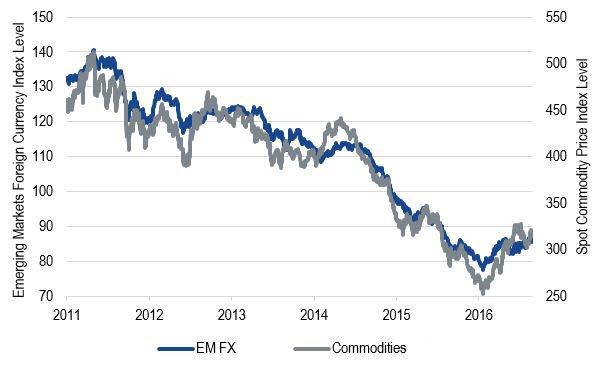 Source: Bloomberg and J.P. Morgan. Commodity Prices represented by Bloomberg Commodity Spot Index. EM FX (Currencies) represented by the currency return index of the J.P. Morgan GBI-EM Global Diversified Index.
We believe emerging markets debt will remain attractive for income-seeking investors, who may benefit from the yields the asset class can potentially provide as well as supportive fundamentals and global monetary policies.
Investors can access bonds issued by emerging markets governments and denominated in local currencies with VanEck Vectors J.P. Morgan EM Local Currency Bond ETF (NYSEARCA:EMLC). In addition, VanEck Vectors EM Investment Grade + BB Rated USD Sovereign Bond ETF (NYSEARCA:IGEM) provides access to the higher rated subset of the broad U.S. dollar-denominated emerging markets sovereign bond universe.
Important Definitions and Disclosures
* Source: Morningstar.
J.P. Morgan GBI-EM Global Diversified Index tracks local currency denominated EM government debt. The index weighting methodology limits the weight of countries with larger debt stocks.
Bloomberg Commodity Spot Index measures the price movements of commodities included in the Bloomberg Commodity Index and select subindexes. It does not account for the effects of rolling futures contracts or the costs associated with holding physical commodities and is quoted in USD. The Bloomberg Commodity Index is comprised of 22 exchange-traded futures on physical commodities which represent 20 commodities. Commodities are weighted to account for economic significance and market liquidity, with weighting restrictions to promote diversification.
Correlation is a statistic that measures the degree to which two securities move in relation to each other.
Tailwinds describes a condition or situation that will help move growth higher and increase growth of an economy.
This content is published in the United States for residents of specified countries. Investors are subject to securities and tax regulations within their applicable jurisdictions that are not addressed on this content. Nothing in this content should be considered a solicitation to buy or an offer to sell shares of any investment in any jurisdiction where the offer or solicitation would be unlawful under the securities laws of such jurisdiction, nor is it intended as investment, tax, financial, or legal advice. Investors should seek such professional advice for their particular situation and jurisdiction.
The indices listed are unmanaged indices and do not reflect the payment of transaction costs, advisory fees, or expenses that are associated with an investment in any underlying exchange-traded funds. Index performance is not illustrative of fund performance. Fund performance current to the most recent month end is available by visiting vaneck.com. Historical performance is not indicative of future results; current data may differ from data quoted. Indexes are unmanaged and are not securities in which an investment can be made.
The information herein represents the opinion of the author(s), but not necessarily those of VanEck, and these opinions may change at any time and from time to time. Non-VanEck proprietary information contained herein has been obtained from sources believed to be reliable, but not guaranteed. Not intended to be a forecast of future events, a guarantee of future results or investment advice. Historical performance is not indicative of future results. Current data may differ from data quoted. Any graphs shown herein are for illustrative purposes only. No part of this material may be reproduced in any form, or referred to in any other publication, without express written permission of VanEck.
An investment in IGEM or EMLC may be subject to risks which include, among others, credit risk, call risk, and interest rate risk, all of which may adversely affect the Funds. High yield bonds may be subject to greater risk of loss of income and principal and are likely to be more sensitive to adverse economic changes than higher rated securities. International investing involves additional risks which include greater market volatility, the availability of less reliable financial information, higher transactional and custody costs, taxation by foreign governments, decreased market liquidity and political instability. The Funds' assets may be concentrated in a particular sector and may be subject to more risk than investments in a diverse group of sectors. Changes in currency exchange rates may negatively impact the Funds' return. Investments in emerging markets securities are subject to elevated risks which include, among others, expropriation, confiscatory taxation, issues with repatriation of investment income, limitations of foreign ownership, political instability, armed conflict and social instability.
IGEM is not sponsored, endorsed, sold or promoted by J.P. Morgan and J.P. Morgan makes no representation regarding the advisability of investing in IGEM. J.P. Morgan does not warrant the completeness or accuracy of J.P. Morgan Custom EM Investment Grade Plus BB-Rated Sovereign USD Bond Index. "J.P. Morgan" is a registered service mark of JPMorgan Chase & Co. © 2016. JPMorgan Chase & Co. All rights reserved.
Fund shares are not individually redeemable and will be issued and redeemed at their Net Asset Value (NAV) only through certain authorized broker-dealers in large, specified blocks of shares called "creation units" and otherwise can be bought and sold only through exchange trading. Creation units are issued and redeemed principally in kind. Shares may trade at a premium or discount to their NAV in the secondary market. You will incur brokerage expenses when trading Fund shares in the secondary market. Past performance is no guarantee of future results. Returns for actual Fund investments may differ from what is shown because of differences in timing, the amount invested, and fees and expenses.
Investing involves substantial risk and high volatility, including possible loss of principal. Bonds and bond funds will generally decrease in value as interest rates rise. An investor should consider the investment objective, risks, charges and expenses of a Fund carefully before investing. To obtain a prospectus and summary prospectus, which contains this and other information, call 800.826.2333 or visit vaneck.com/etfs. Please read the prospectus and summary prospectus carefully before investing.