A month and a half ago, yours truly here penned some less-than-optimistic thoughts about carmakers in general, and for Ford Motor (NYSE:F) and General Motors (NYSE:GM) in particular. The response followed an otherwise-solid second quarter report from GM, pointing out the fact(s) that aside from General Motors' Q2, a whole slew of other automobile-sales related data was alarming. Namely, vehicle sales in the U.S. as well as overseas were trending lower after peaking late last year. At the time, year-over-year car sales in the United States had fallen in three of the prior four months.
Most readers (or at least most responders) wholeheartedly disagreed with the assessment that the company's second quarter numbers would be the company's best quarter we'd see for a while. That's fine. I've got thick skin, and any debate en route to the discovery of more truth is never a bad thing. Last month's disappointing auto sales tallies, however, largely underscore the point I made in mid-July. That is, while it's not necessarily the beginning of a complete meltdown for the auto industry, carmakers are apt to find demand is going to get even worse before it gets better.
We can add another reason for alarm to the list today.
August Auto Sales
It's been well-documented thus far, so no need to belabor the details. In short, based on last week's numbers from each manufacturer, Audodata says August's automobile sales likely fell to an annualized pace of 16.98 million, down 4.2% from August-2015's pace.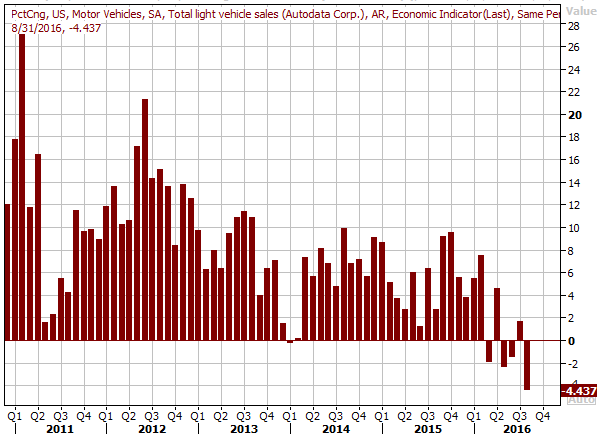 Data provided by Thomson Reuters
Few companies showed any measure of strength, too. In fact, only one manufacturer reported growth -- Fiat Chrysler sold 3.1% more vehicles last month than it did in the same month a year ago. Ford Motor saw an 8.4% decline. General Motors reported a sales drop of 5.2%.
And just for the record, August can't be counted as a fluke. It was the fourth quarter in the past six year-over-year auto sales fell in the United States, and the trend is worsening.
The stark disparity of the numbers: Last month's total sales pace of 16.98 million unit was down 4.2%, yet incentives -- allowances from carmakers to induce buying -- were up an estimated 8% on a year-over-year basis, to $3,331 per car.
Auto makers are struggling to even pay buyers to take the plunge.
Why Worry?
The most common bullish counterargument to my concerning thesis has been the case that the past doesn't dictate the future. I don't entirely disagree. Neither does Mustafa Mohatarem, GM's chief economist. He said of General Motors' August report "All the economic factors continue to point toward a strong second half of the year and another potential record year for the industry. We think the industry is well positioned for a sustainable high level of customer demand."
On the other hand, that counterargument rarely offers any clarification on what might change between now and the near future to halt the clear downtrend. Mohatarem didn't offer any specific details of his economic assessment either. Some of those headwinds (still) include slowing auto demand in China and a subprime auto loan industry that's starting to run into real trouble.
There's also the fact that Ford Motor's sales executive Mark LaNeve said his company's unit sales in 2016 would roll in less than 2015's, and 2017's sales tally would be lower than this year's.
Ford senior economist Bryan Bezold added "We think sales have reached a plateau, and at that plateau we'll see some month-to-month volatility."
That's not an assessment open to much interpretation.
Perhaps the most alarming addition to the list of headaches the auto-making industry are increasingly experiencing -- and won't go away soon -- is the abundance of cars coming off leases leading to deal that are simply too good for investors to pass up.
Ironically, carmakers may be victims of their own success three years ago, when sales to consumers, rental agencies, and fleet owners was soaring. During the second quarter of this year, sales of certified-pre-owned cars hit a Q2 record, despite the average price of a used car reaching a record high of $19,367.
And they're getting good cars for their money. As of the end of the second quarter, 58% of dealers' used cars for sale were only three years old, or younger. That's the youngest average fleet for a Q2 since at least 2011.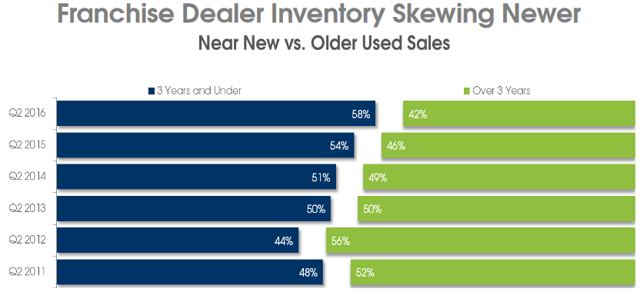 Data/Chart from TechnoMetrica Market Intelligence
Further inspiring consumer to buy a used car rather than lease or buy a new one is the fact that residual values are starting to weaken due to the heavy supply of them. In 2013, 26% of all dealer "sales" were actually leases... the highest level in over a decade. The next nearest reading was 2012's 22%. That's keeping the stream of turn-ins now and for the near future quite strong.
In other words, even if indirectly, the car market is more than saturated. The waning sales pace of new automobiles is increasingly showing this.
Fans and supporters of Ford and GM will be quick to point out that both outfits are scaling back their low-margin sales to rental car companies. Ford's fleet sales were off 10% last month alone.
General Motors' rental fleet sales were lower by 5% year-over-year. It's not a huge chunk of either company's total revenue mix, however. GM was only planning in cutting its rental-fleet sales by 90,000 units this year, or only less than 1% of its 9.8 million automobiles sold last year.
That's not a game-changing factor.
Bottom Line
It's not an entirely lopsided case. There are some lingering bullish arguments, not the least of which is August's rise of TechnoMetrica Market Intelligence's Auto Demand Index. It jumped 50% to 123, which is the highest reading since August of 2015.
It's not a data nugget to put too much faith in, however, as it's fickle. In June, TechnoMetrica Market Intelligence concluded "that new vehicle sales, after having finally reached its peak, will decline in the coming months."
This also isn't a call for a complete meltdown of the automobile industry. All the major names in the business will survive, and be well-positioned when there's cyclical growth to be gained again. Both Ford and GM will continue to pay respectable dividends in the meantime. Their viability isn't in question.
What is in question, though, is an industry that's currently in contraction, with no clear picture on when that contraction may end. The evidence of the headwind is mounting, making GM, Ford and other names in the business liabilities rather than assets.
Disclosure: I am/we are long F.
I wrote this article myself, and it expresses my own opinions. I am not receiving compensation for it (other than from Seeking Alpha). I have no business relationship with any company whose stock is mentioned in this article.