Another month up, another month down. August 2016 has come and gone. The month was not terribly interesting from an overall market standpoint. There was little in the way of volatility, and there was little change in the S&P 500 over the course of the month, with the index dropping from 2173 to 2170. The index outperformed the Slowly, But Surely dividend growth portfolio by a bit, but additional capital should lead to additional dividend income over time. This is the main purpose of my investments.
I started my dividend growth portfolio back in July 2015, and I received my first dividend in August 2015. I did not anticipate tracking the progress on Seeking Alpha at that time, but as I read about most of the portfolios on the site, I noticed that they were usually measured in the hundreds of thousands at a minimum.
This is not terribly beneficial for the investor who is just starting out, as it can quickly become quite frustrating when looking at just a few hundred dollars and wondering how it's possible to build up a massive portfolio when one only has a few bucks, or even less, to put to work on a monthly basis. I started tracking my progress in the hopes that it would be an inspiration for those who are just starting out on their journeys with dividend income portfolios.
I've decided that purchasing solid companies with solid profits that are regularly returned to shareholders in the form of dividends was a solid strategy that should pay off in the long term. My goal is to make a few small purchases on a monthly basis to gradually increase my dividend income over time. Small positive steps can turn into big changes in the medium to longer term. Rome was not built in a day, and neither are most successful equity portfolios.
During the month of August, I was only able to put $105 toward the portfolio. There were two separate investments of $10 toward each of my "big four" investments. I am working on building up positions in Apple (NASDAQ:AAPL), Coca-Cola (NYSE:KO), McDonald's (NYSE:MCD), and Wal-Mart (NYSE:WMT). These are all purchased through Loyal3, so I incur no transaction costs for my purchases.
Each of these companies pays a quarterly dividend. I pool these dividends each month until I reach a minimum of $10, which I am using to purchase additional stock in Unilever (NYSE:UL). This allows me to diversify through my dividends. When I reach $10 in dividends from one company in a quarter, I intend to then reinvest the dividend into the company that pays it and then diversify further by moving my regular purchases to another option.
The Slowly, But Surely dividend growth portfolio held the following equities as of August 31. Please note that this is just a snapshot taken at one particular time. The number of shares and the annual dividend earnings should go up over time.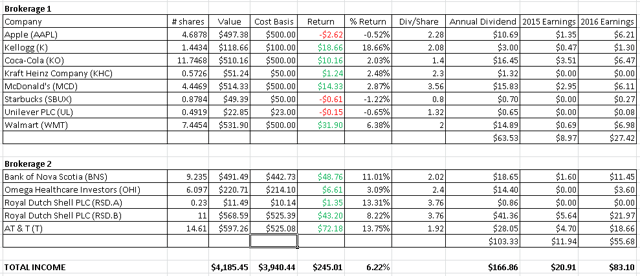 I earned $13.29 in dividend income for the month of August. This total brought my income for the year up to just above $83. I received my first dividend from Omega Healthcare Investors (NYSE:OHI) during the month. I reinvested this dividend, which added 0.097 additional share through the DRIP. This should add $0.23 to my annual dividend income, before any of the anticipated quarterly increases that have been common over the past few years.
This dividend income might not seem like much, but it is much higher than the $0.64 that I earned in the same month last year. This was the first month that I could do a year-over-year comparison, and my dividend income for the month of August was 1,976 percent higher than it was for the same period in 2015.
This will definitely not be sustainable for the long term, as even someone as successful as Warren Buffett has "only" averaged about 20 percent annual returns over his illustrious career. I don't think I'll ever be in his league. It's nice to see this growth for over the course of a year, however.
The annual dividend income that I can expect from my Slowly, But Surely dividend growth portfolio is now up to $166. This could allow me to take off nearly 8.5 hours of work on an annualized basis. I figure that I would need about $20 per hour to replace my working income when accounting for the cut in the amount of taxes and retirement savings that come out of my check each month.
I am now up to 0.4 percent of my annual needs, which is an increase from the 0.39 percent that I estimated last month. This was a relatively low month for investments. Small steps over time have grown from $0 just 13 months ago to $166 in anticipated dividend income today. Hopefully, the income will be in the thousands in a couple of decades when it comes time to retire.
I hope that the growth of this small portfolio is an encouragement to those who don't have massive amounts of capital to invest. The most important step to take is the first one. With brokers like Loyal3 and RobinHood, there are options that do not require massive investments to start building wealth, and the time to start is now.
If you'd like to keep up with the progress of this portfolio, be sure to hit the follow button.
Disclosure: I am/we are long AAPL, KO, K, MCD, WMT, KHC, UL, SBUX, OHI, T, BNS, RDS.B. I wrote this article myself, and it expresses my own opinions. I am not receiving compensation for it (other than from Seeking Alpha). I have no business relationship with any company whose stock is mentioned in this article.
Additional disclosure: I am not a licensed financial professional. This article is only for educational/entertainment purposes and should not be construed as a recommendation to buy or sell any securities. As losses up to and including all capital invested can occur, be sure to do due diligence and check with a financial professional before investing in securities.