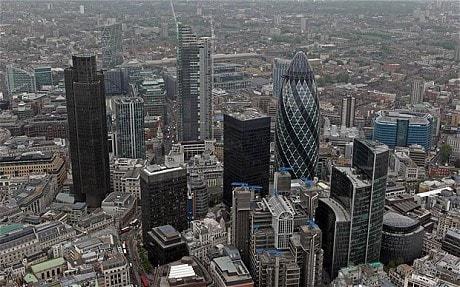 Brexit? What Brexit? That generally seems to be the view of most market observers these days. Whilst the full ramifications of the Brexit may one day haunt the United Kingdom or Europe, for now it largely appears to be business as usual. This is evident in recent data releases. Both the UK Construction PMI and Markit/CIPS Manufacturing PMI for August surprised the market with readings of 49.2 and 53.3 respectively, compared to consensus estimates of 46.3 and 49, respectively.
The Markit/CIPS UK Services PMI for August will make for interesting reading today. The consensus estimate has been put at 50, which would be a big improvement from 47.4 a month earlier. The survey of private sector businesses, from hotels to accountants, is expected to show signs of growth which is likely to put the UK economy on course to escape the dreaded recession. A recession which was promised by the Treasury ahead of the Brexit referendum. Seems as though that was another one they got wrong.
So all in all we see the UK economy actually strengthening now. As a result, we expect the British pound (NYSEARCA:FXB) will start to strengthen as well, especially against the U.S. dollar (NYSEARCA:UUP).
The non-farm payrolls miss.
It's fair to say that we were left slightly underwhelmed by the recent non-farm payrolls miss. The market appears to have ruled out any chance of the Federal Reserve raising interest rates now in September, putting a temporary hold on our hopes of a resurgence in the U.S. dollar.
Whilst we agree that a rate hike in September is looking less likely, we would caution against believing it to be a formality. Economists are notoriously bad at forecasting. If you've ever looked at the broad range of non-farm payrolls predictions, you'd see just how divided they all are. For all we know, the jobs report might have exceeded the Federal Reserve's expectations. Nobody quite knows what they are looking for or even if they will bring it into the decision making process this month.
That said, we still only see it as an outside chance in September and thus are edging towards a November rate hike regardless of the election.
So go long with the GBP.
So with the U.S. dollar looking unlikely to be given any boost from monetary policy in the near term, we believe going long with the GBP/USD pair makes for a great short-term trade.
The bears have been firmly in charge of this currency pair since the Brexit, but with UK economic data showing a vast improvement, limited capital outflows, and limited near-term strength in the U.S. dollar, we expect the British pound could be about to break higher.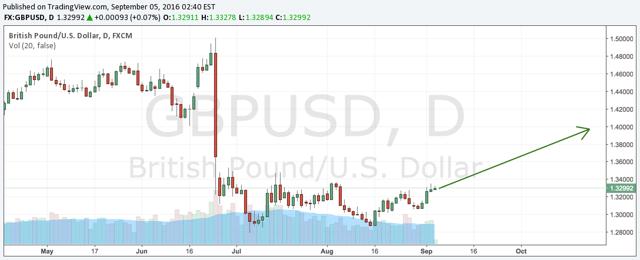 Sourced from DailyFX
We have forecast for a 5.2 percent gain in the British pound by November, targeting the 1.400 level and retracing approximately half of its remain post-Brexit declines. We don't personally see it as a long-term trade as there are definitely downside risks that will rear their heads in the future. The two most notable ones are of course rate rises in the United States and the triggering of Article 50.
Article 50 is the point of no return for the exit from the European Union and is likely to cause significant depreciation in the pound once again. We don't feel there is any danger of it being triggered this year though. Prime Minister Theresa May has repeatedly stated that it won't be triggered until 2017. We anticipate it occurring mid-year, rather than early on in 2017 giving the British pound plenty of time to strengthen against the U.S. dollar.
Overall, we think this is a trade with a strong probability of success. This is of course providing the Federal Reserve doesn't surprise everyone and raise rates this month and the UK doesn't trigger Article 50 earlier than anticipated.
As always, best of luck with your trades!
Disclosure: I am/we are long FXB, UUP.
I wrote this article myself, and it expresses my own opinions. I am not receiving compensation for it (other than from Seeking Alpha). I have no business relationship with any company whose stock is mentioned in this article.