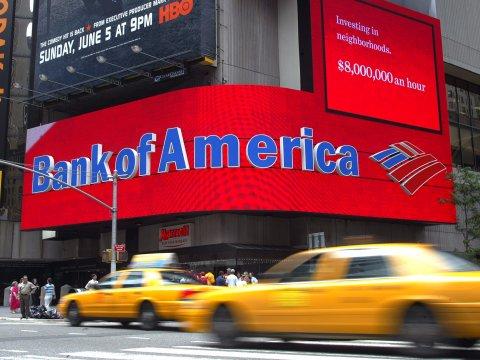 Bank of America (NYSE:BAC) is at its inflection point. The second largest US bank by assets has settled or paid its most significant lawsuits, past DFAST and CCAR without incident, and is at a point where organic growth is outpacing the run-off of its legacy assets. And with more hawkish talk from the Fed, it seems to many investors that BAC is a screaming buy. But don't be fooled by the bandwagon, BAC at $16 is not undervalued.
To provide some context for readers, I'm a long-term holder of BAC stock. And while I'm happy to hear that the Fed is finally looking hard at normalizing rates, not only for the sake of financial stocks like BAC, but also for the sake of savers, I'm still not attracted to BAC at these levels. To understand why let's take a look at the math.
Near term ROE doesn't satisfy my hurdle rate
Over long periods of time the stock market as a whole has compounded value at approx. 10% per annum. Investing is all about choosing the highest return potential for a given level of risk. If you're able to compound your money at 10% in a diversified index then you should require an individual stock to return more over similar periods of time.
For Bank of America given its relative safety and stature, my hurdle rate for the company is 12% of Tangible Book Value (NYSEMKT:TBV). So if the bank is expected to generate a ROE of 12% by the next year or two and compound consistently at around this level, buying BAC shares at TBV would be fair value.
But it's only based on the most optimistic of scenarios that BAC will measure up, which is why I'm in no rush to add to my holdings.
Consider this simple scenario analysis where the most optimistic conditions occur:
"Simplify and Improve" plan achieves the $3bn in cost savings early at the end of 2017 (it is slated to complete by 2018 end).

A 100-basis point parallel move in interest rates brings ~$7.5bn in revenues to BAC.

BAC's organic loan and deposit growth outpaces the bank's legacy asset run-off.
This scenario is outlined in Fig. 1 along with Bear and Base cases. Let's review these points in detail.
Fig. 1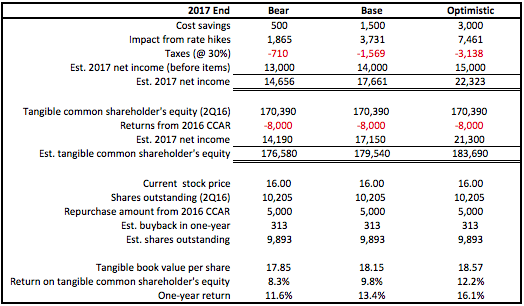 In BAC's 2Q16 conference call, CEO Brian Moynihan announced another ambitious plan to take $3bn out of the company's cost structure by the end of 2018. It's an ambitious number particularly after the company captured all the previous "low hanging fruit" with its "New BAC" cost cutting initiative. In Fig. 1 in the Optimistic scenario, I accelerate when the savings from the plan will hit Bank of America. In this scenario, BAC will achieve the entire $3bn in cost savings by the end of 2017.
Meanwhile, testimony from Janet Yellen and the rest of the Reserve Governors have revived talks about a near-term rate hike as early as September. Naturally, the final decision on this will be based on the strength of the labor markets, which had a poor showing on Friday when job growth missed expectations by 29,000 jobs. The August figure came in at 151,000 jobs versus an estimate of 180,000 jobs. Under my Optimistic scenario, I assume that a 100 basis point parallel shift occurs that increases Net Interest Income (NII) by ~$7.4bn. In the Base and Bear cases, I assume a 50 and 25 basis point parallel shift where NII is a linear relationship to rates.
Aside from rates, the second most profound reason for attrition at the bank's top line has been the overall decline in total loans and deposits. I outlined why this past quarter we may have seen an inflection point in this issue in my article here. And it isn't just me that feels this way. Earlier last week, Goldman Sachs noted in a sell-side research report that:
"We believe that Bank of America is on the cusp of an inflection in operating leverage as revenue growth and cost reductions appear set to occur concurrently."
Based on this analysis, I assumed relative growth in net income under the Optimistic scenario through overall growth in the bank's loans and deposits, which I expect to expand in the quarters to come.
Consider the probability
To be clear, I do believe that BAC will hit its $3bn cost savings target and there is a good chance that it will happen earlier than the end of 2018 given management's stellar performance with "New BAC".
Rates must also normalize in the next decade or the US economy will face serious repercussions. These are all factors that favor Bank of America in the long run. But I also believe that the trajectory for these bullish developments will be on a flatter glide path than most other investors expect.
Returning to Fig. 1, the problem is that it takes the rosiest of pictures for BAC's ROE to break 12%. And as a value investor the upside/downside of investing at $16 just doesn't seem worth it especially if I'm right and the glide path to 12% is a lot slower.
Also consider that the overall stock market continues to set record highs and that credit costs are at record lows. Meanwhile, economic figures are coming in from tepid to weak. From the August jobs number to the paltry 1.2% 2Q GDP figure, US economic reports don't imply a robust economy.
And a robust economy is what the Fed needs to raise rates significantly, it is also what financial stocks need to grow deposits and loans without incurring significant credit costs. At some point investors may be facing a reversion to the mean, which in this analyst's eyes means that BAC's recent run up has already baked in a lot of the upside.
In sum
Bank of America has come a long way since 2008. The greenshoots are all around this bank and I'll be watching to add to my position over time. Most importantly, this bank has the ability to exceed its 10% cost of capital and to consistently compound book value. Mr. Moynihan and BAC's management team have done an excellent job simplifying operations and staying focused on the customer, and this is definitely showing up in the company's results.
But investors can and should be patient. I'm not a buyer at $16 unless the glide path to 12% ROE or higher begins to steepen. Too many things need to go perfectly well for the company to achieve this level: the economy needs to expand faster, jobs growth needs to rebound, credit costs must remain at record lows, the Fed needs to raise rates; the list goes on.
So when you start to consider the probability that everything goes BAC's way then you start to see that the expected value of the bank's shares at $16 is about right. Instead, be patient with your buying, BAC's glide path will be far from smooth and I expect there will be opportunities to take advantage of the volatility.
Disclosure: I am/we are long BAC.
I wrote this article myself, and it expresses my own opinions. I am not receiving compensation for it (other than from Seeking Alpha). I have no business relationship with any company whose stock is mentioned in this article.