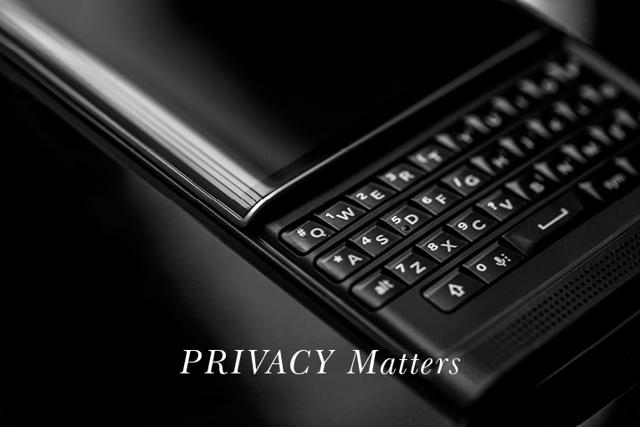 After clinching a five-year, multi-million dollar deal with the U.S. Senate in July, BlackBerry (NASDAQ: BBRY) has gone to Germany to bag business for its highly-secure encryption technology developed by its subsidiary Secusmart.
Similar to the U.S. deal, BlackBerry has refused to divulge any details of the transaction, not even the term period this time.
On September 2, 2016, BlackBerry announced at the IFA Berlin conference that its cross-platform solution for secure voice and data communications SecuTABLET is being used by German government agencies dealing with classified information.
The device, a Samsung (OTC:SSNLF) Galaxy Tab S2, will have the Samsung security product Knox to add an additional layer of data protection.
According to a statement from the Canadian company, the spy-proof tablet will have a Secusmart Security card and encryption and certification software developed by BlackBerry's Secusmart, which locks down data stored on and transferred from the SecuTABLET.
BlackBerry's Secusmart develops software solutions for businesses and governments that want to protect their data from espionage. SecuSUITE is one of the subsidiary's offering and is trusted by more than 20 governments. SecuSUITE for BlackBerry 10 is already the go-to security product used to prevent infiltration of mobile voice and data communications of the German government.
BlackBerry is clearly achieving success in its software operations, which is a high-margin segment. The company is attempting to mitigate the losses in handset sales and declining SAF revenues with that of software operations. Even as it does so, I am sure BlackBerry CEO John Chen will face some very tough questions on Sept. 28 when the company announces its Q2 earnings.
Analysts and shareholders would want to know the future projections of the handset business which the CEO so fervently protects. Investors have been calling for an end to the handset misery, not the hardware components like those used in BlackBerry Radar, to return the company on the path of profitability. And these shareholders will have some tough questions for the CEO.
Although the news was only released yesterday to the general public, I believe that smart money had a fair idea of what was going on. The big players were not impressed, and therefore, shares of BBRY ended August on a poor note after the strong momentum initially.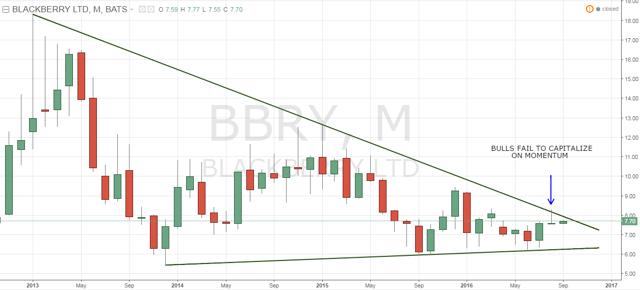 Source: TradingView
A lot of clear information on several topics including handsets and IoT initiative BlackBerry Radar is expected in the Q2 earnings call. A positive outlook from the management may well spur the stock above this resistance, which will lead to a mass exodus of shorts and could cause the price to rise violently higher.
I do not want to downplay the development; however, I definitely need something substantial to go on. Therefore, I will be closely watching BlackBerry's earnings and conference call for more data points.
Disclosure: I/we have no positions in any stocks mentioned, and no plans to initiate any positions within the next 72 hours.
I wrote this article myself, and it expresses my own opinions. I am not receiving compensation for it (other than from Seeking Alpha). I have no business relationship with any company whose stock is mentioned in this article.
Editor's Note: This article discusses one or more securities that do not trade on a major U.S. exchange. Please be aware of the risks associated with these stocks.