Income-seeking investors have bid up some types of dividend stocks to absurd levels this year from an already elevated starting point. In today's ultra low interest rate environment, the baby boomer generation as well as other savers are being taxed by global federal reserve banks in the form of artificially low savings rates in a low growth world. Naturally, these ~75 million folks nearing and entering retirement want income generation and safety, and as a result, have gravitated toward certain types of stocks that are normally perceived as safe investments. "Dividend" stocks that have traditionally been viewed as bond proxies are particularly vulnerable in my mind. These include Utilities, Telecoms, Consumer Staples, and REITs. I do not include energy-related MLPs (Master Limited Partnerships) in this list due to their severe drop alongside oil and gas prices last year.
Here are a few "Dividend" income oriented stocks that I believe are severely overvalued:
Pacific Gas and Electric Company (NYSE:PCG)
Earnings and Cash Flow
Let's start with a few valuation metrics for PCG, a west coast utility company. The stock sells for a P/E ratio of around an elevated 40X last year's earnings. The free cash flow numbers do not look any better as Capex spending has routinely doubled depreciation for the last few years. Capex spending is projected to continue at $5.4B to $6.4B annually through 2019. Over the past 5 years, the company has had "special" items adjustments expenses in each and every year totaling more than $3.7B. When "special adjustments" are consistent and recurrent, we learn to count them as a normal part of doing business. So I count GAAP earnings for the company. Operating earnings for the first 6 months of 2016 declined 34% due to operating and maintenance expenses. Many of the metrics such as the paltry 4.6% return on equity would look much worse when counting GAAP accounting rather than reported adjusted earnings.
The forward dividend yield is 3.14% and is not covered by current earnings from the company with a payout ratio of 128% (this ratio should improve over the next year or two). Projected EPS growth for next year is 1.61%.
Balance Sheet and Debt
The current ratio is .95, current assets do not cover current liabilities. Long-term debt has increased from $11.7B to $16B over the last 5 years while current assets total $6.1B. The company has high debt.
Other Matters
The company has ongoing legal battles over rate cases with FERC, and investigative proceedings by the California Public Utilities Commission. One FERC suit involves a 28 count criminal indictment for violating minimum safety standards. Reading the Contingency and Commitments section of the 10Q filing will make you cringe.
There are dozens more utility stocks in the same boat as far as valuation. Nearly every utility stock I looked at was in the same overpriced boat.
General Mills (NYSE:GIS)
The venerable General Mills has paid dividends for 117 consecutive years, so it's ideally suited to the dividend investor looking for safety. It's a bond proxy with a little bit of growth for the long-term investor. But consider that revenue growth has been non-existent for the past 5 years and earnings have been growing at just over 3% per year due primarily to share buybacks and you have to ask yourself why the stock is up 76% over the past 4 years and 25% over the past year. The shares now trade at 25X trailing P/E, well above the normal long-term average.
Balance Sheet
Surprisingly, the balance sheet is not that solid. The current ratio is .78 so current assets are well under current liabilities. Long-term debt of $7B is well over current assets of $3.9B. The debt/equity ratio is 137%.
Share Price above Long-Term Average
But the primary reason I'm bearish on this stock is the current P/E compared to its long-term average. In the FAST Graphs chart below, you can see what I am now dubbing the "Cobra-Ready-to-Strike" technical pattern. The share price (black line) has risen well above GIS's earnings growth rate (the green shaded area), as well as its long-term average P/E ratio (the blue line). It's obviously been bid up as a safe haven dividend stock. If and when the Fed raises rates, the share price should revert to its mean.
Note: I still love Nature Valley crunchy bars and Cheerios.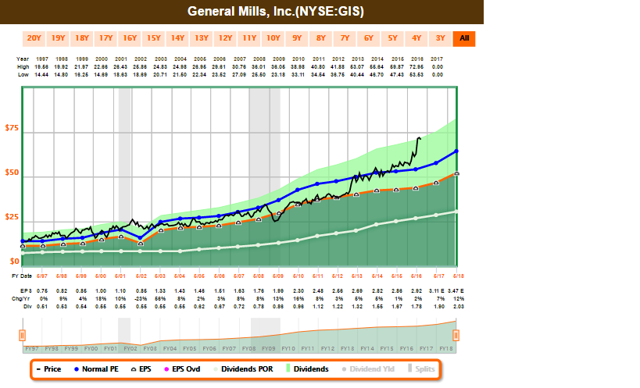 Source: F.A.S.T. Graphs
Federal Realty Investment Trust (NYSE:FRT)
FRT is a REIT (Real Estate Investment Trust) that primarily holds retail mall locations. REITs are popular income investments partly due to their preferential tax treatment and the fact that they are required to payout at least 90% of earnings to shareholders in the form of dividends. A couple of things lead me to believe this stock is significantly overvalued, as are most REITs.
One, FRT is trading far above its long-term trend in terms of P/FFO (funds from operations). The blue line in the FAST Graphs chart below represents the normal P/FFO and the green shaded area represents the FFO growth rate. The "Cobra-ready-strike" technical pattern is present here as well. The FFO growth rate is around 6% for FRT. Famed fund manager Peter Lynch instructs in his books that a stock is fairly priced when the P/E ratio (or in this case the preferred substituted REIT ratio P/FFO), equals the growth rate for the company. In FRT's case, the P/FFO ratio is a screaming 4.6X the company's FFO growth rate.
Second, a P/B ratio of around 6X for this stock shows an overly optimistic outlook for the company's property values.
The shares have rallied 23% over the past year, and 64% over the past 3, lowering the current yield to 2.4%. Another mall REIT stock, Simons Property Group Inc. (NYSE:SPG) appears to be similarly overpriced. Nearly every REIT I examined was overpriced relative to the overall market.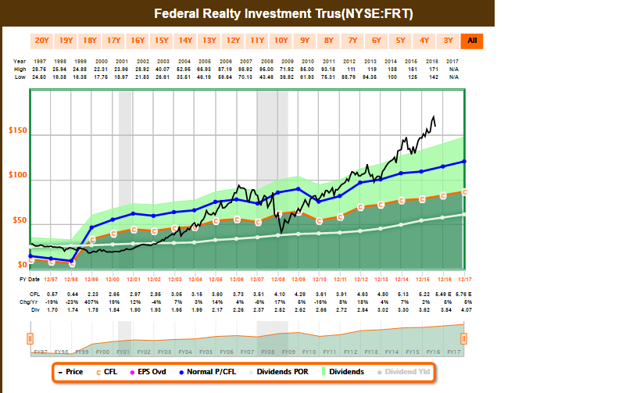 Source: F.A.S.T. Graphs
Estee Lauder (NYSE:EL)
Luxury brand Estee Lauder has a well-diversified portfolio of more than 25 distinctive brands across four product categories. It appears to be a well-run company and is certainly global in reach. Global investors from the world over and especially in negative interest rate Europe and Japan may also be attracted to the dividend. With a revenue growth rate for the year ended June 30, 2016 of 4.4% and an adjusted earnings increase of 8.5%, the shares look frothy at 30X trailing earnings. A price/book ratio of 9X, and a price/sales ratio of 2.9X supplement my thesis. Free cash flow is lower than net income so that does not lend support for the shares either.
The stock is up 30% over 3 years and 11.8% over the past year and lowered the yield to today's 1.3%. EL may be seen as a safe dividend growth stock as it currently only pays out 38% of profits.
The FAST Graphs diluted earnings chart below shows that the share price has grown at a far faster clip than the earnings growth rate over the past 7 years. The green shaded area represents diluted earnings growth, while the blue line shows the average diluted P/E of the stock.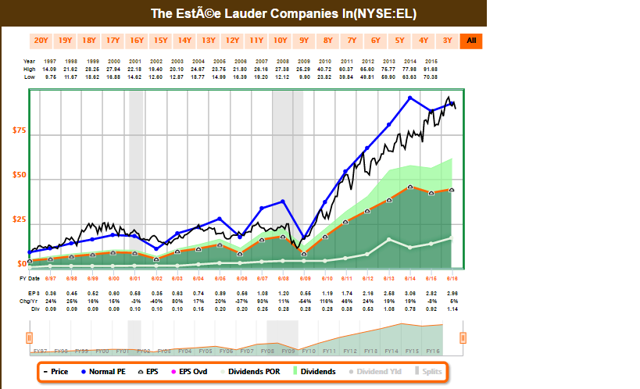 The shares also look expensive on an adjusted operating earnings basis (below).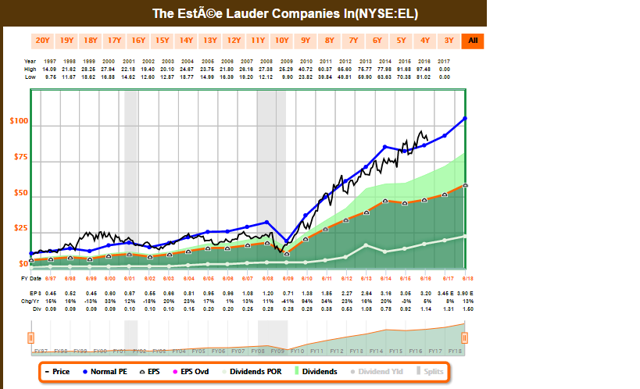 Consider Instead
JPMorgan Chase (NYSE:JPM)
The banking sector is still out of favor with many investors. JPM sports a 2.8% dividend, which represents only a 32.6% payout ratio. Share buybacks and dividends combined should represent around a 9%-10% yield to shareholders over the next year. The stock has a low P/E of 11.3X trailing earnings and should perform even better if the Fed raises rates.
Energy Transfer Partners (ETP)
Energy-related master limited partnerships were beaten down from lower energy prices in 2015. Though ETP's share price has recovered somewhat since February, the stock still pays a hefty 10.5% distribution yield, which general partner Energy Transfer Equity has promised it will back up with incentive distribution rights (IDR) forbearance. The shares trade well below their long-term average price/cash flow and at 1X price/book.
Conclusion
While some dividend paying sectors of the market appear reasonably priced such as financials and MLPs, investors have been reaching for yield in many areas of the market. I believe this is particularly true of those industries where investors feel their money is safest - REITs, consumer staples, and utilities. In my mind, there are no "safe haven" dividend stocks. Stock investors should demand an appropriate risk premium for equity holdings, no matter how safe they feel a company's dividend is. Regardless of whether the next rate increase is in September, October, or December, these sectors are ready for a correction.
Disclosure: I am/we are short GIS, EL, FRT, PCG.
I wrote this article myself, and it expresses my own opinions. I am not receiving compensation for it (other than from Seeking Alpha). I have no business relationship with any company whose stock is mentioned in this article.