JHL Capital Group is a lesser know firm run by a former portfolio manager at Fortress Investment Group named James H. Litinsky. JHL became a little more widely known after finishing 2008 +17%. Litinsky focuses across the entire capital structure and, in fact, it was short-duration bonds in the New York Times as well as convertible bonds in Lamar Advertising that contributed strongly to his 2008 result.
That said, in the Q4 filings, JHL disclosed a HUGE new position in Lowe's (NYSE:LOW) (as did a number of other hedge funds) along with several other new positions: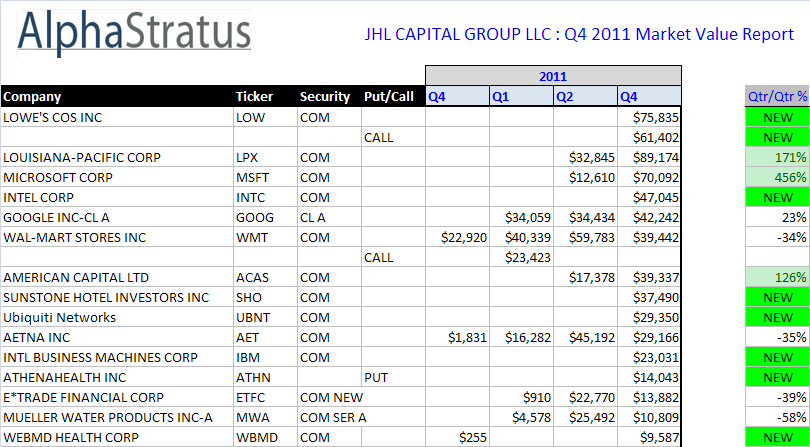 Another interesting name is the 2nd largest position - Louisiana-Pacific Corp (NYSE:LPX) which JHL increased massively in the 4th quarter: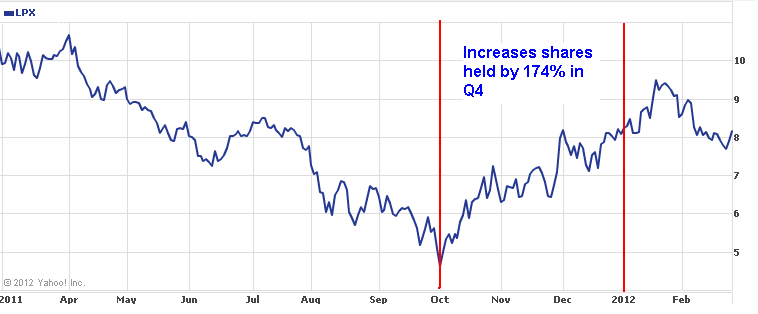 That increase makes JHL now the largest institutional shareholder with 8% of shares outstanding. Other top filers in this name include Dimensional Fund Advisors, Wellington, Ivory, GMO, Odey & Impala: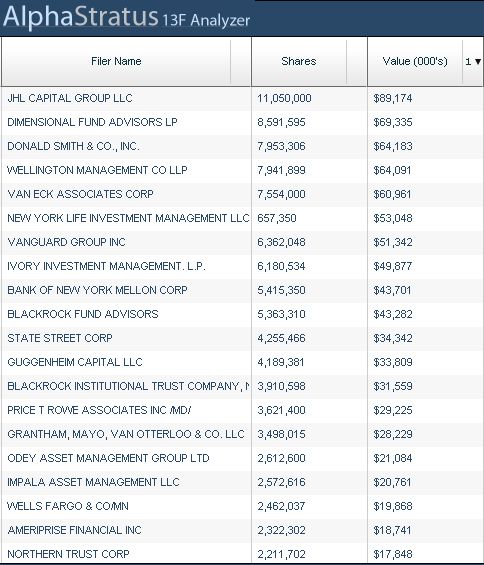 LPX engages in manufacturing and distributing building products for new home construction, repair and remodeling and has sold off a little recently after missing both earnings and revenue estimates. The company lost money in 2011 but is expected to be profitable this year. Clearly, several hedge funds agree.
Disclosure: I have no positions in any stocks mentioned, and no plans to initiate any positions within the next 72 hours.